The 25-piece collection features styles and patterns that pay homage to Eddie Bauer's heritage and will be available at select stores and on the brand's site in fall 2017.
Writer: Carly Terwilliger
Eddie Bauer teamed up with celebrity stylist Ilaria Urbinati for a limited-edition women's collection that will drop in fall 2017.
The sought-after Urbinati has graced the Hollywood Reporter's list of the Top 25 Power Stylists for the past four years. She has collaborated with Gucci and Ferragamo on custom designs for her clientele, and has dressed the likes of Nina Dobrev, Krysten Ritter, Lizzy Caplan, Shailene Woodley, Ginnifer Goodwin, Bradley Cooper, Ben and Casey Affleck, Chris Evans and Ryan Reynolds for red carpet and press events.
The 25-piece collection features styles and patterns that pay homage to Eddie Bauer's heritage and will be available at select stores and online at eddiebauer.com in late September 2017.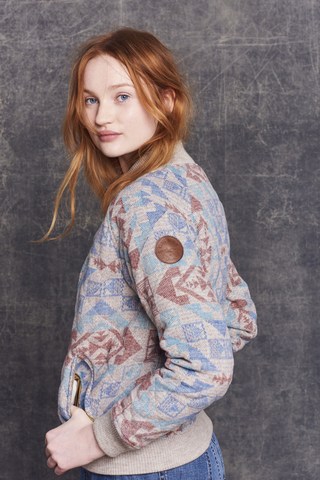 "On the heels of the successful men's collaboration in 2015, we are pleased to partner with Ilaria once again," said Mike Egeck, CEO of Eddie Bauer. "We appreciate the way she has remained true to the brand's ethos while modernizing some of our classic silhouettes, creating a fresh take on many of Eddie Bauer's iconic pieces."
To create the women's collection, Urbinati pulled from Eddie Bauer's archive and was inspired by Eddie's wife, Christine "Stine" Bauer. Stine was an avid outdoorswoman who matched Eddie stride for stride all over the Pacific Northwest and helped introduce local friends, dignitaries and celebrities to outdoor adventure.
Stine was the driving force behind Eddie Bauer's first women's outdoor apparel line, making her Eddie's first female guide. In the mid-1930s, the women's outdoor market was underserved with very limited apparel, and Stine wasn't willing to accept that. As Eddie started developing his signature down outerwear, Stine insisted that there be women's versions of his breakthrough designs. So, the iconic 1936 Skyliner Jacket was made available in women's sizes and the Eddie Bauer women's department was born.
"Eddie Bauer's authentic heritage is what first drew me to the brand," said Urbinati.  "They've been outfitting adventurous men and women since the 1920s. I'm thrilled to bring a second collection to life that is inspired by iconic archive pieces and a woman who was so influential in building the company's history and broader outdoor community."
With Stine as her inspiration, Urbinati created her collection "for the modern woman whose sense of adventure influences her fashion," according to a company representative. It's made up of reinterpreted classic outerwear, knits, woven tops, sweaters, bottoms and accessories that feature fall colors, plaids and heritage-inspired patterns.
Featrued styles include the Kara Koram II Parka, first made famous on the renowned American expedition to K2 in 1953, the Blacktail Cropped Bomber that emulates Eddie Bauer's 1936 Skyliner Jacket silhouette and the Sport Shop Sweater Coat inspired by a cardigan sweater worn by Eddie Bauer in 1928.
Photos courtesy Eddie Bauer