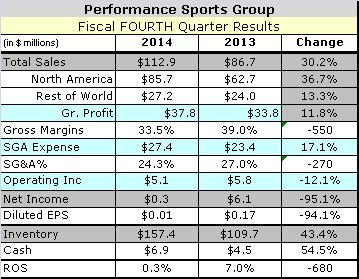 Performance Sports Group Ltd (PSG) reported strong organic growth in both its hockey and lacrosse businesses in the quarter ended May 31 in addition to growth attributed to the Easton and Combat diamond sports brands acquired this spring. The numbers augured well for the current quarter, when the company's sales have traditionally peaked with the shipment of hockey gear.

The company reported revenues increased 30 percent to $112.9 million, in the fiscal fourth quarter ended May 31 compared to $86.7 million in the same year-ago quarter. Exeter, NH-based PSG, which changed its name from Bauer Performance Sports Ltd. in conjunction with an initial public offering of its stock on the New York Stock Exchange in June, reported revenue were up 35 percent on a currency-neutral basis.

Growth was driven by the addition of the Easton and Combat diamond sports businesses and strong organic growth in the hockey and lacrosse business, which posted growth of 9 (14 percent c-n) and 29 percent respectively. Growth was partially offset by an unfavorable impact from foreign exchange. Excluding the results of the Easton Baseball/Softball and Combat Sports acquisitions and the impact from foreign exchange, revenues grew organically by 14.9 percent.
Hockey sales remained strong, led by a 37 percent increase in sales of hockey team apparel and uniforms and a new line of Nexus sticks which drove a 41 percent increase in that business and a 15.2 percent increase in ice hockey equipment sales. Lacrosse sales increased 29.0 percent with strong sales of the new Cascade "R" helmet and various new Maverik products.

While gross profit grew nearly 12 percent, it declined to 33.5 percent of net sales, down 550 basis points (bps) from the fiscal fourth quarter of 2013. Adjusted gross profit margin declined 630 bps to 38.8 percent due primarily to unfavorable exchange rates and lower gross margin at the Easton business, where sales and margins typically decline in the quarter.

SG&A increase 17.1 percent due to the addition of the Easton and Combat businesses, but fell 270 bps as a percentage of sales to 24.3 percent as a $6 million gain from the settlement of patent litigation more than offset acquisition and higher operating costs. As part of its $330.0 million April 15 acquisition of the Easton Baseball/Softball business, PSG granted a license to seller BRG Sports to use the Easton name in its hockey and cycling businesses only and settled a 2011 lawsuit it had filed against the company for infringing on its patents.

Operating income was off $700,000, or 12.1 percent, resulting in a net loss of $1.0 million compared with a gain of $300,000 in the year earlier quarter.

PSG now holds the top market share position in diamond sports in North America and hockey sports worldwide. Its band portfolio comprises Bauer, Mission, Nexus, Supreme and Vapor in roller and ice hockey; Maverik and Cascade in lacrosse, Combat and Easton in diamond sports. While those brands are best known as equipment brands, much of PSG's growth is coming from Inaria, a provider of team uniforms and apparel it acquired in 2012 as part of a strategy to become a one-stop shop for team dealers and retailers and gain access to the estimated $1 billion global market for hockey, baseball, softball and lacrosse uniforms.

For the 12 months ended May 31, for instance, Hockey apparel sales grew 10 times faster than equipment sales, or 40.3 percent, thanks to the addition of team uniforms, 30.1 percent growth in off-ice team apparel, 27.0 percent growth in base layer performance apparel, and 34.0 percent growth in lifestyle apparel. Overall hockey sales increased 4.1 percent to $386.2 million for the fiscal year.

While PSG did not issue guidance for Fiscal 2015, the company did report bookings for the upcoming hockey season are up 18 percent, or 12 percent at current exchange rates, driven by 77 percent gains in apparel, 49 percent in sticks, 17 percent in goalie gear and 17 percent in helmets.