Eagle Creek says its first line of bags for the athletic and fitness markets will hit store shelves July 1.
The Pack-It Sport line adapts the packing system Eagle Creek introduced to travelers in 1996 to the specific needs of team or individual athletes.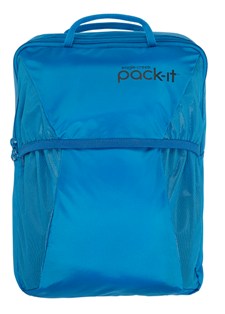 Built to transport gear and clothes to and from any workout or any trip, Pack-It Sport is designed specifically for the shoes, socks, clothes and swim suits that get wet, dirty, and muddy from intense workouts indoors and out, separating dirty from clean, containing moisture, venting or containing odor, organizing personal items (accessories, gadgets, etc…) and helping athletes get more stuff into less space.
The bags feature lightweight DWR coated fabric on the bottom, Agion
anti-microbial treated fabric and are designed so they can be
hung vertically in lockers, or stowed inside duffel bags and car
trunks.
The Pack-It system has grown into a significant business for the outdoor and luggage specialty markets. Eagle Creek, which is owned by VF Corp., opted to extend the concept to the locker room in response to consumer feedback and the health and wellness trend.