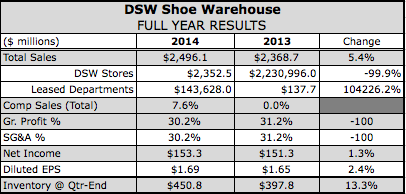 Led by athletics but carried by a recovery in its women's offerings, DSW Inc. reported comparable sales increased 7.6 percent in the fourth quarter. Comps were flat in the year-ago quarter.
Earnings on an adjusted basis rose 7.7 percent to $30.9 million, or 35 cents a share. Results exceeded company guidance calling for earnings in range of 21 and 31 cents a share, and Wall Street's consensus estimate of 28 cents.
Net income reached $30.8 million, or 34 cents a share, up from $28.1 million, or 30 cents, after charges related to its RVI merger and its discontinued test of luxury items last year.
On a conference call with analysts, Mike MacDonald, president and CEO, said 2014 started with "very little sales momentum, and with both external and internal challenges." A leadership change in its buying organization helped lead to a resurgence in its women's footwear business, which contributes over 60 percent of total revenues.
DSW also in the back half of the year benefited from strengthening its value proposition, increasing its opportunistic buys and selectively reducing prices. Said McDonald, "We believe these actions, contributed to our steady improvement in comparable sales performance throughout the year."
After four consecutive quarters of comparable sales declines, the women's footwear category turned positive in Q3, and recorded a 6 percent increase in Q4. Women's boots comps jumped 13 percent on top of last year's 8 percent increase. Women's dress comped ahead 6 percent on the quarter, driven by regular priced merchandise, benefiting from "greater levels of fashion and newness in the assortment." Women's casual business comped down 8 percent.
Athletic led by category gains with a 14 percent comp increase. Mary Meixelsperger, CFO, said, "We distorted our buys in fashion athletic to capitalize on strong holiday demand and the strength in vulcanized footwear. Our athletic comp accelerated throughout the year."
Deborah Ferrée, vice chairman and chief merchandising officer, added that the athletic gain was driven by fashion, which is about 40 percent of the athletic category's sales. Added Ferrée, "All of the activity and action and newness and freshness is really coming out of the fashion piece of the business and it's really coming out of a couple of different brands and a couple of key styles."

She noted that the athletic business has "stayed very consistent" through the third and fourth quarters and the momentum is continuing this year. Ferrée added, "I will also tell you that the running business, the performance piece of the business, is also strong for us."
Men's footwear posted a 7 percent comp increase, driven by strong results in men's boots. Accessories business comped up 13 percent in the quarter, led by growth in fashion accessories, hosiery, and jewelry.
Overall, store and online traffic increased and maintained its momentum after the holiday shopping period. Conversion rates increased in both store and online. A low-single digit increase in units per transaction was partially offset by slightly lower average unit retails.
Fourth-quarter gross profit declined 60 basis points to 27.6 percent. Q4 merchandise margin declined 100 basis points, driven by lower shipping revenue, lower initial markup, and nonrecurring items that benefited Q4 last year. Lower initial markups drove better sell-through and lower markdowns. As a percentage of sales, Q4 SG&A rate was flat to last year.
Regarding the West Coast port slowdown, MacDonald said DSW has seen some related product delays that it has been able to somewhat offset with the early release of its pre-buy inventory. As of Tuesday, its inventory ownership was approximately 6.5 percent lower than what DSW intended it to be at this time as a result.
"Further," added MacDonald, "DSW expects it will take another several weeks or even months before the West Coast ports are caught up and operating normally. We've been working through this situation cooperatively with our suppliers, to minimize its impact on our sales and profitability while simultaneously capitalizing on opportunities for highly advantageous buys."

For 2015, the off-pricer expects revenue growth of 7 percent to 8 percent, with comparable sales growth in the low to mid-single digit range. It expects to open 35 new stores, including 8-10 small format stores. In 2014, it opened 37 new locations in 2014 – including 5 small-format stores – to end with 431 locations. Full year earnings per share for 2015 are expected to range between $1.80 to $1.90 per share, representing approximately 10 percent earnings growth at the midpoint of the range.