Dorel Industries Inc. reported fourth quarter revenue at its Dorel Sports segment inched up 0.6 percent in the fourth quarter, rebounding from a drop of 18 percent in the third quarter.
Sales in the quarter increased $1.5 million to $236.8 million from $235.3 million last year.
Excluding the positive impact of foreign exchange rates, organic revenue declined by approximately 1.4 percent.
Full year revenue decreased $73.6 million, or 7.8 percent, to $865.4 million compared to $939.0 million a year ago. Organic revenue for the full year declined by approximately 11 percent when removing foreign exchange fluctuations and the change in Cycling Sports Group (CSG) International's business model for which the revenue recognition transitioned from a licensing model to a distribution platform in the third quarter of 2016.
Despite a continued weak global bike market, Dorel Sports grew its fourth quarter top line thanks to strong performances in CSG's International business and at Caloi. The segment's revenue improved considerably from the third quarter despite the continuing challenging global bicycle market, particularly in North America. Sales in CSG decreased slightly due to the competitive environment and a generally soft industry globally at independent bicycle dealers. Several new model year '18 products were launched, including the revitalized Synapse, Trail and Kids platforms, which are all core pillars of the Cannondale product offering. Sales of these units increased over 50 percent in the fourth quarter, compared to prior year. Parts and accessories sales also increased, as did sales of the new line of Mongoose scooters. Caloi improved its top line due to the ongoing stabilization of the Brazilian economy, combined with the success of new product launches of the Caloi and Cannondale brands in Brazil. Inventory remains in a healthy position, finishing the fourth quarter with the lowest level in two years.
Fourth quarter operating profit at Dorel Sports increased $4.6 million to $9.6 million and when excluding restructuring and other costs,adjusted operating profit declined by $0.9 million to $9.3 million. For the year, operating profit was $24.8 million compared to an operating loss a year ago of $33.9 million. Excluding impairment losses, restructuring and other costs, adjudted operating profit declined by $6.6 million, or 20.8 percent, to $25.0 million. The change in adjusted operating profit for the fourth quarter when compared to 2016 is explained by increased selling expenses offset by improved adjusted gross profit which increased by 30 basis points to 21.7 percent. For the year, the change in adjusted operating profit is explained by lower revenue, partly offset by improved adjusted gross profit, which increased by 100 basis points to 22.4 percent. This is due to continued inventory management improvement in terms of product mix and pricing actions in key markets.
Dorel Sports brands include Cannondale, Schwinn, GT, Mongoose, Caloi, IronHorse and SUGOI.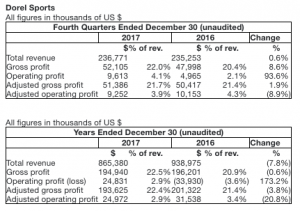 Photo courtesy Cannondale