Cowen on Wednesday lifted its rating on Dick's Sporting Goods as the investment firm sees accelerating share gains amid improving footwear allocations as well as greater adoption of its e-commerce platform.
Cowen's price target was raised to $50 from $36 previously. On Tuesday, shares of Dick's closed at $41.44. The stock began the year at $49.49 and had sunk as low as $14.34 in mid-March with the emergence of the coronavirus before recovering in recent weeks.
Lead analyst John Kernan noted that his firm's proprietary Cowen Consumer Tracker Survey suggests that Dick's is gaining sneaker share preference. When asked, "when I am shopping for sneakers, my first choice is to go to?" 23 percent of the survey respondents chose Foot Locker versus 12 percent for Dick's in May 2020. By comparison, 24 percent opted for Foot Locker and 10 percent for Dick's on average in 2019, and responses were 25 percent on average for Foot Locker versus 7 percent for Dick's five years ago.
Kernan believes improved allocations from Nike and Adidas are helping drive the gains. The share gains are more significant in the sporting goods category and Kernan attributed that partly due to bankruptcies in the space
In the May survey exploring sporting goods preferences, Dick's ranked first with 35 percent of respondents and Amazon second with 26 percent of respondents. Last year, respondents chose Dick's by 33 percent versus 24 percent for Amazon.
Kernan further said his team's conversations with management at Nike, Adidas, Yeti, Callaway, and Deckers, the parent of Hoka One One, "have all been increasingly constructive regarding their relationships with Dick's Sporting Goods which we take as a sign Dick's is scaling beyond its peers across sporting goods."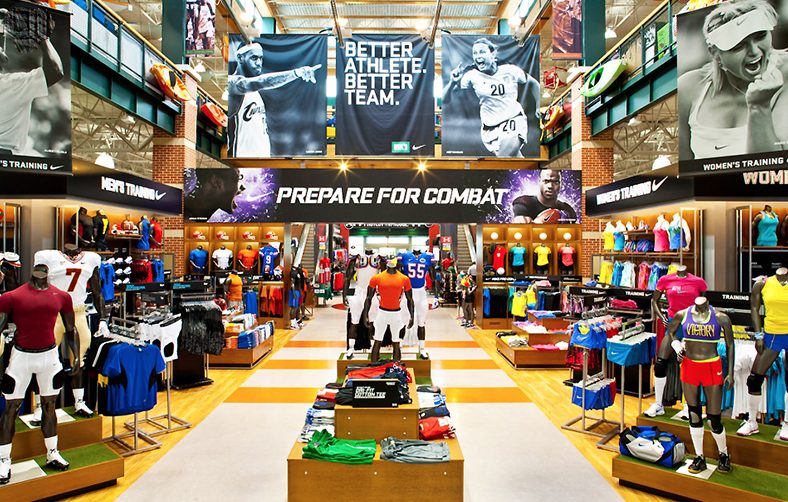 On e-commerce adoption, Kernan wrote that Dick's online sales were already trending strong prior to the pandemic as the retailer's online sales grew 13 percent in Q319 and 15 percent in Q419. Growth is supported by two distribution centers only supporting online orders and upgrades to speed and functionality on the site.
With the emergence of COVID-19, online sales vaulted 110 percent year-over-year and are being supported by the rollout of curbside pickup and BOPIS (buy online, pick-up in-store).
Kernan noted that Dick's officials have indicated BOPIS orders are now available for pick-up within 90 minutes, and the growth rate from BOPIS orders is two times pure e-commerce delivery orders. Higher gross margins from BOPIS also help to offset the shipping costa from e-commerce. Wrote Kernan, "As consumers gravitate to curbside in the face of social distancing, we think DKS customer acquisition and retention will remain above peers."
Cowen expects Dick's online sales to expand by 2014 to reach over $3 billion, representing over 30 percent of its sales. For 2021, Cowen expects $1.95 billion from e-commerce.
Overall, Cowen estimates Dick's has a 20 percent market share of the U.S. sporting goods market. Assuming a flat sporting goods market, Cowen estimates the retail chain will add another 250 basis points of shares over the next five years. Kernan wrote, "We expect market share gains to continue and accelerate as regional smaller sporting goods providers weaken financially or file for bankruptcy."
Photos courtesy DKS