Dick's Sporting Goods reported the best quarterly store comp in its history as a public company as home fitness and outdoor activities continue to be embraced during the pandemic. However, the performance was overshadowed by the announcement that Ed Stack, CEO since 1984, will soon be succeeded by Lauren Hobart, the retailer's president.
Stack has led Dick's since he and his siblings bought his father's two small sporting goods stores in upstate New York in 1984. Under his leadership and predominantly through organic growth, Dick's has expanded to more than 850 locations and nearly $9 billion in annual revenue. In recent years, Stack has also driven Dick's omnichannel strategy and investments in logistics and technology, which in 2020 have helped the company's e-commerce business approach $2 billion in revenue.
The changes will take place at the start of the next fiscal year, February 1, 2021.
Stack, who is also chairman, will assume the role of executive chairman and stay closely involved with the organization as he will continue his responsibilities as its chief merchant and oversee strategic growth initiatives for the company. Stack added on a conference call with analysts, "As I make this transition, I want everyone to know as the largest controlling shareholder of Dick's Sporting Goods, I remain as committed and as excited about this business as I have ever been."
Stack noted that Hobart has more than 25 years of finance, consumer and retail experience including five years in the banking industry at Wells Fargo and at JP Morgan Chase before spending 14 years at PepsiCo holding various leadership roles, including chief marketing officer of carbonated soft drinks in North America. Hobart joined Dick's in 2011 as SVP and chief marketing officer, was promoted to EVP and chief marketing officer in 2015 and assumed the role of president in 2017.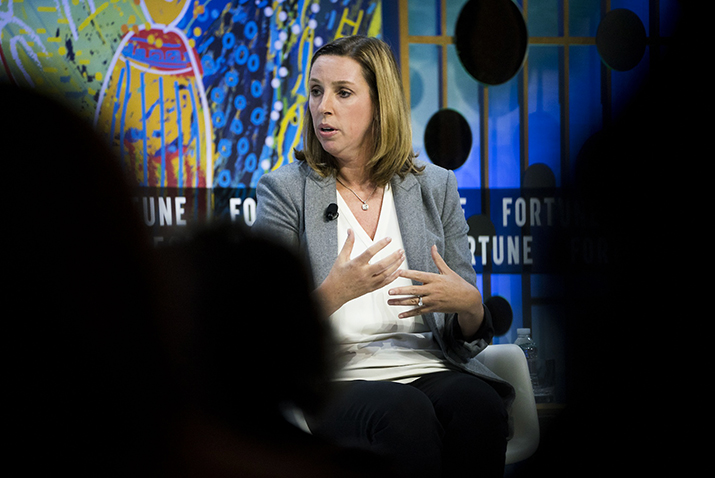 Stack said, "Since joining the company, Lauren, shown right, has been instrumental to our growth and success, revamping our marketing efforts, helping drive our robust omnichannel offering, and elevating our athletes' experience. Lauren's appointment is an important step in the succession planning committee's process to put the right leadership in place. Our business is thriving and we have the best management team in the company's history, making this the perfect time for the transition."
Hobart said on the call, "I want to start by sending a heartfelt thank you to Ed. He built this company from the ground up, and it is because of his ability to look around corners, innovate, take risks and develop and nurture talent – all while never losing sight of our values and making sure that we're a good member of our communities – that has made Dick's what it is today. It is truly an honor working alongside him.
"I also want to thank our board and our teammates. I look forward to continuing to work with them and the rest of the extended Dick's family and all of you in the coming months and years ahead. Under Ed's leadership, we've accomplished so much, building a stronger and more inclusive culture, and developing a powerful omnichannel experience for athletes. We're in great shape from both a financial and managerial standpoint, and I look forward to continuing to work with Ed to lead Dick's into the next phase of its growth."
Third-Quarter Comps Surge 23.2 Percent
In the third quarter ended October 31, net earnings reached $177.2 million, or $1.84 per share, up from $57.6 million, or 66 cents, a year ago. The latest quarter included $48 million in pre-tax costs, or 37 cents a share, to cover incremental associate compensation and safety costs in response to COVID-19.
On an adjusted basis, earnings vaulted four times to $182.2 million, or $2.01 per share, from $44.8 million, or 52 cents a year ago. Results were more than double Wall Street's consensus estimate of 87 cents.
The adjusted earnings included this year's COVID-19 costs but excluded charges related to a convertible senior note offering. Year-ago earnings excluded a gain related to the sale of eight Field & Stream stores.
Net sales in the latest quarter climbed 22.9 percent to $2.41 billion, surpassing Wall Street's consensus target of $2.23 billion.
This increase was driven by a 23.2 percent hike in consolidated same-store sales. Brick & mortar comps increased double-digits and represented the best quarterly store comp performance in Dick's history as a public company. Online sales vaulted 95 percent, representing 21 percent of total sales compared to 13 percent in the third quarter of last year. Third-quarter 2019 consolidated same-store sales increased 6.0 percent.
The 23.2 percent consolidated comp marked an acceleration on the 20.7 percent gain seen in the second quarter as stores reopened and benefited from pent-up demand from quarantined consumers. Comps had tanked 29.5 percent in the first quarter amid store closures.
"Significant" growth was seen in the third quarter across Dick's three primary categories of hardlines, apparel and footwear.
"The strength of our diverse category portfolio once again helped us capitalize on the favorable shifts in consumer demand as the trends across golf, outdoor activities, home fitness and active lifestyle continued throughout the third quarter," said Stack on the call.
The same-store gain was driven by a 19.6 percent advance in average ticket and a 3.6 percent gain in transactions.
Merchandise Margins Improve 277 Basis Points
Gross margins improved 533 basis points 34.9 percent. The improvement was driven primarily by merchandise margin expansion of 277 basis points and leverage on fixed occupancy costs of 259 basis points. The merchandise margin expansion was primarily driven by fewer promotions. Said Stack, "We remain very disciplined in our promotional strategy and cadence, and certain categories in the marketplace remain supply-constrained."
Gross profit also included about $4 million of incremental COVID-19-related compensation and safety costs
SG&A expenses reached 24.5 percent of sales and on a non-GAAP basis were down 174 basis points from last year. The leverage was primarily driven by the significant sales increase, as well as strong expense control efforts. These factors were partially offset by $44 million of incremental COVID-19-related costs.
Income before income taxes came to $243.8 million, or 10.1 percent of sales, from $59.9 million, or 3.05 percent, a year ago.
Growth in omnichannel practices, online sales and private label were all called out by Dick's officials.
"Our stores were the key to this unprecedented growth and serve as the hub of our industry-leading omnichannel experience," said Stack. Overall, stores drove 90 percent of total sales growth whether a customer purchased at the register, used curbside pickup or had their order delivered to their home through its ship from store program.
Curbside Pickup Expands Over 300 Percent
Stores fulfilled 70 percent of Dick's online sales. Hobart said curbside pickup and in-store pickup grew over 300 percent compared to the year-ago period when only in-store pickup was available. Customers using curbside-pickup transact 20 percent more than non-curbside online customers.
Investments are continuing to be made to upgrade the curbside offering, including adding curbside returns, adding dedicated parking spaces to nearly all stores and improving signage. Said Hobart, "We initially launched curbside as a stopgap to provide a safe and contactless solution to our athletes as a result of COVID-19. It's become quite clear that it is a highly convenient way to shop and it's here to stay."
Dick's overall e-commerce sales reached $1.8 billion in the nine months, already surpassing the total for 2019. In the third quarter, mobile sales penetration was over 50 percent and a significant increase in mobile app downloads helped drive the 95 percent quarterly growth. Said Hobart, "Importantly, this incredible strength in our e-commerce business happened with all of our stores fully open throughout the quarter."
She also said Dick's continues to improve the profitability of the channel, especially as stores play a larger role in fulfillment. In the third quarter, significant improvement was seen in e-commerce gross margins, driven by higher penetration of curbside and in-store pickup, as well as fewer promotions and leverage of fixed costs.
Private Brands Strongly Outperforming National Brands
Stack highlighted that private brands continued as "a significant source of strength," with comps outperforming the company average by over 1000 basis points.
"One of the strategies I'm most enthusiastic about is our private brand strategy, which we now refer to as vertical brands," said Stack. "There can be a perception that private brands, or private label, means opening price point. In contrast, our vertical brands are high-quality, on-trend brands with compelling technical and performance attributes. These vertical brands have clear DNA and specific consumer targets for which we control everything, including design, supply chain and marketing."
Successes include Calia, which is now Dick's second-largest women's brand after being launched five years ago. DSG, which spans men's, women's and youth athletic apparel, as well as hardlines categories, has become the chain's largest private brand one year after launch. Collectively, its vertical golf equipment and apparel brands represent the retailer's number one brand in golf while Fitness Gear is Dick's single largest fitness brand.
Said Stack, "Looking ahead, we will invest in making our vertical brands even stronger. This includes improved space in-store, increased marketing and expanding into additional product categories. At the same time, we will also continue to invest in our strategic partnerships with key national brands such as Nike, Callaway and The North Face. We recognize that these important brands are real differentiating factors that create authenticity and credibility with our athletes." 
Inventory Levels Down 9.8 Percent On Strong Demand
Inventories at the quarter's end were down 9.8 percent compared to the same period last year. Lee Belitsky, CFO, said on the call, "Our inventory is clean, and we will continue to chase product to improve our in-stock positions in the most in-demand categories."
Hobart in the Q&A session said Dick's strong vendor partnerships are helping the chain's restocking efforts. She said, "Our inventory is clean, it's good. We are still chasing in several key categories and if you were to ask whether we have left some sales on the table, it's likely that we have. But I do agree with you that our preferred strategic partner status with some of our key vendors has enabled us to keep a steady supply chain coming through and it's helping with the tailwinds that we have already."
Looking to the fourth quarter, Stack said the favorable trends seen in the third quarter continued so far in the first month although they've been partially offset by warmer weather that has negatively impacted sales in cold-weather categories. Through the weekend ended November 2, comp sales had increased in the high teens.
Dick's withdrew its fiscal 2020 outlook on March 19 and did not provide an update given the ongoing uncertainties created by COVID-19.
Photos courtesy Dicks Sporting Goods