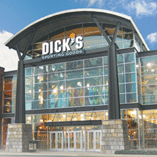 Jeff Hennion, EVP and chief marketing officer at Dick's Sporting Goods, has left the company. According to a filing with the Securities & Exchange Commission, his job was terminated, effective Sept. 24. William Colombo, vice chairman of Dick's SG, will assume the responsibilities of chief marketing officer on an interim basis until the search for a new CMO is completed.


Hennion had been EVP and chief marketing officer of Dick's SG since 2008. Previously,
Hennion was SVP – chief marketing Officer, a
position he held since 2005. Beginning in 2004, he served as SVP – strategic planning, and prior to that was vice president – finance and treasurer, a position he held since 2002. Hennion
started with the company in 2000 as vice president – treasurer.
Prior to
joining the company, he served Alcoa Inc. from 1989 to 2000 in various
treasury and finance related functions, most recently as assistant treasurer and as director � investor relations.