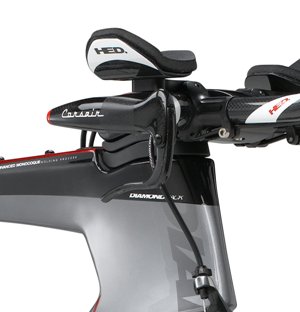 Diamondback Bicycles is using the Wildflower Triathlon to launch its first batch of Serios triathlon/time trial bikes (MSRP $8,500) via an exclusive special order program with registered riders.
Diamondback Bicycles entered the triathlon market last fall by introducing the Serios at the Kona Ironman. The company claims the Serios (cockpit pictured to the right) has half the drag of competing bikes and will upend the prevailing wisdom for design Tri/TT bikes. The Serios launch comes as Diamondback increases spending on event, athlete and team sponsorships to reposition the brand as a premium bicycle brand with independent bike dealers and cycling enthusiasts in the United States.
"It was easy to choose Wildflower for our consumer introduction of the Serios because it is such an iconic and amazing event,"
The Diamondback Serios AF cockpit features a HED Corsair
bar
and a full Dura Ace 11-speed
group.
said Steve Westover, director of marketing at Diamondback Bicycles. "Wildflower is so much more than a race. It's an experience, and that's where we feel triathlon is heading. Partnering our bike with this fun-filled event aligns with the Diamondback customer and our shared values in a healthy lifestyle."
First held in 1983, the Wildflower triathlon is a swim-bike-run race that takes place on the first weekend in May at Lake San Antonia in central California. Known by many as "The Woodstock of Triathlon," Wildflower offers participants a half-Ironman distance course, an Olympic-distance course, and a short or "sprint" mountain-bike course, which are all known for their grueling hills. The Wildflower Triathlon is one of the largest triathlon events in the world and brings in roughly 7,500 athletes and over 30,000 spectators each year.
"We are excited to partner with Diamondback and be part of its new Serios Triathlon bike launch," said Colleen Bousman, president of Tri-California Events, Inc. "Wildflower is known for launching some of the best elites careers, so teaming up with Diamondback to support its new triathlon bike seemed like a great opportunity. We all remember having Diamondback as our first bike as a child, now we get to have fun with Diamondback at Wildflower leaving yet another lasting impression."
Born in Camarillo, CA in 1978 as one of the earliest BMX brands, Diamondback has diversified into road, hybrid and full-suspension mountain bikes. Since acquiring the brand in 2012, Accell Group of the Netherlands has been investing in road racing teams and other events to establishing Diamondback's bona fides as a premium brand with both independent bicycle dealers and cycling enthusiasts.
.