Lost or abandoned fishing gear and nets, or what's been termed "Ghost Gear,"  is the single greatest polluter and killer of marine life in our oceans. Literally hundreds of miles of nets and lines are lost or dumped by fishermen every year into our oceans and, due to the nature of the materials used to produce the gear, they have the capacity to keep on "Ghost Fishing" for decades—possibly even for centuries—continuing the cycle of depleting are oceans of marine life that get caught, die and in turn attract scavengers which also get caught in the same net.
The United Nations estimates as much as 640,000 tons of nets are currently floating in our oceans, and that's on the low side. Two organizations, Healthy Seas and Parley For The Oceans, have changed the way we think about plastic pollution and creating useable textiles from the waste.

Healthy Seas is a worldwide, joint venture of non-governmental organizations and businesses that share a common mission: clean the ocean of marine plastics responsible for the needless death of marine animals.
This month in the deep waters off the coast of the Aeolian Islands, volunteer technical divers working with Healthy Seas removed more than four tons of ghost fishing gear, the largest net ever to be removed from the ocean sea-bed, which was sent to AquafilSLO in Ljubjiana, Slovenia's capital and largest city. There, the fishing nets are being cleaned and will be combined with other nylon waste materials before being transformed into Econyl regenerated nylon.
The Econyl brand is a trademark of Aquafil S.P.A. headquartered in Italy and used by some of the most important brands in the world of textiles and featured in many of this seasons Spring runway collections. Watch the video here and below that captures the Econyl regeneration process from retrieving the nets to spinning the waste into yarn.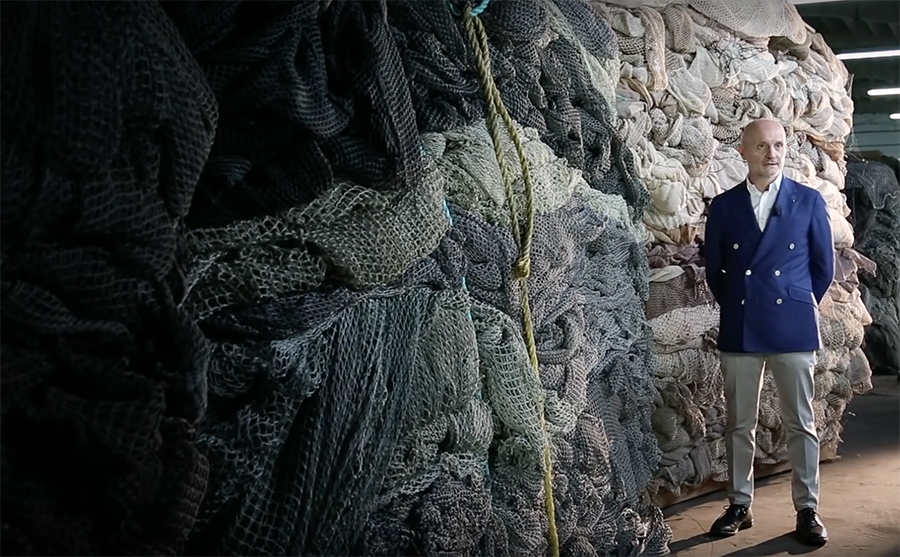 ---
Parley For The Oceans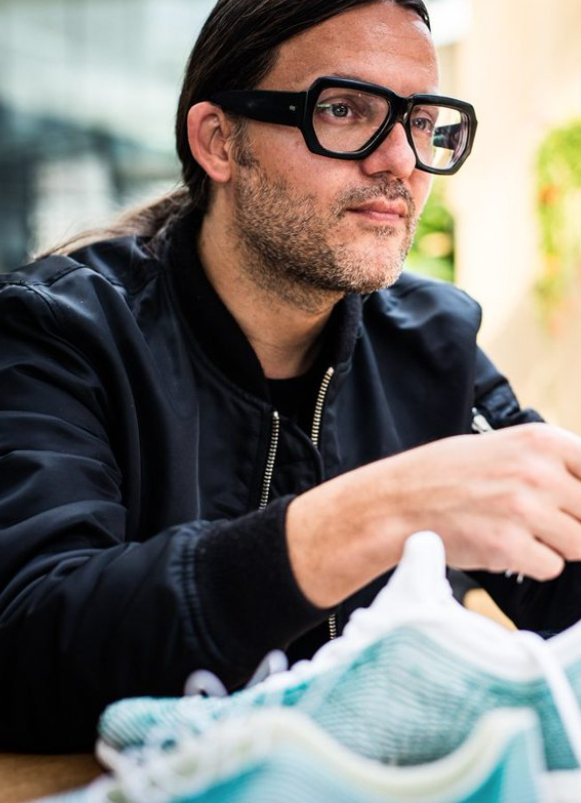 Early in 2002, SGB first heard and reported on Parley For The Oceans, an organization started by Cyrill Gutsch, a designer and artist, pictured left, who worked for Adidas, BMW and Lufthansa before meeting environmental activist Paul Watson. It was during that meeting that Watson convinced Gutsch to start Parley For The Oceans and fight against the destruction of our oceans with a focus on plastic pollution.
Gutsch made a compelling case that not only marine life, but human life, depends on reversing the damage that we have created. And he knew, as a creative, that when you are looking to change society, you bring in the worlds of art, fashion and design. Together they drove the message home to the world with Parley For The Oceans and words like "upcycle" and "sustainability" trickled down to become the norm for manufacturing best practices.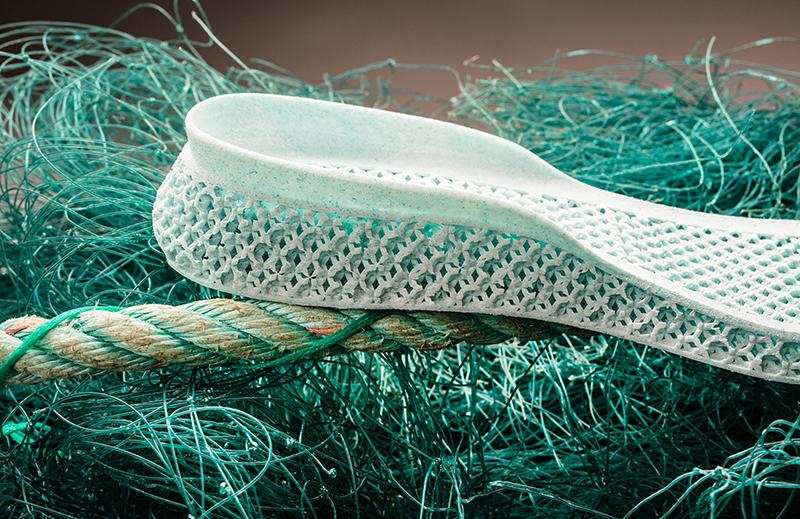 "Parley is a wonderful platform because it brings all of these different artists, scientists and people together—science, technology, engineering, art and math. You put them all together to talk about the problem, and it brings them into the domains where the issue has not been talked about." — Fabien Cousteau
In 2002 corporate America was not interested in focusing on plastic pollution. Most said it was too expensive to convert into textiles. Fast forward to 2018, and Parley has grown a movement that has changed the way we think about plastics and textiles world over. Listen to the video here and below produced by Parley and narrated by Captain Paul Watson. It compels us to rethink how one change can make a world of difference.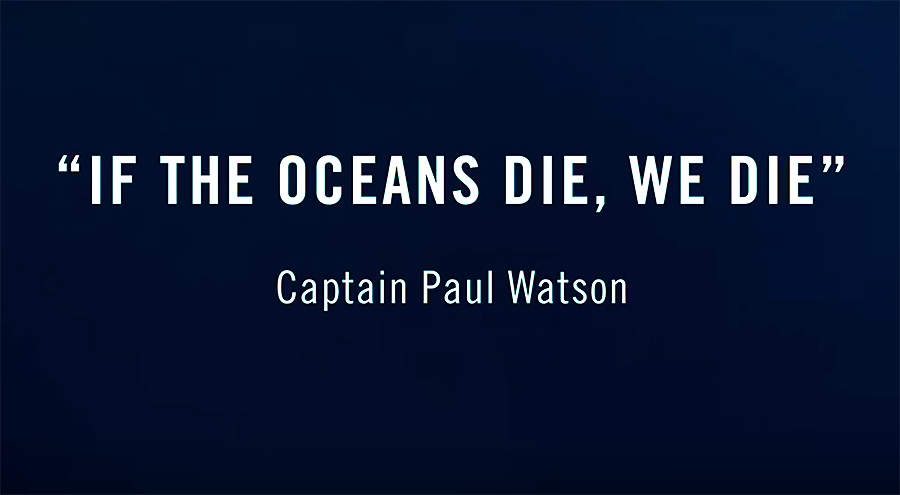 Adidas and Parley made history with the first high performance products made from ocean plastic, pictured above right and lead image, and below, and before long other big brands in the outdoor lifestyle category moved into the arena. Today it's more commonplace than not for high-end and technical fabric manufacturers to announce another breakthrough in turning plastic waste into useable yarn.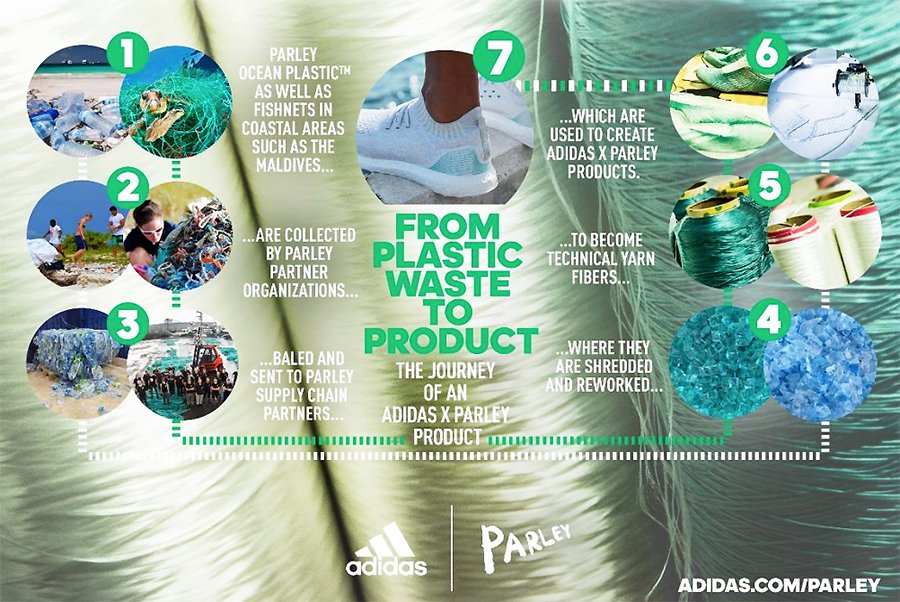 Parley often claims that "every second breath, we take is generated by the oceans," referencing the fact that more than half of the oxygen in the atmosphere is generated by photosynthetic organisms that live in our ocean.
Cyrill Gutsch's fight to stem ocean pollution—and many others like him—and his vision of radically transforming global production methods has transformed the textiles industry. Discarded fishing nets, post-consumer plastic bottles, worn-out tires, post-industrial cotton and even used coffee grinds are being used in outerwear, swimsuits, sneakers and accessories today with many designers touting 100 percent transparency in their manufacturing methods.
Mother Nature says 'thank you.'
Photos courtesy Healthy Seas, Aquafil S.P.A., Parley For The Oceans and Adidas