Delta Apparel, Inc. said sales of Soffe products sunk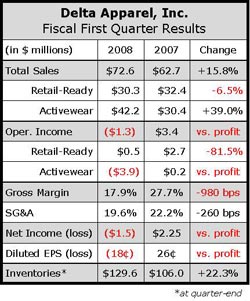 14.3% in Q1, driven by weak consumer demand, capacity constraints in decorating apparel, and delayed shipments on certain sourced product.

On a conference call with analysts, Robert Humphreys, president and CEO of Delta Apparel, said the Soffe weakness was particularly seen in the early part of the quarter at retail and sporting goods channels. The brand is continuing to see growth at college bookstores and at the Soffe e-commerce site.

Humphreys also said Soffe's decorated business continued to see momentum during the quarter, but wasn't able to fill orders despite using outside contractors. Late shipments of sourced product also shifted some product deliveries to October.
Looking ahead, Humphreys is still optimistic that Soffe will see net growth this year. He noted that the brand will enter about 300 sporting goods doors in the Midwest and pointed to a shift from some sporting goods chains away from private label towards Soffe. The college bookstore business, Internet business and Intensity Athletic business, which is focused on team uniforms, are all doing well.

"Our retail partners continue to give us positive feedback on our Soffe products and our Internet sales are growing steadily," adds Humphreys. "The general slowdown in apparel sales is causing some retailers to delay call-outs, making us cautious until we see more sustained trends during our peak selling season this spring."

In the overall Retail-Ready Apparel segment, the sales decline at Soffe was somewhat offset by a 36% gain at the Junkfood business, driven by increased sales to the higher-end department stores and specialty stores. Junkfood also reached an agreement to sell co-branded t-shirts to The Gap chain. Operating income in the segment plunged, due primarily to the lower sales at Soffe.

Delta has suspended its quarterly dividend in light of the uncertain retail environment and period of increased capital spending for its new Honduran textile facility.

Looking ahead, Delta expects a Q2 loss in the range of 33 cents to 37 cents a share with sales ranging from $64 million to $68 million. For the full fiscal year, the company expects net sales to be in the range of $325 million to $340 million and diluted earnings per share to be in the range of 62 cents to 76 cents.