Cybex International, Inc. reported net sales improved 15% for the fourth quarter ended Dec. 31, but a crushing loss in a product liability lawsuit sank the bottom line and may still be a threat to push Cybex into bankruptcy.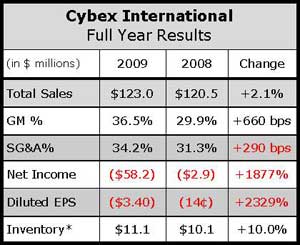 In December, a New York court ruled the company must a sum of $66 million to a woman who was severely injured when a Cybex weight machine fell on her. Company Chairman and CEO John Aglialoro issued a statement shortly following the ruling, calling the ruling an "injustice" and "another example of a tort system run amok." Nonetheless, Cybex was forced to absorb a large amount of the damages as insurance coverage only accounted for about $4 million.

Cybex's net loss of $57.1 million, or $3.34 per diluted share, reported for the 2010 fourth quarter included a $46.0 million, or $2.69 per diluted share, pre-tax charge to reserve for an unfavorable jury verdict in the product liability suit, Barnhard v. Cybex International, Inc., and a $12.7 million, or 74 cents per diluted share, incremental tax provision, primarily due to the valuation allowance recorded against deferred tax assets as a result of the uncertainty of realization caused by the litigation charge. Net income excluding these charges would have been $1.5 million or 9 cents per fully diluted share.

Total Q4 revenues increased 14.7% to $39.9 million compared to $34.8 million for the corresponding 2009 period.