There is no right way to run. Our bodies move in their own unique way, so the shoes we choose should be chosen with our unique, forward motion in mind.
No brand understands this more than Brooks, whose R&D team created the GuideRails Support System—the company's proprietary biomechanics paradigm.  Scheduled to launch November 1, Brooks Adrenaline GTS 19 will be the first sneaker to include the technology.
The premise behind the Support System focuses on stabilizing the knee joint during a runner's stride which often receives the greatest impact and subsequent injuries. The System replaces Brooks' Progressive Diagonal Rollbar, offering runners more support during each stride or when their stride falls out of place. Brooks believes the body will perform at its best when footwear works with an individual's natural habitual joint motion.
Armed with these insights, Brooks sought to explore the need for new footwear solutions that would better support the knee and develop a new, more holistic approach to assessing runners and fitting shoes.
Similar to bumpers in bowling, GuideRails Support System is there when runners need it most and out of the way when they don't. The "bumpers" work to reduce excess heel and shin rotation, keeping a runner's natural knee motion within a safe range, so they are running without pain or discomfort.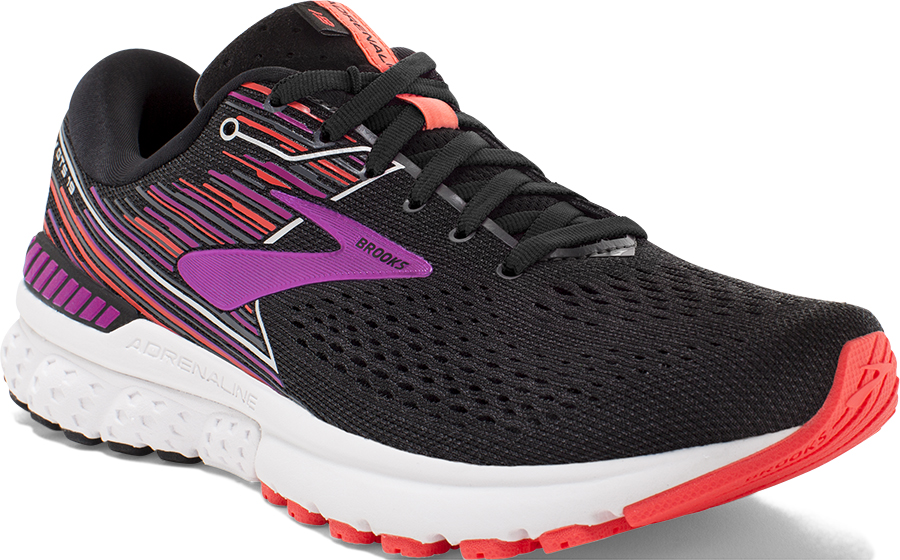 The Adrenaline GTS 19 is the first shoe in Brooks' collection to feature the GuideRails Support System defined as an inner wall that stabilizes the calcaneal eversion and an outer wall that limits excess calcaneal shifting.
The updated sneaker also includes softer cushioning under foot and a combination of DNA Loft and BioMoGo DNA as well as a modernized fit with engineered mesh and 3D Fit Print on the upper.
GuideRails Support System will be included in two shoes from Brooks that will hit retail in 2019—the Transcend 6 on January 1 and the Ravenna 9 on February 1.
Photos courtesy Brooks