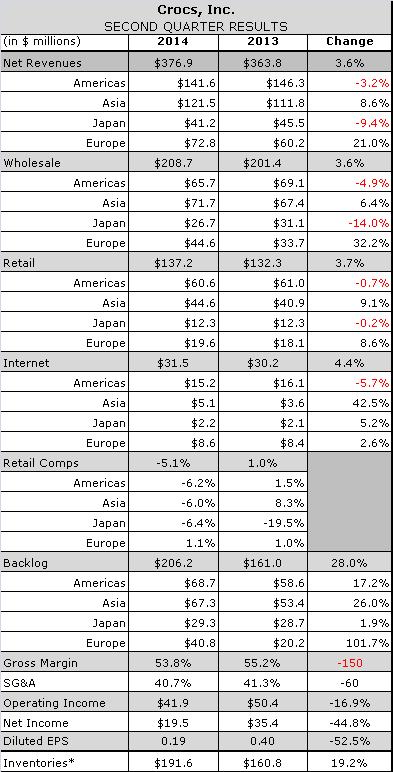 Crocs, Inc. will collapse its product line, cut positions, close up to 100 stores, divest foreign subsidiaries and focus more attention on growing its Wholesale and E-commerce businesses under a new strategy that prioritizes profits over growth, the company announced Tuesday.
The shoe maker also disclosed it will open a Global Commercial Center with 75 employees in the Boston area late this year that will house key merchandising, marketing and retail functions for its global direct-to-consumer business. The Boston location was chosen to attract experienced senior footwear and retail management talent and will work closely with the company's headquarter in Niwot, CO.
The details shed light on how The Blackstone Group expects to turn around the company after investing $200 million in CROX convertible debt last January. CROX reported its operating income and net income dropped 16.9 and 44.8 percent respectively in the second quarter ended June 30, despite a 3.6 percent increase in revenue.
Growth in Asia and Europe more than offset a continued decline in retail and wholesale revenues in Japan and the Americas, where retail comps declined 6.2 percent and business overall weakened as the quarter wore on.
Gross margin declined 150 basis points (bps) to 53.8 percent as
increased shipping costs globally were partially offset by lower promotional and clearance activity. SG&A expenses increased 120 bps to 42.6 percent of revenue, including a 300 bps lift from $16.8 million in one-time non-GAAP charges related to restructuring costs, retail store impairments and the company's enterprise resource planning (ERP) implementation. Operating margin reached 11.1 percent, down 240 bps from a year earlier and shy of the company's long-term goal of more than 12 percent.
Excluding $16.8 million in charges, including $7.3 million of non-cash charges, the company reported non-GAAP net income of 36 cents per share, versus GAAP EPS of 19 cents.
CROX ended the quarter with $409.0 million in cash and cash equivalents, up 28.9 percent from Dec. 31, 2013 thanks primarily to the January sale of preferred stock to Blackstone or $200 million and a $50.0 million stock buyback. Inventories increased 19.2 percent to $191.6 million compared with a year earlier. The company said it expects revenue of approximately $300-$305 million in the third quarter of 2014.
"Crocs' performance in the second quarter demonstrates the underlying potential of our global brand and business and the need for dynamic change in our strategy, organization and approach to the market," said Crocs President Andrew Rees, a consultant who was named principal executive officer in May pending the hiring of a CEO. "Overall, revenue was in line with our expectations, and we have set a course for meaningful change going forward."
For the first time since Blackstone's investment, CROX laid out the details of a four-pronged turnaround strategy expected to cut costs by up to $85 million per year.
Streamlining the global product and marketing portfolio
Crocs will trim its SKU count by 30 percent and plow the savings into its core footwear: molded clogs, slips, sandals, men's loafers and women's wedges. It will also continue to develop innovative casual footwear platforms.
"They never fully discontinued old products and some of them kept coming back on a regional basis," said Rees. "We think the brand plays best in casual situations and there'd been an effort to push the brand to more dressy or formal situations with leather boots with some heeled product, et cetera.
The rationalization will simplify the supply chain and reduce overall product line costs and inventory levels. CROX will also revamp its global brand positioning and increase its spending on consumer marketing by 50 percent, with most of the money coming from reducing non-consumer facing expenses, including personnel and agencies.
The new model will require partnering more closely with key retailers. CROX is already working to wean key retailers off ASAP orders and flow more of their inventory from pre-season orders. On the product development and marketing side, executives see opportunities for more SMUs.
"We will make our core stories bigger by partnering more closely with some of our key wholesale accounts and having derivatives, or portions of that story that might be exclusive to them," Rees explained. "And also more colors and more marketing behind them so we get greater sell through."
Divesting business units in smaller geographic markets
CROX will divest its subsidiaries and transfer significant commercial responsibilities to distributors and third-party agents four in Brazil and Taiwan and possibly two to three other countries. In Brazil, where CROX has $25-$30 million in annual sales, it has already transferred company-owned stores and some other business units to wholesale partners. In general it will expand engagement with leading wholesale accounts in select markets to drive sales growth, optimize product placement and enhance brand reputation and prioritize direct investment to larger markets.
Creating a more efficient organizational structure
Crocs has reorganized key business functions to reducing structural complexity, size and cost. The elimination of 183 jobs during the quarter is expected to save $4.0 million in 2014 and $10.0 million in 2015.
In addition, Crocs will open a Global Commercial Center in the Boston area in late 2014, housing key merchandising, marketing and retail functions. The Boston location was chosen in order to attract experienced senior footwear and retail management talent. The Global Commercial Center in Boston will join the Product Creation and Global Shared Services Center in Niwot, Colo., the cornerstone of support for Crocs' global business. The company will strengthen Regional Commercial Centers in the Netherlands, Singapore and Japan with responsibility for managing Crocs' global business.
"We anticipate 50 to 75 employees to be located there over time, some of whom may relocate from Niwot," Rees said. "We remain committed to Colorado, and our existing offices here will house our Product Creation and Global Shared Services Center. Regional Commercial Centers in the Netherlands, Singapore and Japan will increasingly focus on our retail, wholesale and partner activities."
Closing or converting approximately 75 to 100 Crocs branded retail stores
The company intends to close or convert up to 100 company-owned retail locations, including 18 already closed or converted to partner stores in the second quarter of 2014. About 25 to 30 stores will be closed in the United States, mostly outside the Southeast. More than half the closings overseas will occur in Asia, where it's generally less expensive to exit leases. The closings are expected to reduce annual revenue by approximately $35.0 million to $50.0 million and reduce SG&A expense by approximately $17.0 million to $25.0 million, with an insignificant impact on future operating income. Crocs also will consolidate global company-operated e-commerce sites from 21 to 11.
CROX SVP and CEO Jeff Lasher said he expects Wholesale, China and South Korea to drive top-line growth going forward.
"We are going to focus our attention on the geographic locations that make sense to us. Which is China, Korea, Japan, and USA, and Europe," said Lasher. "We are going to focus our attention on the products that really make sense to us. Which is clogs, flips, flats, sandals. We are going to focus our attention on direct-to-consumer economic value-add where it really makes rational sense for us. And we are going to organize our organization around a leaner business model that drives SG&A leverage."
Rees said that over time, the plan will restore industry leading operating margins of more than 12 percent.
Management expects revenue o $300-$305 million in the third quarter, driven by strong contributions from Europe. But the company declined to provide guidance or the full year due to all the changes. Sales are expected to decline in 2015 before growth resumes in 2016..