By Teresa Hartford
<span style="color: #a1a1a1;">Stephen Sullivan has built not one but two successful outdoor clothing brands. The first was Cloudveil, Founded in 1997 with friend Brian Cousins which was sold in 2005 to Sport Brands International (SGI) with over 600 retail doors and $25 million in revenue; and Stio Founded in 2011, a direct-to-consumer brand headquartered, and flourishing, in Jackson Hole, WY.
Jackson Hole is a valley between the Teton Mountains and the Gros Ventre Range in Wyoming, sitting near the border of Idaho. High altitude and steep mountains surround the valley where, like most mountain towns, weather can change fast and temperatures vary widely from season to season. 
The mountain lifestyle requires rugged, functional clothing and Stio, under Sullivan's direction, has bottled that ethos into a thriving outdoor brand with clothing that can be worn to the office or around town. With a direct-to-consumer model, the immediate customer feedback gives Stio the information they need quickly to respond with designs accordingly.  
Stio, the Gaelic word for Sullivan's name, is an "inherently authentic brand anchored in the Jackson Hole lifestyle," he told SGB Today last week when we sat down to find out what drives the design and function of the business.

When Stio launched in Fall 2012, you opened a 1200-square-foot retail store in downtown Jackson Hole, and in 2016, a 700-square-foot shop in Teton Village. In March 2019, a retail store opened in Park City, UT. Is there a schedule for growing retail outside your backyard? There are no giant rollout plans, but we do plan to open two-to-three stores a year starting in 2020, focusing on mountain or gateway communities to the mountains. Denver is a great example.  
The catalyst for a store location would be a community that embraces the mountain lifestyle and where the Stio product is self-evident. 
In 2014 Stio opened a retail store in Chicago's Bucktown neighborhood for the outdoor-centric consumer and affluent young professionals but closed shortly after. It was a good lesson in location. The store did ok, but the rent was high, and we did not hit the right site. We are not looking at large metro's—Chicago, New York, San Franciso—any time soon, but we might look at areas close to cities where there is a vibrant outdoor-minded community.
Stio has received "Best Place To Work" awards. Are employees drawn to work for the company because they embrace the outdoor-lifestyle or would a 20-something-year-old from NYC thrive, too? It's two things. Principally, Stio is a great, meaningful place to work, and secondly, it is a cool place to live.
We're focused on the e-commerce space and have spent an inordinate amount of time building up the intelligence side of the business to get smarter in everything we do and all the money we spend toward customer acquisition. That draws a different type of employee. There are many experiences to be gained, especially from a younger employee in our organization. 
Also, we're not running into some of the challenges that other businesses in our small mountain community face because, mainly, we pay industry-level compensation. People moving here to come work for us can find a place to live, in a great location, and we're able to draw an excellent level of talent because the scale of the business has gotten bigger and there's more meaningful work to do. 
Retail is crowded with outdoor brands courting the active lifestyle consumer. Stio has built a robust and loyal customer base selling direct-to-consumer. Do you see continued growth in this channel? Our success is a natural, cultural response to what we live, breath and love. Our roots run deep in the mountains, and that's unique to the brand. We build products for the totality of the mountain lifestyle and have from the very beginning. Living in Jackson Hole and living the mountain lifestyle every day, radiates an innate authenticity to our customers. 
When we started the business, we were very thoughtful about the launch and the trajectory of the company. We were not artificially creating a brand. Our design ethos is distinctive in that we're not just about outerwear. Half or more of our product assortment is lifestyle-specific and categories that cover the mountain experience. 
Why is direct-to-consumer so appealing? There's no lag in consumer feedback that you get in the wholesale channel. Wholesale continues to be a viable and significant channel in our industry but, with direct-to-consumer, you can design and develop products, put them in the hands of the consumer, and quickly find out if you have a home run or a dud. That's the way we've built Stio—on the home runs—and expanding the categories as a direct result of having immediate consumer feedback.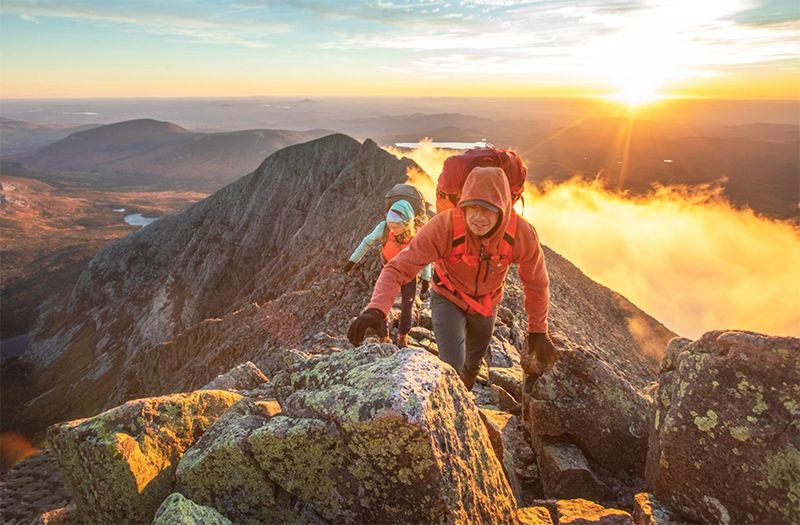 As a partner brand with Allied Feather & Down using their "Track My Down" platform, a traceability database that tracks every lot of down from farm to retail with a consumer-facing website, why is traceability important to Stio? Is third-party traceability relevant to the Stio consumer? From the beginning, we have been conscious of the products that we put into our products, and we've partnered with industry brands—Toray, Allied Feather, and now Gore-Tex in 2020— to build not just a business, but a company that affiliates itself with a factory-base that is operating in a thoughtful, ethical and environmentally conscientious manner—and then pushes the bounds of best practices. That's a natural offshoot of the fact that we consider ourselves stewards of the mountain life, and to be good stewards, we need to partner with businesses that are using best practices. Having traceable down in our products has become more critical as the down market has expanded. 
Stio recently signed a partnership with Gore-Tex. Why not another technical fabric manufacturer? We started the conversation with Gore the day we started the business because they are the most recognizable brand in the waterproof/ breathable category, which is beneficial to our business. That's also one of the reasons we chose to work with Polartec. 
With Gore, we're able to leverage their expertise and marketing power in our product and build a story with our customers where they don't have to think whether it's waterproof/ breathable. 
Gore-Tex brand recognization is very high in the active outdoor market. Approximately 65-percent of consumers know what Gore-Tex is and recognize the brand in the space. Having that power behind Stio and being able to build the best products that Gore-Tex offers is another step for our business trajectory. 
Stio's Fall 2019 collection uses recycled and repurposed fibers to keep unnecessary waste out of landfills. There is a growing consumer sentiment that companies are engaging in sustainable initiatives for reputation management. Some are striving to create warm and fuzzy among customers by doing good and as a competitive value in the products they sell. What is Stio's position? There's no question that the consumer mindset has changed a lot on this topic, and we've had some companies in our industry that have been great leaders in not greenwashing. That said, I think that there is greenwashing out there. 
However, I don't think we are greenwashers. 
We've had sustainable best practices as part of our Charter since the beginning. Most recently, we created a Stewardship Council within our business. The whole idea behind the Council is to involve not just the upper senior management group but to get the rest of our business, and our employees, to help drive what our vision is. 
Our Stewardship Council exists to lead and facilitate change within our organization and, at any point, to reduce our environmental footprint. Its mission is to look at not just the textiles we use but the ecological conditions of each of our factories, our offices and retail environments. The goal is to continually move forward to create best practices around all of these things. 
A great example of our Stewardship Council is that they helped bring about change with the addition of our opening a second office because they identified that the working conditions in our current office were too cramped, crowded, and loud and that people were not able to do their best work. 
I don't sit on the Council. The Council is made up of employees from all different parts of our business, and not the senior level people. We did that purposefully because we wanted the inner guts of the company to be driving a lot of the decision making and not having it all just come from the top down. 
I do think that we're on track to doing the right thing, but it's a constant, ongoing, evolving process. That's why we formed the Council. We've gotten results from the Council that I may not have because you get in your bubble as the CEO. It's nice to have the organization helping to drive the company's vision and mission going forward.
How are members of the Stewardship Council selected? Five-to-six members are involved in the Council at any given time, and the membership is determined in two phases. We, the senior team, appoint two Co-chairs, and those Co-chairs select members across the departments to make sure that there is fair representation from the different areas of the business and different points of view within the company. 
The membership rotation is annual, and that includes the Co-chairs. If you have worked here for three years, you will likely serve on the Council at one point at that time. The Co-chairs are not members of the senior management team. They are from our middle management group. We've found that we've been able to empower the organization this way. We do not want to push this from the top down. We want this coming from the core of the organization, not just C-Level people.
In the Fall 2019 collection, you are using recycled and repurposed materials. What is the percentage? Sandy Flint leads our materials group. He recently came to work with us from Burton with a master's in textiles and is an excellent addition to our team.
Sandy's first order of business, when he joined the company six months ago, was to conduct an in-depth, internal audit on everything we do. Right now, we're about 25-percent recycled, organic or Bluesign approved textiles. That's not good enough. Over the next year, we are making significant changes to the way we source, which includes moving to organic cotton. We will always look to source the best textiles and are not afraid of the cost, because we've found that consumers are not pushing on price when we use recycled, repurposed, or organic textiles.  
There is a long-term goal, but it will be a three-to-five-year process before the vast majority of our textiles are recycled or Bluesign approved. It's a laborious process to convert over, and I don't know if we'll ever have 100-percent, but we are pushing toward that.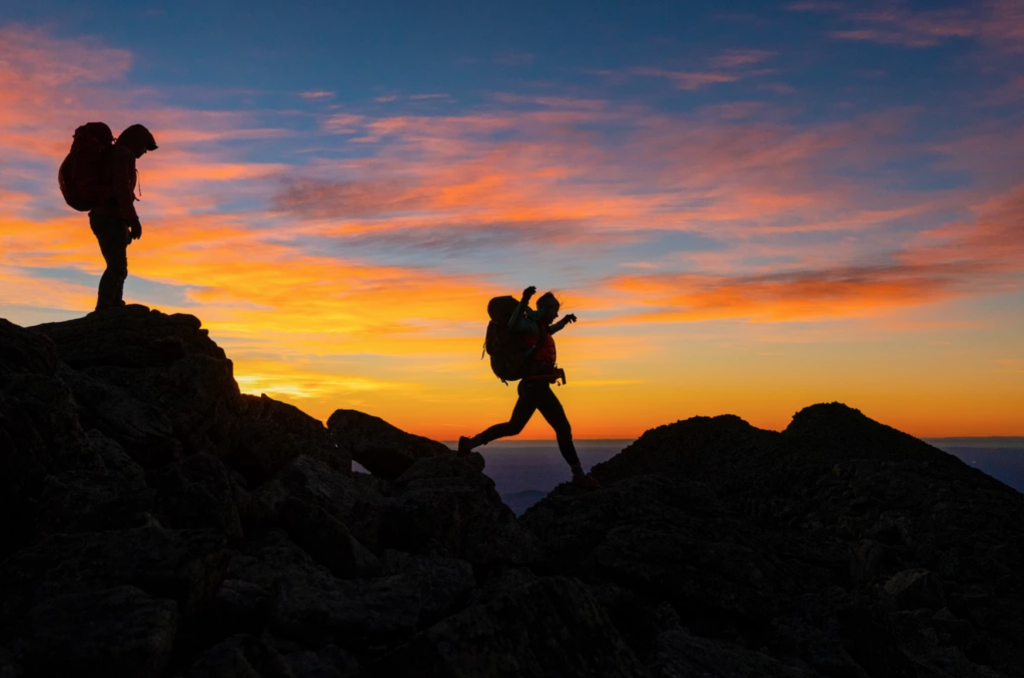 What are three products from Stio's F19 collection should we consider buying to add to our outdoor wardrobe?
→Fernos Insulated Knicker. The genesis behind this was cold butts on ski lifts. The Fernos is an insulating layer, (we don't make an insulated ski pant), that is incredibly soft and lightweight with Primaloft insulation. The textile has a stretch component and designed to wear under your ski pants on the coldest of days, whether backcountry skiing or riding lifts all day. We did an extensive amount of testing on the Knicker using multiple levels of insulation and different textiles so the pants would be smooth and comfortable under your ski pants. It took several iterations using both our internal team and our athlete ambassadors. The results are really good and offered for both men and women.
One of the hallmarks of our brand is versatility. The Knicker also functions as apres-ski wear and is one of my favorites for the season.
→Raymer Collection composed of a men's and women's jacket and pants is a thoughtful and purposeful take on the backcountry/sidecountry. We wanted something more breathable and functional for the backcountry environments that were also packable and lightweight. We worked with Toray to get the right textile for the collection and ended up with a new stretch called Entrant, which is a three-layer material that facilitates breathability with a 20,000mm waterproofness, 13,000 breathability rating—much higher than our current Environ program.
→In our lifestyle-centric collections, a highlight is the new Saratoga Cord Shirt, a fun take on a classic cord shirt with some very nice technical details. We've even spotted people layering it up and skiing in it for an old-school look. We're offering it in both men's and women's to wear as a shirt or layered to wear as a jacket.  
→In our true sportswear grouping is the Rawlins Fleece Collection, new for F19, is a classic take on the old shearling style fleeces in a half and full-zip for men and women. The one big difference is that the fabric is incredibly lightweight and pliable. We worked really hard to source that textile. 
Photos courtesy Stio