By Teresa Hartford
The Barkley Marathon is one of the hardest races in the world of ultrarunning. The course, designed by Gary "Lazarus (Laz) Lake" Cantrell, was inspired by the 1977 escape of James Earl Ray from Brushy Mountain State Penitentiary in Tennessee. Ray covered just 8 miles after running 55 hours in the woods. Cantrell thought he could do better and designed the Barkley Marathon naming it after his running buddy, Barry Barkley, who was the first to run the marathon in 1986.
Every year, through a secret selection process, Laz invites 40 runners to try their luck at completing the race. The 100-mile course consists of a few marked trails with five loops that average between 20 to 26 miles. Finishers are required to run the loop five times, clockwise or counterclockwise depending on Laz' fancy. Each loop climbs on average 11,000 feet, equal to the descents which are nearly 110,000 feet of elevation change. The runners have to navigate their own route and find hidden books along the course, tearing out pages to bring back to Laz as they run. If a runner takes too long to finish a loop, they're eliminated.
The start time is exactly one hour after Laz lights his cigarette, shown below right, and after sounding a warning on a conch shell which can be anytime between midnight and noon the day of the race. The runners are given 60 hours to complete the race, most are booted long before the allotted time.
Historically, the race has been male-centric. This year was an exception. Laz selected five ultrarunners Amelia Boone, Liz Canty, Stephanie Case, Maggie Guterl, Nicki Spinks, Kaz Williams, and five-timer Nicki Rehn.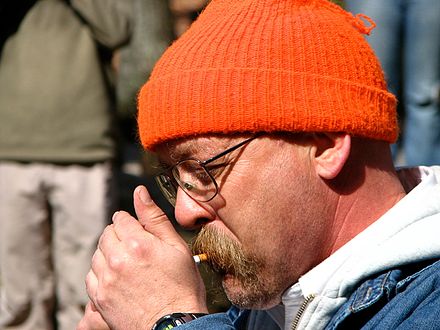 Since it's inception, only 15 runners, all men, have finished the five laps inside the 60-hour time limit. This year five male runners completed three laps, but none achieved four, let alone five.
"It's easy to design an impossible race, and it's easy to make a race everyone can finish. It's really hard to find that point where impossibility is just so close. The Barkley was, and remains, the pursuit of that line." —Gary Lazarus (Laz) Lake, pictured above.
Nicky Spinks, 51-year-old Inov-8 ambassador athlete was the last woman standing at this year's Barkley with fellow runner Stephanie Case. She spoke with SGB from her home in the UK about her experience.
Why did you want to run the Barkley? I was running the Berghaus Dragon's Back in 2012 with John Barker, a Brit who lives in Tennessee. Bashing our way up a hill, he said, "You should run the Barkley. You would be suited to it." When we finished the run, I googled it, and I knew I wanted to do it.
Is the race a marathon or an endurance run? An endurance run where teamwork with your fellow runners is vital. You're not looking to beat them because chances are, you're not going to beat anyone. You need them, and they need you to survive. Everyone that finishes has gone around four loops with someone else, and then you split up at the last and fifth loop to run alone. That's the rule.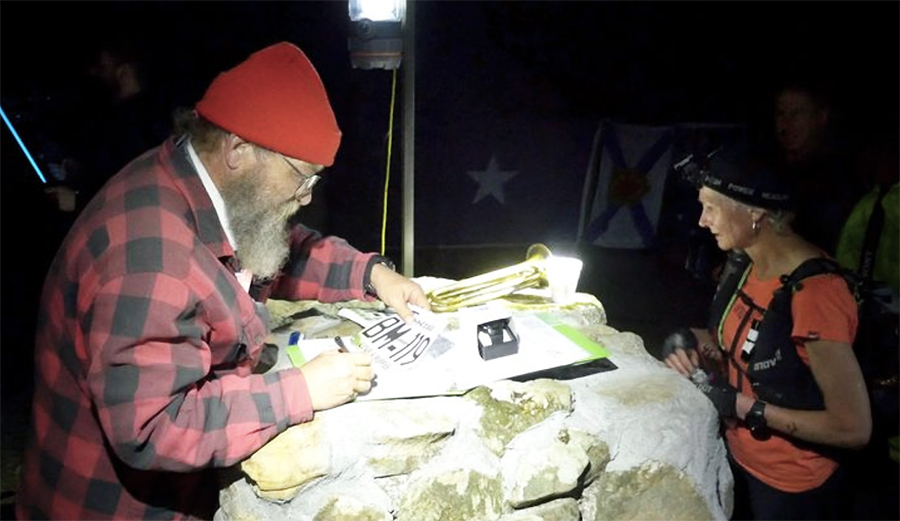 Why are you suited for the run? I don't mind the rough terrain. It's similar to home. Much of the trail running I do in the UK is up-and-down open, rugged hillsides that are just as mentally frustrating as the Barkley. We also have knee-high grasses called Tussocks that slow you down, similar to the brambles on the course. The Barkley also mimics the challenging navigation where I run, and it's a 60-hour course that I'm accustomed to maneuvering.
When John Barker and I were talking about the Barkley, I hadn't run more than 37 hours for a 100-miler. I had never run over two nights without sleep, but as time progressed and I ran the 132-mile Double Bob Graham, I realized I could run for more than one night without sleep and then two nights with just 10 minutes of sleep. I didn't just jump into the Barkley straight away. There were things I needed to try before I applied.
You're a cancer survivor. Are strength and tenacity needed for this race? I think so. I didn't realize I was a strong person until I had cancer. After my recovery, I used the experience to benefit me. 
How did you maintain your sense of navigation? The navigational workouts I practiced at home prepared me mentally and strengthened my legs. On the other hand, there's very little information about the route. I wasn't sure what the briars would be like because we do not have those in England. They're thorny like rose bushes, tall and sharp, and cut your legs.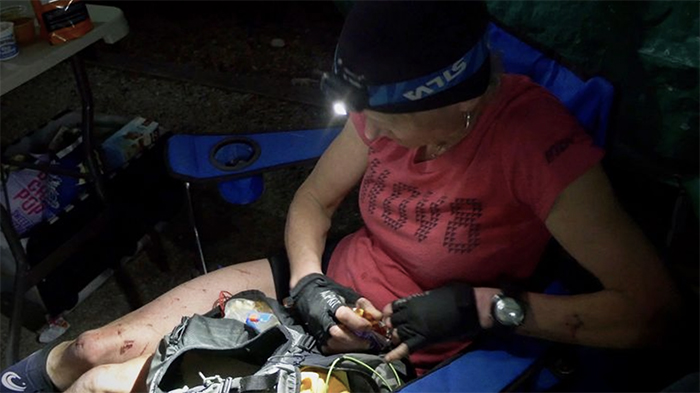 How long did it take you to prepare? You don't have much time to prepare. You find out two-to-three months before the race, but I was training intensively in the hope that I would be selected. 
Why is the race nearly impossible to finish? It's all the little things that add up to making it difficult. On paper, the distance and the climbs are quite doable for a lot of us who have raced 100- to 200-milers, but it's the navigational challenges and the unpredictable weather conditions—and then the books are difficult to find. The descriptions that Laz gives you are something like this … "it's in the middle of a tree of three trees." But, it's actually in the middle of 300 trees. And if you're not in the right place, you're not looking at the trees you're supposed to be looking at, and you can't find the book.
Then there's the lack of sleep, your brain is not working as it should, you have 12-hours out on your own, you have to eat even when your body is depleted, and all the while the weather is relentlessly pounding your body.
Do you need a survivalist's mentality? Yes, you have to have an independent mindset, and I do. I run a lot by myself for an entire day on the mountain, 12 hours at a time. I've gotten myself lost but found again. It is important to be able to get yourself out of any situation. That's why I thought I could do well at the Barkley because I know how to look after myself.
You ran wearing Inov-8's Extreme Thermo Neoprene High Socks and Mudclaws. The socks were important, but the Mudclaws with the graphene grip were great.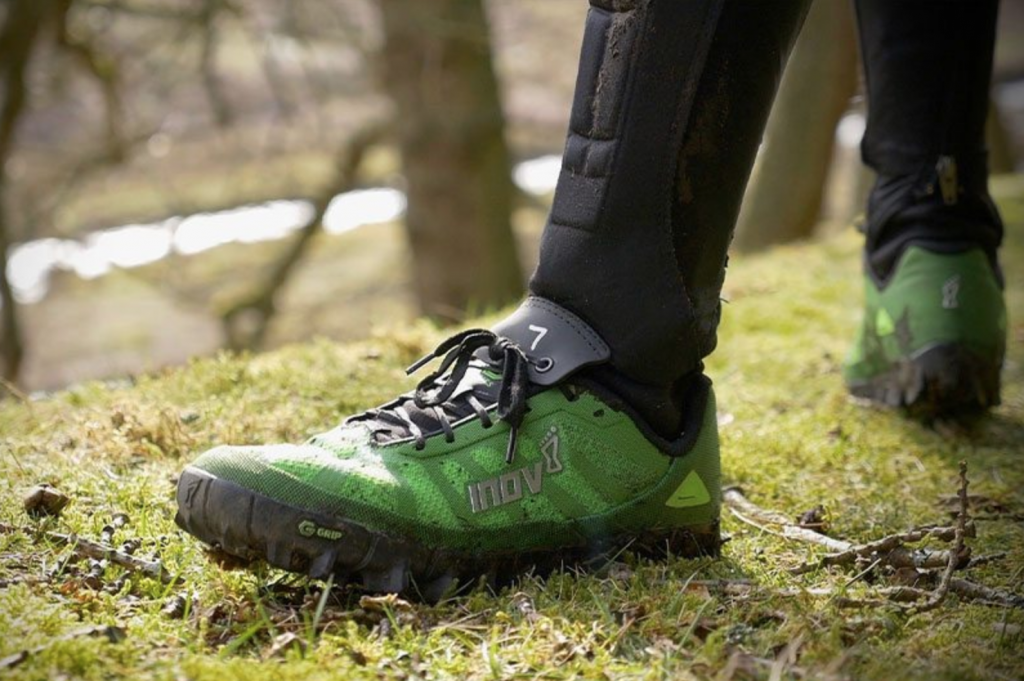 Two days before the start of the race, the course had two feet of snow. At the start of the race, the snows had melted leaving mud like we hadn't seen before. The footing was similar to what I run through in the backwoods here in the UK, but the difference was it was so slick. We hadn't anticipated sliding back downgrades where we used trees to stop ourselves. The soil seemed to come away from the rock and moved with you if you tried to break free. I wasn't sliding down the hillside as much as my running mates were in their trail shoes. A lot of my success in the race was due to the Mudclaws. 
Why are Mudclaws suited for rugged terrain? When you're running downhill, you have the confidence that you can let go and throw your feet out in front of you even if the terrain is slippery because of the Graphene grip. The shoes provide the confidence that your foot will stay in place while you put your other foot two meters ahead. 
Did you run in more than one pair? I ran in the same pair the entire race. It's a big testament to the shoe's grip, but I've often completed 24-hour runs in just one pair.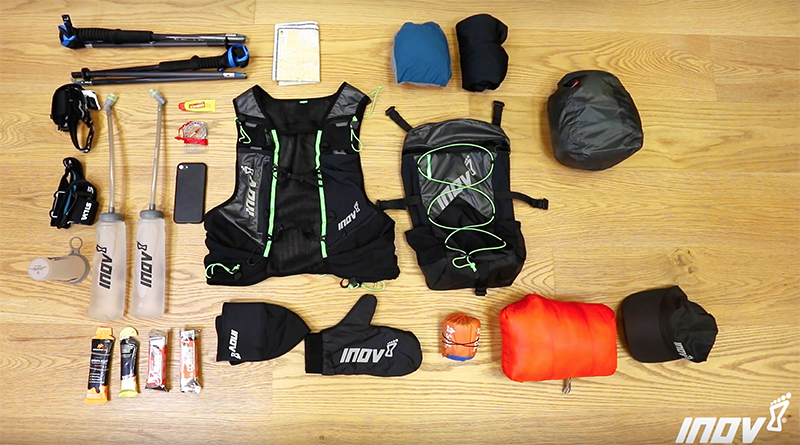 The clothing Nicky wore for the run also included the Stormshell Waterproof Jacket, Full-Length Tights and Extreme Thermo Mitt. Watch the time-lapse video here or click on the still shot above to see her essentials come together for race day.
Would you run the Barkley again? I hope so. As a veteran, you have a better idea of where you are going. I learned so much about the terrain and what I would need to do here in the UK to train more wisely. Also, I would be more prepared for the weather, which was wet with bitterly cold winds as you climbed higher. Initially, I was able to get my hands warm, but as soon as the wind picked up, my hands turned to blocks of ice. I couldn't warm them up, and I wasn't eating because they were so cold and I was unable to open the packets of food I had with me. 
You have to plan for the variabilities and if you're ill-prepared, it can send you packing. I was slightly hypothermic, and if we stopped for more than 10 minutes, I would have been a liability to my running mates, Stephanie and Billy, who were also pushing to the limit to the same point of hypothermia. I don't think I've ever felt that cold. To finish the Barkley, I do think you need to go back a second or third time, despite the weather. Next time, I would bring more mountaineering-type clothing.
You ran four loops with Stephanie Case and Billy Reed. Stephanie is a Barkley veteran. She was brilliant in helping me learn about the unique elements of the race. Lap one took us about eleven hours, which was longer than I had hoped, but the temperatures, the difficult terrain and the time spent trying to find the well-hidden books all played a part. Billy Reed is also a veteran.
I can see now why only 15 people have completed the race in 33 years. Laz makes the race harder and harder, changes the course so even the Barkley veterans don't know where the books are, and this year I think he added more uphill climbs. That's all part of what makes Barkley Marathon the race it is.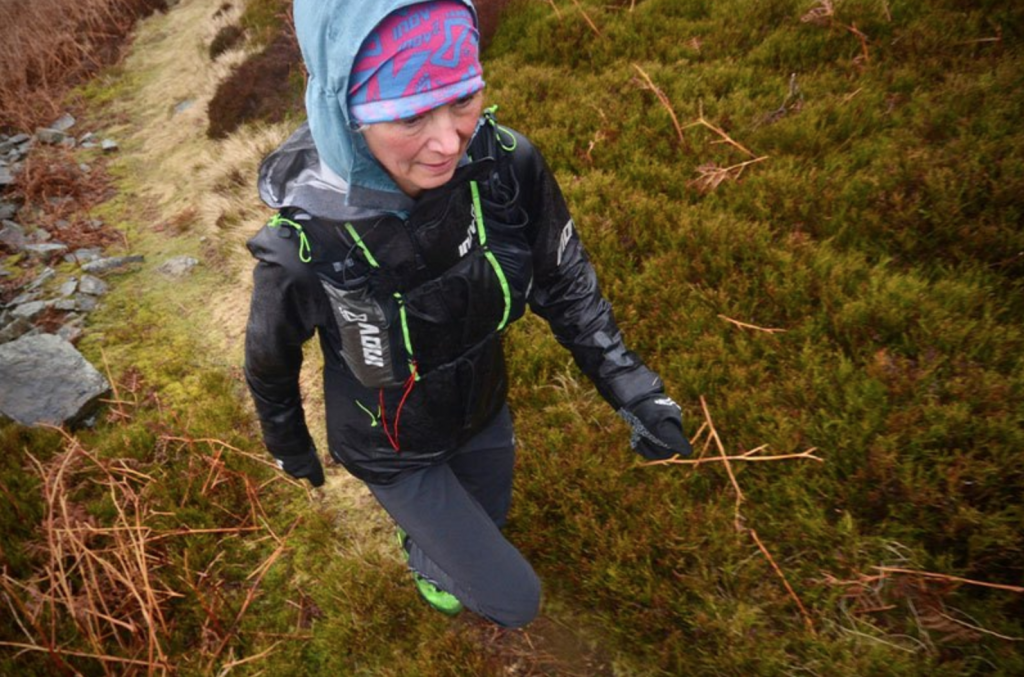 What advice do you have for the first-timer? Even if you've completed 100-milers, make sure you're up for the level of discomfort, because you're not able to switch off mentally when you're running a route that has no track and is not marked. You have to be on your game constantly. Your body gets beaten down quickly and the weather is unpredictable.
Do you have times in the year where you don't feel like training? Sure. There are times when I'm out running with my dogs, and I'm so tired, and I think why am I out here and almost falling over. But after I do a couple of those runs, I bounce back quickly and sharply. 
It takes a lot of organization to run the significant races that I run. I like the bit afterward, where I have downtown. When I get fidgety, then I know I'm ready to start the process all over again. When I'm enjoying downtown, then I know I'm fine to be at rest. 
Photos courtesy Nicky Spinks/Inov-8