By Teresa Hartford
Graphene, a one-atom-thick layer of Graphite, is ten times stronger than steel. By infusing rubber with the material, British brand inov-8 created a long life for the outsole in sports footwear. 
Launched in July 2018, inov-8's G-Series running and trail-specific shoes have graphene-infused rubber outsoles that provide a super sticky grip on rock and wet rocky surfaces with a blend of underfoot protection, sensitivity and durability.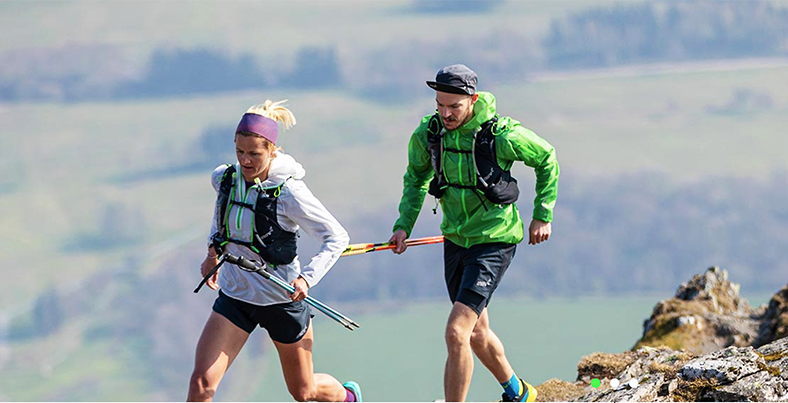 The G-Series trail running shoes infused with Graphene receive rave reviews from running experts, and the material has been a change agent for the inov-8.
SGB Today spoke with Michael Price, COO, inov-8, from his office in the Lake District in the UK. Although the team is relatively small in terms of numbers, every member of the team lives and breathes the brand contributing to the "outstanding results we continue to achieve in a competitive marketplace" notes the brand. 
The University of Manchester discovered Graphene. That's important to know from an innovation point of view. Inov-8 partnered with the University to redefine grip through Graphene, which allows the company to manufacture "an insanely sticky grip on any surface," said Pierce.
Graphene is 50-percent stronger, 50-percent more elastic and 50-percent harder-wearing extending the life of products, that's important from a sustainability point of view, and a key benefit in the outdoor area. "The material redefines grip and removes weight. Rubber is heavy. When you reduce weight, it saves energy for big mileage runners," he said.  
Are there plans to expand the use of Graphene into other product categories? In footwear, we are looking at new designs that use Graphene in different areas of our shoes, and we are partnering with The University to extend the application into textiles for apparel. We have a 20-year patent pending on Graphene, expected to go through in the next six months, for outsoles and midsoles in shoes.
From a sustainability perspective, Graphene is not an easy material to work with, and it's expensive. Graphene comes from graphite, a natural material, and extends and improves the life of products. From a sustainability point-of-view, that's a win. We are working with two suppliers and getting closer to our sustainable best practice goals.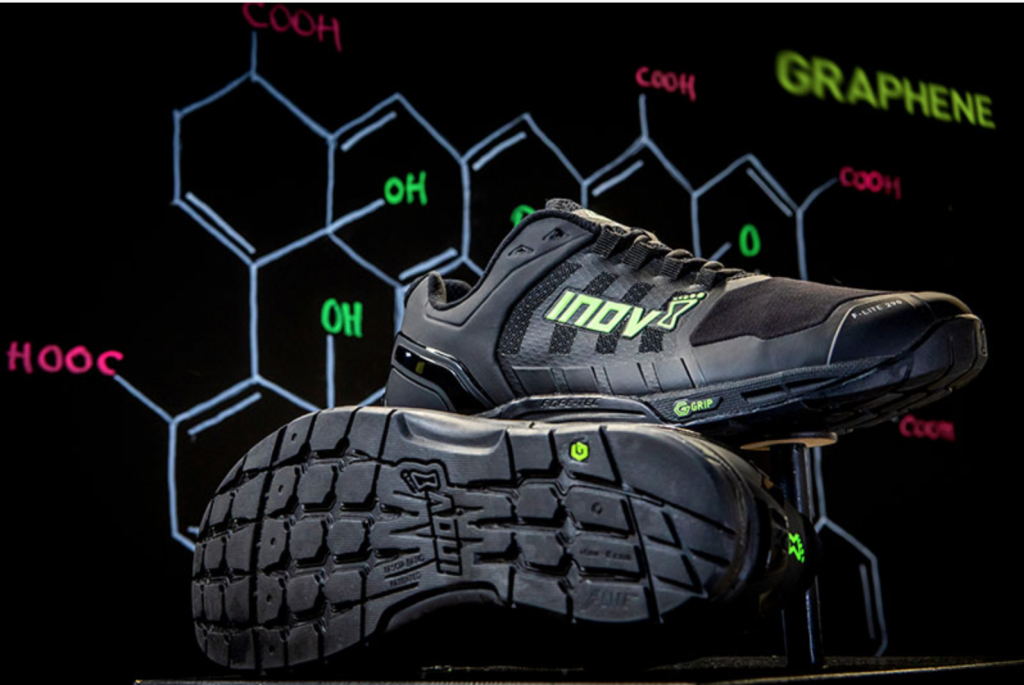 Graphene is basically a single-atom-thick sheet of carbon with two-dimensional properties that offer impressive characteristics when infused in textiles. Yes, Graphene offers many benefits. It can make materials super light, flexible, conductive, deliver protection, and impact water repellency. We will introduce new textile technologies shortly that will bump the textile space up another level.
Working with the University of Manchester's textile specialists is super exciting because it combines sportswear with science and technology. The University has invested millions of dollars in leading the way in graphene across the world. For us to be working with them is very good.
There have been new hires and a reorganization within the company. Can you speak to the changes in top-level management? The U.S. is an important market for us. As a business, we are split one-third in the U.K., one-third in the U.S. and one-third worldwide. The last few years had been a challenge in the U.S., but we've re-engineered our business and are back to healthy growth. And part of that has been in investing in and strengthening our team with key hires.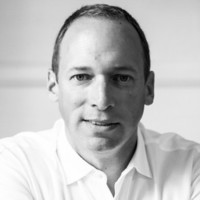 The leader of our U.S. team is Dave Lambert, shown right. He previously spent 17 years at Mizuno during a time when they grew from less than $5M to over $100M—having that experience in the U.S. marketplace in sports and running is very good. And we've made other hires. 
Blair O'Bryant works for us in the Southeast and focused on the independent outdoor channel. We're making good progress there, especially in the fast hike category, and with Graphene being in our products—making them very fast and light, we see good growth there. 
Can you talk to inov-8's push in the indoor fitness category? inov-8 has been in the CrossFit category since 2010. For a while, we took our eye off the category, but we knew we could provide the best looking performance products and what the marketplace needed when we jumped in both feet.
In August, at the CrossFit Games in the U.S., our products performed well. They're light and agile for cardio, but if you want to lift in them, you can. Cross Fit is a growing sport across the world. Because we are laser-focused on that, we can see robust growth. We're excited about that part of our business.
Shown below is inov-8 training athlete, CrossFit and weightlifting coach, Jared Enderton. Jared is also the head strength coach for Team USA Sprint Cycling Team at the Olympic Training Center in Colorado Springs, CO. Below Jared's photo is the FastLift 370 BOA weightlifting shoe, his personal favorite.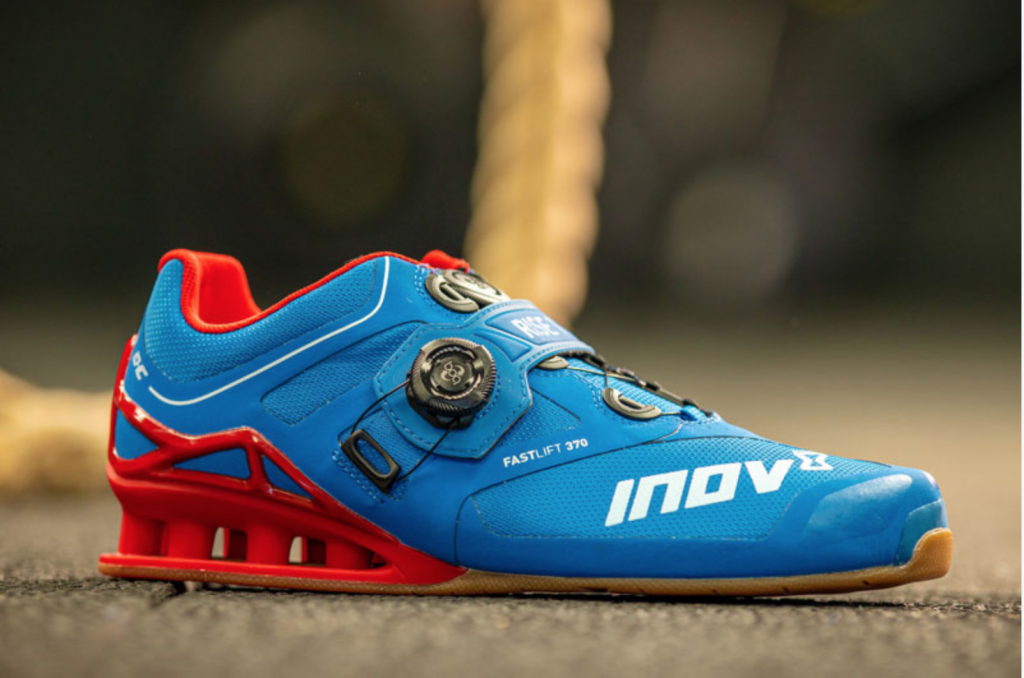 What does CrossFit bring to the inov-8 brand that is a great marriage? Our brand has always been focused on committed sportspeople. The CrossFit audience adopted us in 2010 and loved our product. The category fits alongside our trail and our hike areas very well. 
From CrossFit, we've extended into obstacle course racing—a perfect bridge for us between CrossFit and Off-Road Running. We sponsored the OCR (Obstacle Course Racing) World Championships in the U.K. this year and will be in the U.S. next year. Eight of the Top 10 athletes at the event wore Inov-8.
We pick sports, rather than saying we want to go after the whole training market. We get laser-focused, deliver the best product, focus on innovation, and then we're able to grow.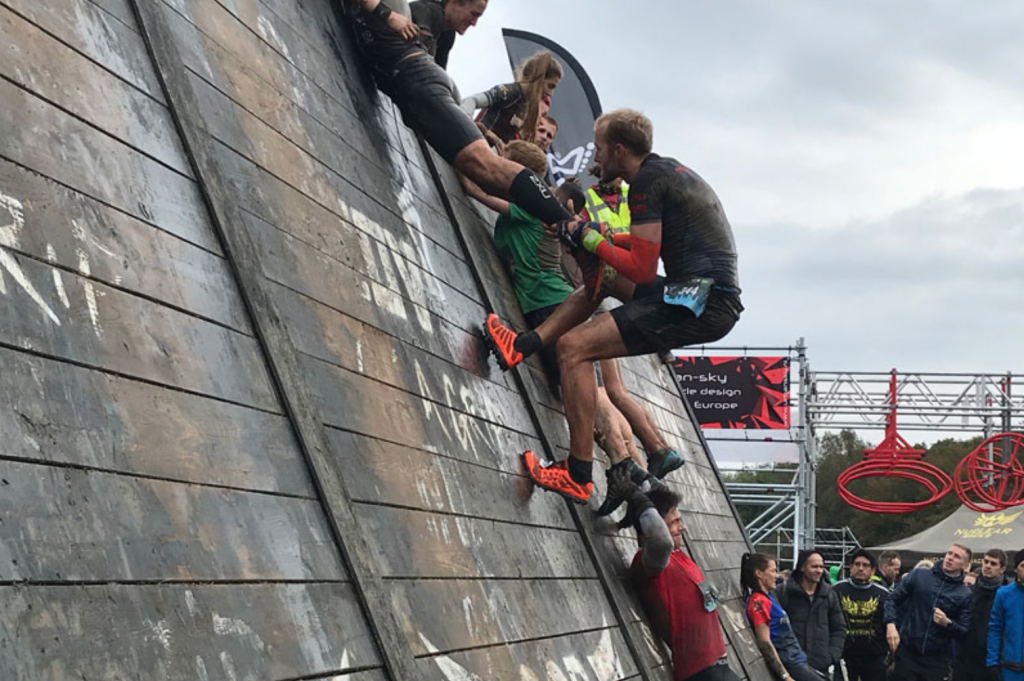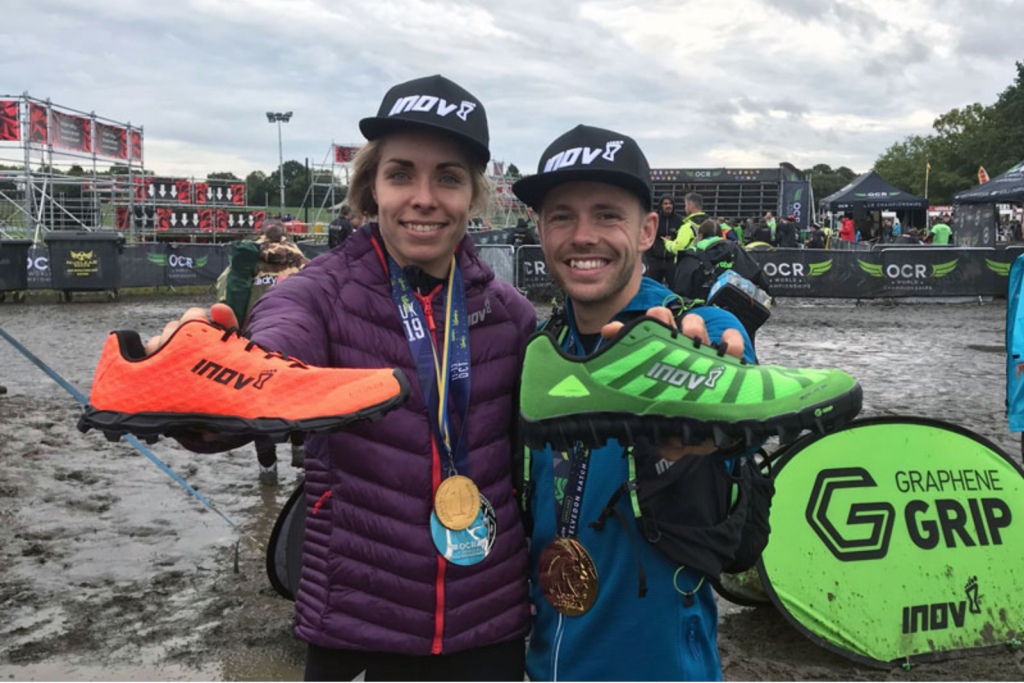 This year in CrossFit, for instance, we recently signed three fantastic athletes. Dani Speegle, the 2019 U.S. Fittest Female, Scott Panchik, the fourth fittest man in that world and Jared Enderton, the strongest man in CrossFit.We can sign these committed sports persons because we deliver products that work. 
inov-8 attracts top-level athletes and yet the brand, when compared with the industry giants, is small. How do you account for that? It's the people who work at inov-8. In big companies you study the market, we live in the market with the people we employee. They want to be out in the marketplace, competing and making the best innovative product and then we communicate with the community. And because we all live in it, it really makes a difference.
Fran Calvert, shown below, joined us about 14 months ago on our internal CrossFit team. She's one of the best young female athletes in space here in the UK. She knows it, lives it and she connects with the people in the space.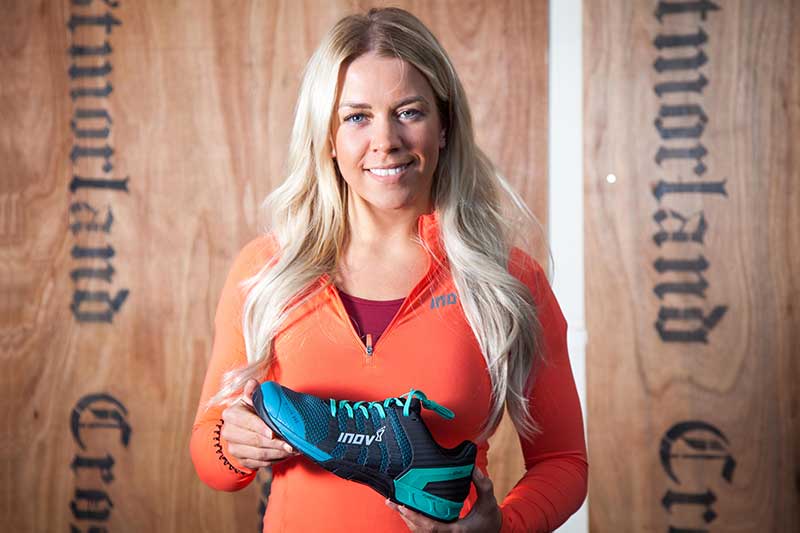 The personal relationship brands have with the consumer is taking root in the active outdoor market. There will always be giants, but companies are dialing down into the quality of life/work, and that's making a big difference in the way in which product is coming out to market. It's not about studying the marketplace, it's about living it, being close to the marketplace, testing the products yourself as a team, and making adjustments. We make mistakes, we adjust, we move, and we continue to push things forward. Which allows us to be faster and more agile.
We work with interesting people.
Jasmin Paris, shown below, made ultra-running history when she became the first woman to win the U.K.'s 268-mile Spine Race beating a field of 125 men and 11 women from 15 different countries and crushing the course record set in 2016 by male ultra-runner Eoin Keith. Having given birth to her first child just 14 months prior, Jasmin is such an inspiring person. What she wants to do with Inov8 is not about a contract. She wants our support to help inspire the next generation of women to do amazing things. Now that motivates me, that drives our team. We can compete against any of the big brands.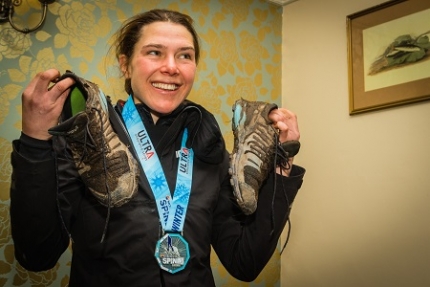 You recently launched inov-8's first hike-specific shoe, which is doing quite well. Where are inov-8's energies in the hike category? In the U.S., that's our second priority after CrossFit. Interestingly, inov-8 started in the fast and light hiking products ten years ago and then went through a private equity period and stopped being in that market space. I think we were way ahead of the trends.
When we launched the Roclite G 345 GTX trail running shoe, shown below left, we sold out in the U.S. and the U.K., working with the independent outdoor channel. It is an exciting channel for us. It's a place consumers want to go in and shop. They're not afraid to lead the way and carry smaller independent brands.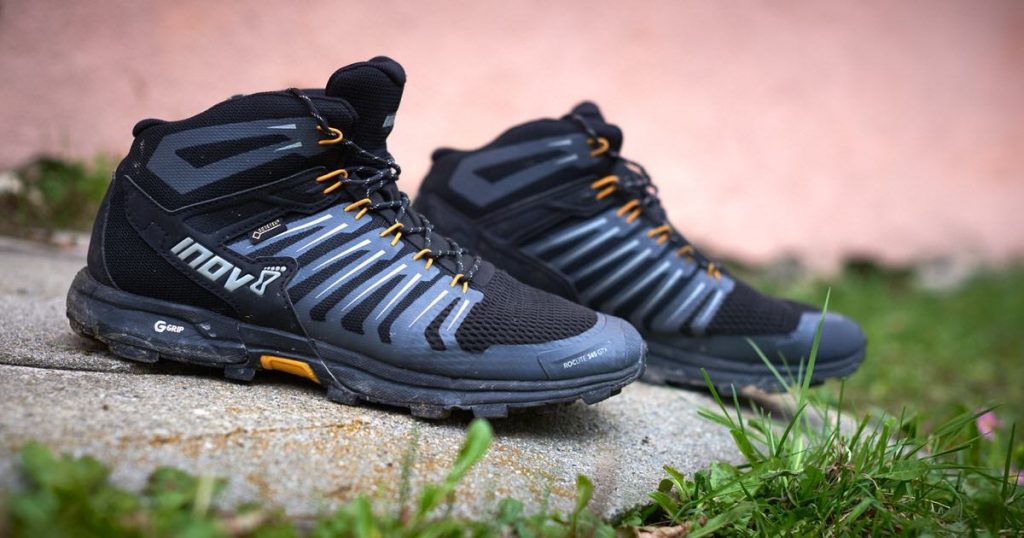 inov-8 is a young brand with a lot of energy behind it. What's on the horizon? The high energy will continue. We make a difference through our product, with innovation being the number one focus. It's our brand promise and our DNA. That's how we did Graphene.
The potential for us with Graphene across all our product categories is limitless. We will continue to push design with a couple of young designers who recently joined our staff. We will continue to set the benchmark with grip and with CrossFit. I do think CrossFit over the next five years is a growth area for us. It's a community based-sport, and we'll continue to grow and to innovate in that category. We will continue to work with our athletes that want to be part of a unique brand and can have an impact on the brand through working closely with us on the product and on the messages that they want to communicate.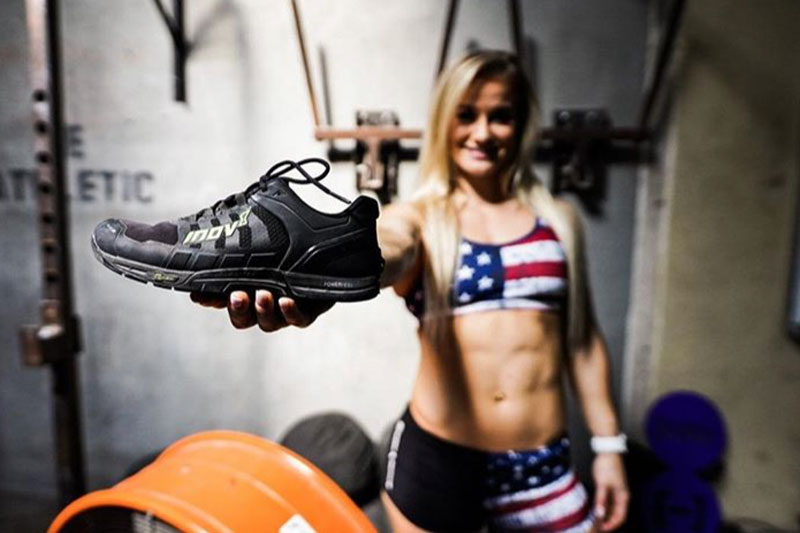 Is inov-'8's marketing message to the younger consumer different geographically? Yes, and that will continue. Products need to work both in the gym and as part of your lifestyle. We're creating products for a circular economy. It is critical to the brand.  
Photos courtesy inov-8