Columbia Sportswear has been cited recently by a number of outdoor specialty accounts as a brand that will get more attention this year, but the company has yet to see any real reversal of fortunes in the U.S. market as weakness in the company's much larger department store business helped slash first quarter wholesale sales and order backlogs. The company also sees a weakening business in the EMEA region and Canada, which has until now offset some of the declines back home.


"Business remains challenging and those challenges have spread well beyond the U.S. over the past several months," said Tim Boyle, president and CEO, on a conference call with analysts. He added that the weak backlogs "suggest that we will continue to see deterioration in our top line over the remainder of the year." Including a negative 4% effect from currency devaluations, overall backlogs were down 15% at the quarter's end.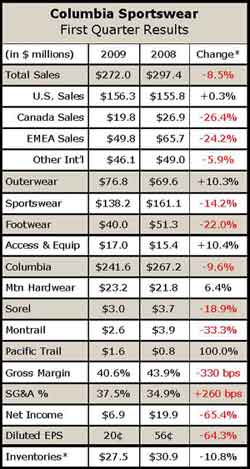 The overall first quarter revenue decrease consisted of a 24% decline in the EMEA region to $49.8 million, including an 8% negative foreign currency effect; a 26% decline in Canada to $19.8 million, including an 18% negative foreign currency effect; and a 6% decline in the Latin America & Asia Pacific region (LAAP) to $46.1 million, including a 4% foreign currency hit.

U.S. sales were down less than 1% to $156.3 million. U.S. retail sales more than doubled with 20 more U.S.-based retail stores operating in Q1 2009. U.S. wholesale sales showed a high-single-digit percentage decline, primarily attributable to the Columbia brand and concentrated in its sportswear and footwear categories.

By category, Sportswear sales decreased 14.0% to $138.2 million, mostly related to Columbia brand net sales declines in both the EMEA direct and U.S. wholesale businesses. Footwear slumped 22.0% to $40 million. Outerwear sales climbed 10% to $76.8 million but was primarily driven by a higher volume of fall 2008 close-outs in the U.S. Accessories and Equipment sales advanced 10% to $17 million.
Sales fell 10% to $241.6 million for the Columbia brand but Mountain Hardwear increased 6% to $23.2 million. Sales of Sorel, Montrail and Pacific Trail were said to be "insignificant."

Regarding the U.S., Boyle said department stores, especially those based in regional malls, have been the weakest channel for more than 12 months and had grown to represent 30% of Columbia's revenues. "Consequently, this channel has presented the biggest challenge for us as they have taken steps to significantly reduce inventories and to raise cash to mitigate the effects of tight credit markets," said Boyle. He also noted that the bankruptcy of some regional department stores impacted U.S. results.

Mr. Boyle also said the "extreme caution" exhibited by retailers on ordering in advance is impacting backlogs.

"I had many retailers tell me that, in fact, almost every one said they plan to chase inventory throughout the balance of the year," said Boyle. But he added that Columbia will plan its inventories conservatively this year and is not expecting a burst of at-once orders.

"Our hope is that the economy becomes more robust and that customers will take more inventory from us than they currently have on order, but we were not planning for that," said Boyle. "We are planning that the business remains at about the same level and we really don't have very little speculative inventory and are much leaner than in prior periods."

Regarding international operations, Boyle said Japan and Korea were "bright spots" but results were hurt by currency devaluations. But many areas in Europe are "under severe stress, suffering steep declines in consumer spending, currency devaluation, and even more troubled credit markets than here in the U.S."

While net earnings declined 65.4% to $6.9 million, or 20 cents a share, Boyle noted that EPS were 14 cents per share above the mid-point of the outlook COLM provided in January. The 330 basis-point gross margin decline was primarily due to an increased cancellations and a more promotional environment.

As of March 31, the 15% drop in fall 2009 wholesale backlog consisted of a mid-teens decline in apparel orders and a low-single-digit decline in footwear orders. U.S. wholesale backlog was down in low-double-digits while the EMEA region and Canada wholesale backlogs were each down in the mid-twenties, including high-single-digit and mid-teen negative effects from currency devaluations in each respective reagion. LAAP region wholesale backlog declined slightly.

Looking ahead, Boyle said the company's strong balance sheet "has provided us with the financial flexibility to continue investing in our strategic initiatives to position our brands for when the global economy recovers." Columbia Sportswear ended the first quarter with $299.8 million in cash and short-term investments, compared with $278.1 million at the year-ago quarter-end. Inventories declined 6% to $223.7 million versus the end of Q1 208, and were 13% lower than at December 31, 2008.

For the second quarter, the company expects a low- to mid-twenty percentage decline in sales. Contributing to this decline is an anticipated shift into the third quarter of a larger portion of fall 2009 shipments to international distributors compared to fall 2008. The company expects to incur a "significantly higher operating loss" in the second quarter versus Q2 2008.

For the full year, Columbia expects wholesale net sales to decline in the mid-teens on a percentage basis based on the current backlog portfolio and continued foreign currency exchange rate changes.

Including expected incremental sales from its direct-to-consumer business, net sales are expected to decline in the low-teens. Full year 2009 operating margin is expected to decline approximately 300 to 350 basis points from 2008, which included a $24.7 million impairment charge. This decline is primarily due to lower sales and investments in its direct-to-consumer initiatives. Gross margins are expected to decline primarily due to a higher close-outs, a more promotional retail environment, and unfavorable foreign currency hedge rates.

The company plans to invest in its direct-to-consumer business with additional brand stores and outlets, launch e-commerce platforms for Columbia and Sorel in the second half of 2009, continue to develop footwear, and invest in marketing.