COBI GmbH has hired Verde Brand Communications to promote its for cyclists in the North American market.
"I am excited about the integrated services, storytelling and tactics Verde Brand Communications will be able to provide COBI in our partnership. Verde has a great level of experience and success in brand communications across multiple markets and will help ensure COBI continues its current growth and success in North America," said COBI Chief Marketing Officer Andreas Freitag.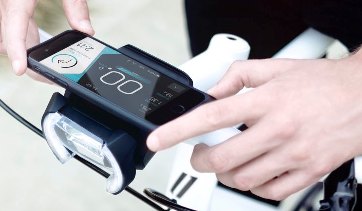 COBI's fully integrated application and smartphone system (shown to the left), gives commuting cyclists access to phone calls, music, and weather forecasts. Adventure-minded riders can access navigation and map routes with ease while monitoring a variety of fitness information. A brake light, turn signals and headlight enhances safety for everyone. The system is hands-free, featuring a handlebar-mounted, thumb-activated control panel designed and engineered in Germany and launched on Kickstarter in 2014.
"The technology that COBI is presenting is game-changing, and COBI's people and products are literally redefining what it means to be connected to your cycling experience," said Kristin Carpenter-Ogden, founder and CEO, Verde Brand Communications. "We feel privileged to welcome them to our client family and know that this product and company will have a very positive impact bringing cycling to the connected enthusiast."
Designed and engineered in Germany in 2014, Kickstarter-funded COBI is the first integrated system to intelligently connect your bike with your smartphone for an all-in-one smartphone holder with charging function, bike computer, navigation system, security alarm, bell and light. COBI was named Prototype and Overall Winner at the 2014 Bluetooth Breakthrough Awards, 2014 IoT Innovation World Cup Innovator of the Year, and 2015 Best of Mobile Innovation Winner. COBI has 35 employees worldwide with offices in San Francisco and Frankfurt, Germany.
COBI is a spin-off of the digital service agency Razorfish. In the past, the team designed and implemented digital products and marketing for premium car brands. With over 300 awards from across the globe, the company pioneered the digital economy. Founder and serial-entrepreneur Andreas Gahlert launched COBI at the beginning of 2014, with the vision to make Connected Drive in bikes available to all. He now has 13 investors, 6 partners and more than 36 employees on board.
COBI is currently advertising several positions for its office in San Francisco. For more information about COBI and its launch into the North American
market, contact Senior Account Executive Scott Kaier at scott@verdepr.com or 802.238.7577.
Verde Brand Communications is a full-service agency offering services in public relations, digital media, content development, marketing, paid media, branding, events, and strategic consulting. Verde works with more than 40 brands in the outdoor, active lifestyle, cycling, snowsports, action sports, consumer electronics, and wellness markets. It has offices in Durango and Boulder, CO, and Jackson, WY.