The buzz over wearables in the active space has cooled down with the challenges facing Fitbit, GoPro and others in recent years, but the potential for artificial intelligence (AI) and motion-sensing technology to create a new breed of data-informed athletes was again heard loudly at this week's CES show in Las Vegas.
Many of the sessions at the show spoke to how AI-coaching will soon be able to guide proper form in activities as well as recovery and goal-setting.
Prior to the event, Intel and Alibab announced that the companies were teaming up to develop athlete tracking technology powered by AI aimed to be used at the 2020 Olympic Games.
Computer vision with AI deep learning algorithms is expected to generate a 3D Mesh that enables coaches to extract intricate real-time biomechanical data, via multiple standard video cameras without the use of special sensors or suits ,from which they can analyze performance and introduce new training enhancements, according to Intel and Alibaba.
At the same time, the 3D-athlete tracking technologies promise to bring an enriched data-driven viewing experience to Tokyo's 2020 Olympic viewers. Navin Shenoy, Intel's EVP and GM, Data Center Group, said, "This technology has incredible potential as an athlete training tool and is expected to be a game-changer for the way fans experience the Games creating an entirely new way for broadcasters to analyze, dissect and reexamine highlights during instant replays."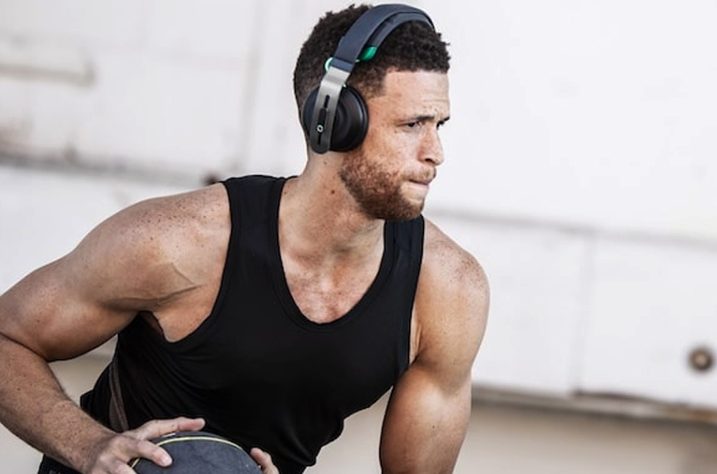 Many of the active-inspired gadgets at the show touted their abilities to track user data to aid in training and motivation. In many cases, the newer items seemed to focus on bringing the Peloton experience in cycling to other activities including boxing, skiing, swimming, and fishing.
Other themes found in the innovations included gaming, safety, sustainability/ recovery, and particularly sleep.
The following are a few active items that garnered buzz at this year's show.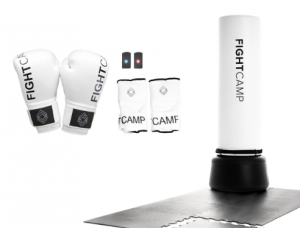 FightCamp the boxing equivalent of Peloton, FightCamp, is an at-home boxing system and fitness tracker. Initially aimed as a training tool for professional boxers, FightCamp, in December 2018, released a "general fitness" package consisting of a punchbag, gloves, trackers, straps and a floor mat. A monthly subscription provides access to streaming workouts led by on-staff trainers. A small Bluetooth sensor inserted into each glove captures the number of punches thrown as well as the intensity of each hit in real time. Watch the video here.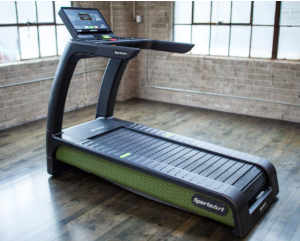 SportsArt unveiled the Verde treadmill that "uses an electromagnetic and mechanical braking system to generate electricity during a workout." The patented micro-inverter, similar to those found in solar panels and wind turbines, "cleans" the generated power into a form that is usable by other devices plugged into a facility's electrical grid. Every time the machine is in use, up to 74 percent of the energy produced is captured, converted and returned to the grid reducing the user's carbon footprint.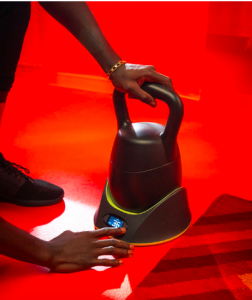 JaxJox Kettlebell Connect houses six different stackable weights in 12, 18, 24, 30, 36 and 42-pounds increments. Users select the desired weight digitally on the base's screen and can add or drop weight in less than five seconds. For $30 a month, users gain access to more than 40 live and on-demand fitness classes. All the data the kettlebell collects feeds into the JaxJox app, alongside intel from the company's heart rate monitor, smart scale, and external sources such as Fitbits and soon, the Apple Watch. JaxJox intends to add a foam roller and dumbbells to its range of connected equipment.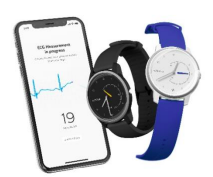 Withings Move ECG is the first analog watch with an ECG (electrocardiogram) monitor that allows the user to easily, and affordably, monitor their CV at any time and detect heart conditions such as atrial fibrillation (AFib). Touching both sides of the bezel takes an on-the-spot heart reading in 20 seconds. The data can then be viewed on the accompanying Health Mate app. Move ECG also offers advanced activity and sleep tracking features. The non-ECG but affordable Move comes with an 18-month battery life and a number of customizable design options to fit a users' personality and preferences.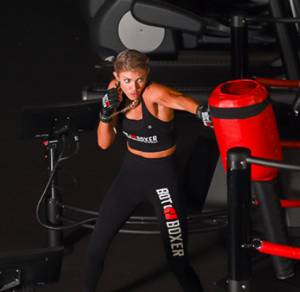 SkyTechSport BotBoxer is a robotic boxing simulator. With computer vision and tracking sensors that analyze an individual's feet and body position to determine their stance, BotBoxer recognizes and dodges blows, "offering an upper-body cardio workout and training session for athletes and fitness enthusiasts of all levels." The stats are saved in the cloud, enabling the user to set new challenges while adapting to their level of boxing technique. The three-motor drive system features three customizable modes — free training, drills and fight. The device is designed for gyms although it can be purchased by consumers.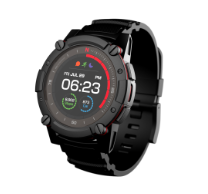 Matrix Industries PowerWatch 2 is the successor to the crowd-funded PowerWatch 1 and PowerWatch X which uses a wearer's body heat to generate energy to power the battery. The successor uses thermoelectric generators and a solar-cell integrated within the watch face to power a built-in intelligent heart rate monitoring capability, a full-color display and onboard GPS. The PowerWatch 2, and its iOS/Android companion apps, provide users with more useful health and fitness metrics including pace, distance, steps, sleep, cadence, and what the Matrix calls the most accurate calorie count industrywide.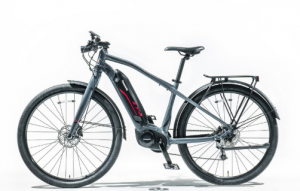 Panasonic partnered with Kent International on the launch of electric bicycles that will be sold under Kent's Univega USA and Van Dessel brands. Both will be powered by Panasonic batteries and motors and designed and to be assembled in the U.S. Panasonic claims to be the world's leading automotive battery supplier, the number one eBike drive system manufacturer in Japan controlling more than 40 percent market share and one of the early players in Europe.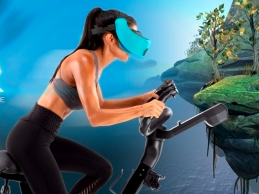 NordicTrack VR Bike is a stationary bike that comes with a HTC Vive Focus standalone virtual reality headset. Using the headset, riders can play the games Aeronauts, Bike Messenger and The Last Rider all specifically designed for the VR Bike. The difficulty increases based on how much the individual exerts themselves. The bike adjusts to 10 percent incline and declines to mimic real-world changes in elevation within game worlds. Alternative terrains within gameplay engage the bike's 24 levels of digital resistance and 16 different pedal positions generating a tactile gaming environment.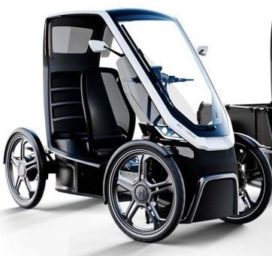 Schaeffler Bio Hybrid is an electric, emission-free re-imagination of the bicycle. Aiming to reach the market in 2020 with two versions, Cargo and Passenger, the Bio Hybrid comes with four wheels, a roof and windshield to make it independent of weather conditions and is hardly wider than a normal bicycle. In addition, the Bio-Hybrid only requires a third of the parking space of a small car and can be operated in most countries without a license and vehicle registration. The electric motor assists the rider up to 15.5 mph, producing 250–750W rated output power.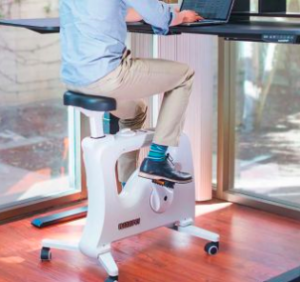 FlexiSpot Deskcise Pro V9U is stationary bike that also works as a standing desk. Designed to promote healthy blood circulation, the Deskcise Pro breaks up prolonged sitting and standing with low-impact cycling. Its design lets workers go from sitting to cycling to standing with one space-saving solution, and its pedaling system cycles smoothly without disturbing others working nearby. The integrated LCD display shows readouts for workout time, pedal revolutions, distance, calories burned and speed. Eight resistance levels enable users to go from light activity to robust workouts quickly.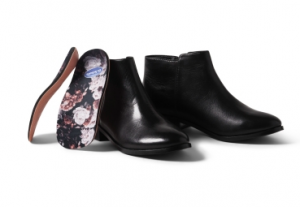 Dr. Scholl's/Wiivv introduced a custom 3D printed insoles. Using a smartphone app, consumers can order customized printed insoles mapped from 400 points on their feet with Wiivv's customization technology. Three years ago, Wiivv was a runner up in the TechCrunch Hardware Battlefield competition held at CES and simultaneously launched its first and successful Kickstarter campaign to produce 3D printed custom insoles. Dr. Scholl's Custom 3D Inserts are available in three-quarter and full-length models.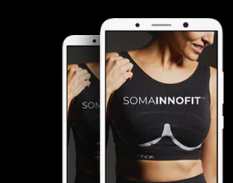 Soma, the intimates brand owned by Chico's FAS, aims to perfect bra fitting through a proprietary app supported by patented measurement technology from Like A Glove with the Soma Innofit bra. When a woman puts the bra on and connects it via Bluetooth to the Soma Innofit app, four key body measurements are captured and the ideal bra fit is recommended. Once the fit process is completed, customers can use their measurements to purchase the recommended bra directly through the app, on Soma's website, or in Soma boutiques nationwide.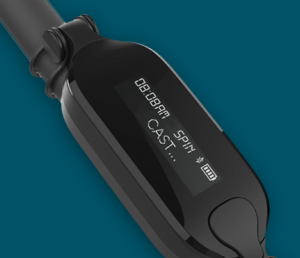 Cyberfishing Smart Rod Sensor snaps to a fishing rod to capture data such as number of casts, weather conditions, locations of successful catches, and strikes.  When a trophy fish is caught, the location can be saved with a one click. An accompanying Cyberfishing App helps anglers plot the locations of all their casts and catches to know exactly where to return on their next trip. Fishing hotspots can also be shared with other anglers on social media. The Smart Rod Sensor was a CES Innovation Awards 2019 Honoree.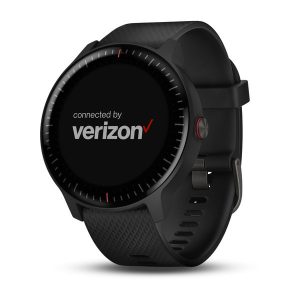 GarminVívoactive 3 Music connected by Verizon, is Garmin's first GPS smartwatch with 4G LTE connectivity to support safety features, music downloads and text messages right from the wrist with no nearby mobile phone required. As part of a new assistance and incident detection feature, users holding the watch's button for five seconds can trigger a discreet message to notify pre-loaded emergency contacts and continuously share the user's real-time location with them. The built-in incident detection feature also senses when the wearer experiences an impact while walking, running or cycling, and will automatically notify pre-loaded emergency contacts of the user's real-time whereabouts. Users can also let friends and family follow their activities in real-time. The device also features Garmin Pay, smartphone notifications, fitness tracking, and five days of battery life. Pricing and availability aren't available yet.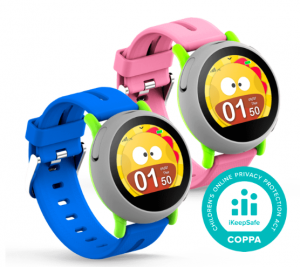 Coolpad Americas Dyno Smartwatch is a smartwatch for kids that's specifically designed to connect parents to children while being secure, sturdy and simple to use. With interchangeable royal blue and baby pink watch bands, the Dyno offers 4G LTE connectivity, an intuitive user interface, an SOS button for quickly contacting parents, and kid-proof protection against dust and water. Paired with a companion app, the smartwatch allows parents to quickly locate their children, set "safe zones" with virtual perimeter alerts, and communicate via voice and text messages.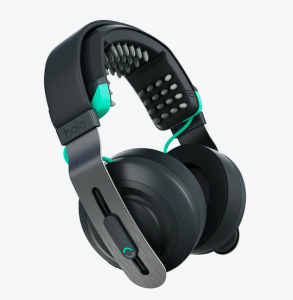 Halo Neuroscience Halo Sport 2 is a more accessible version of the company's inaugural device, the Halo Sport, that was aimed at elite athletes. The device is driven by the concept of Neuropriming, which sends a small electrical signal to a part of the brain that controls movement to prime the brain to get more out of each repetition during training. Updated Primers in the Halo Sport 2 promises to improve that neuromuscular connection so users can learn skills quickly and see results from their training faster. Another major update is the addition of Bluetooth-supported wireless headphones versus the hardwired predecessor.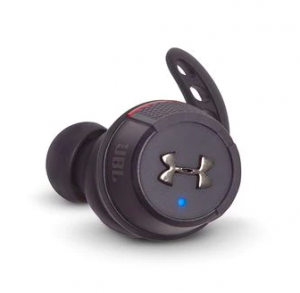 JBL/Under ArmourTrue Wireless Flash aims to solve two problems for runners: tangled cords and water damage from sweat. The UA True Wireless Flash are cord free and feature UA Storm Proof waterproof technology. Other features include JBL Charged Sound to give a clear high-quality sound, AmbientAware technology to keep runners aware of their outdoor surroundings, and three different fit options with JBL's Sport Flex Fit eartips. Comes with complimentary 12-month MapMyRun Premium membership.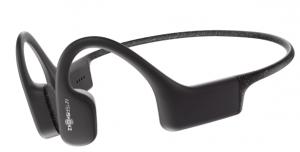 AfterShokz Xtrainerz is the first-ever waterproof bone conduction MP3 headphones for swimmers, triathletes and other watersports enthusiasts that want to hear other sounds around them. Bone-conduction technology transmits sound to ears through cheekbones. The Xtrainerz (pronounced "cross trainers") are IP68 certified to withstand dust, sweat, and complete submersion in salt or fresh water up to a depth of six feet. Because Bluetooth can't pass a signal through water, the earbuds includes 4GB of built-in storage to store up to 1,000 songs. The battery life is about six hours.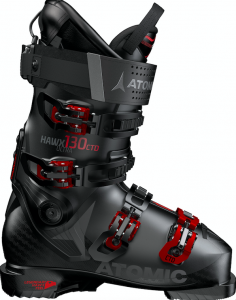 Atomic Hawx Ultra Connected delivers digital tracking and analysis capabilities through Atomic's free mobile Connected App for instant on-slope feedback and an enhanced skiing experience. Developed in conjunction with biomechanics experts from Salzburg University and Salzburg Research, Hawx Connected features Suunto's Movesense and embedded force sensors inside the liner that interface via Bluetooth with the app to allow skiers to know precisely how to adjust their skiing technique. The app delivers loads of ski specific data like balance, pressure control, edging, slope angle, turn count, GPS track, run count, average and top speed and distance that skiers can then use to coach themselves or share with the ski community. Pricing or availability weren't provided.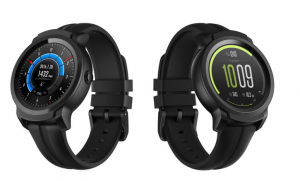 Mobvoi TicWatch E2 and S2 are Mobvoi's first smartwatches to feature TicMotion, which is able to detect motions and gestures to automatically trigger different functions. For instance, once someone starts cycling, Cycling mode kicks in. The technology can even detect which swim strokes an individual is practicing. Both are equipped with 5-ATM water-resistance for swimming and surfing. Other features include a 1.39-inch Amold screen, SnapDragon Wear 2100 processor, GPS and a heart rate monitor. Both styles have the same features but the S2 is more rugged. Pricing and available aren't yet available.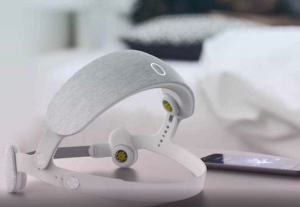 Urgo Group Urgonight is a headband that trains a person into developing brain wave patterns for healthier sleep. Working through the Urgonight app, the Urgonight therapy requires three 20-minute sessions per week while the person is awake. Exercises may focus on breathing before sleep or focusing attention on a single point in order to make unnecessary thoughts disappear. During these sessions, the band takes an EEG (electroencephalogram) of the brain and then presents the data on your screen in such a way that helps to train your brain waves to act in a certain manner, a technique known as visual neurofeedback.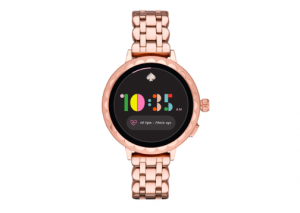 Kate Spade Scallop Smartwatch 2 features payment technology, GPS capabilities, is swim-proof (water resistant up to 3-ATM), and offers heart rate tracking across multiple types of workouts. Each dial features a spade at the 12 o'clock index that functions as a heart rate touch point, keeping wellness at the user's fingertips and making it simple to check her heart rate throughout the day. The Scallop Smartwatch 2 also stands out for style with colorful animated dials and the black silicone strap and pink gold-tone bracelet.
Lead photo courtesy FightCamp