Canada Goose delivered strong gains in earnings and sales in the fiscal third quarter ended January 2 but significantly reduced its top-line growth projections for the year. 
Dani Reiss, president and CEO, on a call with analysts, said new COVID outbreaks and related restrictions had impacted revenue growth and retail traffic starting in the latter part of its third quarter in both the APAC and EMEA regions.
"We view these new disruptions as temporary, and in the case of APAC, we've already seen a sequential improvement in the past two weeks," said Reiss.
Jonathan Sinclair, EVP and CFO, said the weakness had been partially offset by outperformance in the U.S. He added, "We believe that these disruptions are temporary and contained. Our operating environment remains more favorable than it was last year, and we're making great progress on our strategic agenda."
In early afternoon trading on Thursday, shares of Canada Goose were trading down $5.70, or 16.6 percent, to $28.61.
Under the updated outlook for the fiscal year ended March 31:
Total revenue is expected to be in the range of C$1.090 to C$1.105 billion, compared to previous guidance in the range of C$1.125 billion to C$1.175 billion. The updated guidance equates to a year-over-year gain of 20.6 percent to 22.8 percent versus 24.4 percent to 30.5 percent previously.

Adjusted EBIT is expected to be C$165 million to C$175 million at a margin of 15.1 percent to 15.8 percent. That compares to previous guidance in the range of C$186 million to C$208 million at a margin of 16.5 percent to 17.7 percent.

Adjusted EPS is expected to range from C$1.02 to C$1.11, compared to previous guidance in the range of C$1.17 to C$1.33. Adjusted net income was C77 cents the prior year. At the mid-point of the ranges, earnings are now expected to climb 38.3 percent versus previous expectations of 62.5 percent growth.
Reiss said Canada Goose marked a "strong financial performance" in its third quarter, highlighted by robust growth by the DTC channel and in non-parka sales. He said, "Momentum has continued, putting us on track to exceed a billion dollars in annual revenue for the first time."
DTC Sales Jump 49 Percent
By channel, direct-to-consumer (DTC) led the way, increasing by 48.8 percent to $444.5 million. Higher revenue from existing stores, e-commerce growth and retail expansion were significant contributors. Retail productivity improved sharply alongside 28 percent digital growth on top of last year's outsized gains.
Wholesale revenue, as planned, decreased 15.0 percent to C$136.7 million. The decline reflects early-shipment requests in the second quarter from wholesale partners. Sinclair said Canada Goose sees "significantly higher sellout" this year versus last year and still expects mid-single-digit wholesale growth for the full fiscal year.
From a product perspective, non-parka revenue increased 75 percent, reflecting Canada Goose's success in establishing year-round lifestyle offerings. According to Sinclair, the gains were led by a "standout performance" in vests and lightweight jackets, along with "encouraging contributions" from apparel, headwear and footwear. Parkas "also grew strong," he added.
U.S. Sales Expand 27 Percent
Geographically, revenue in the U.S. increased 26.8 percent to C$164.7 million. Sinclair said established retail stores were performing near or at pre-pandemic levels, and Digital grew in the high thirties.
In Canada, revenues grew 17.8 percent to C$118.5 million and 32 percent excluding PPE sales last year. E-commerce increased in the low-double-digits while physical retail saw a "much improved retail performance." Pandemic-related closures in Ontario and Quebec impacted the year-ago period.
In the Asia Pacific, sales grew 31.4 percent to C177.1 million. In Mainland China, DTC revenue increased 35 percent. Following a "very strong" November, a slowdown in store traffic occurred in December and continued in the current quarter.
Sinclair said underlying demand in China remains strong, highlighted by the low-60s growth rate achieved online in the quarter. He added, "We've also seen a sequential improvement in our retail performance over the last few weeks heading into Lunar New Year."
In the EMEA, sales rose 15.7 percent to C$125.8 million in the third quarter. Sinclair said the absence of international traffic had been a headwind for major global shopping destinations like Paris and Milan. The restrictions and disruptions also emerged in markets like Germany. Said Sinclair, "None of this changes our long-term conviction in the region and its upside in a recovery."
Gross Margins Gain 380 Basis Points
Gross margins in the latest quarter gained 380 basis points to 70.6 percent. DTC gross margin of 77.1 percent compared to 77.9 percent, while Wholesale gross margin was 50.2 percent against 51.5 percent. Excluding temporary wage subsidies, both segments' margins were slightly up versus last year and well above two years ago. The negative impact of government payroll subsidies and higher sales in non-parka categories was offset by pricing actions.
Total SG&A expense was $184 million, up 27 percent last year. As previously discussed, Canada Goose plans to slow down SG&A growth and expand profitability in its peak selling season, Sinclair said.
Adjusted EBIT improved 31.0 percent to $206.9 million, with the margin climbing 200 basis points to 35.3 percent.
Net income rose 42.0 percent to Canadian $151.9 million, or C$1.41 per share, compared to C$107.0 million, or C96 cents, a year ago. On an adjusted basis excluding non-recurring items, earnings increased 36.3 percent to C$152.6 million, or C$1.42, from C$111.9 million, or C$1.01. Wall Street's consensus estimate was $1.45.
Progress On Initiatives
Highlighting some progress on newer initiatives in the quarter, Reiss noted that its e-commerce platform, launched in the North America region earlier this fall, generated a solid response. He said, "We're very pleased with the enhanced customer journey and increased conversion that we've realized. We will continue our phased rollout globally in FY23."
On product, Reiss said Canada Goose sees 'tremendous success" from its expanded offerings. He called out the Pastel collection, described as "our first full expression of the Canada Goose lifestyle." The collection includes sweats, outerwear, accessories, and footwear and has resonated well with women. Expanded offerings are planned for later this year.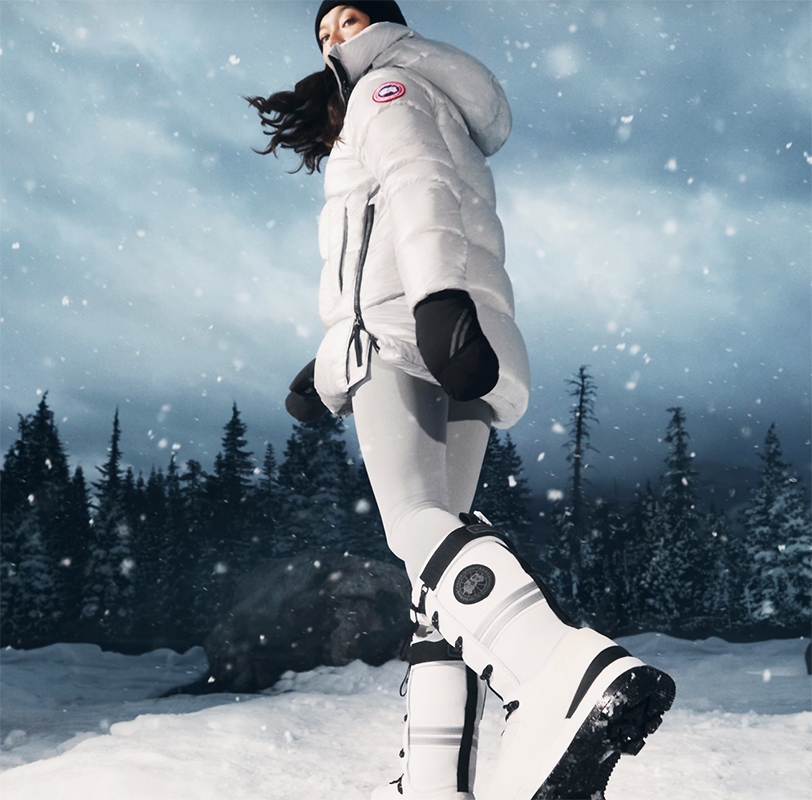 Canada Goose saw a "strong response" to its first footwear collection from consumers. Reiss said, "Looking forward to our spring collection, we will launch several new styles growing our year-round relevance. There is so much potential within footwear both in the near and long term."
According to Reiss, collaborations continue to be a focus for the brand and a "massive driver of brand heat." 
In December, Canada Goose partnered on a streetwear capsule collection with Concepts and Japanese fashion brand Bape. And it recently partnered with designer Salehe Bembury on the NBA All-Star 2022 weekend capsule. And last month, it introduced its first Human Nature collection made with 100 percent recycled nylon, responsibly sourced down and undyed fabric. Reiss said, "The collection demonstrates how quickly we're scaling innovative and environmentally responsible for more materials into our products assortments."
Reiss also said the quarter showed that its North American manufacturers are "assets" amid the global supply chain challenges. Said Reiss, "We have not had any material revenue or margin headwinds related to supply or shipping constraints this winter. Looking forward, we're confident in our inventory position going into fiscal 2023, and we're confident in our ability to navigate inflationary pressures."
Photos courtesy Canada Goose