Callaway, Inc.'s once-lofty 2010 earnings goals are being put on hold after the company turned in a fourth quarter that was largely viewed as a disappointment by investors and company management. During a conference call with analysts, company CEO Greg Fellows admitted that management had overestimated the speed of the recovery, calling the process "a slow but inexorable return to normalcy."

Fellows added that the golf market has overreacted to the recession my discounting more heavily than necessary. "I would not agree that the industry has done a good job showing the consumer they [can] get good products at cheap prices," he added. Fellows, however, did his best to put the sluggish selling environment of fiscal 2010 behind him, pointing to key investments made in 09' and 10' that he expects to pay off in 2011. Specifically, Fellows said investments made in the emerging markets of China, Indonesia and India and in the company's softgoods and accessories category are expected to pay dividends in 2010 and beyond as the company expands its global footprint.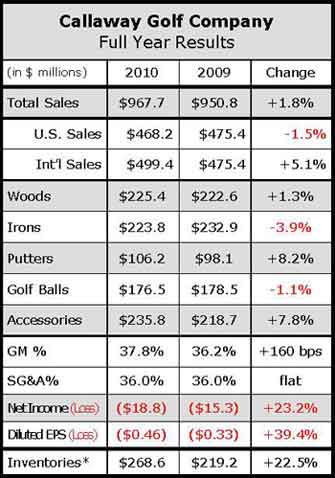 Fellows also expressed optimism about Callaway's line-up of 2011 products – including the new proprietary forged composite technology – noting that the products have garnered "very favorable customer and media reviews" and have "received more medals than any other golf manufacturer [products] in Golf Digest's 2011 product review." For the final quarter of 2010, however, things weren't as rosy.
Net sales, compared to a prior-year period that was still in the midst of a stagnant golf market, were $185.5 million, essentially flat with the 2009 quarter. The company recorded a net loss of $32.3 million, or 54 cents per diluted share, for the quarter, compared with a loss of $15.6 million, or 29 cents per diluted share, in the prior-year period. The near-doubling of last year's net loss was attributed largely to charges (7 cents per share) related to the company's struggling Top-Flite brand along with charges related to global operation investments (7 cents per share), including the company relocating its Carlsbad, CA club assembly operation and a portion of its Chicopee, MA operation to a new facility in Monterey, Mexico.
Gross margins for the quarter were 29.9% of sales, down 140 basis points from 31.3% in Q4 2009. Management said Top-Flite, a value-oriented golf ball brand sold primarily through big box retailers and mass market retailers like Walmart, has ceded sales to premium-branded balls over the last two years. While some investors understandably expect an eventual divesture of the struggling Top-Flite brand, CFO Brad Holiday preemptively disregarded that notion, saying simply "Top-Flite remains an important brand within out portfolio." Callaway purchased Top-Flite along with the Ben Hogan brand in 2003.
Broken out by product segment, Callaway saw sales of Woods jump 31.5% to $40.8 million while Irons and Golf balls each edged up 1% to $46.8 million and $32.2 million, respectively. Sales of Putters sank 30.4% to $18.7 million for the quarter as the category annivesaried against a year-ago period that marked the launch of the company's White Ice line. By region, the United States – by far the largest sales region – improved 2.7% to $78.6 million, while Europe improved 4.3% to $23.0 million. Japan fell 9.3% to $44.6 million while the Rest of Asia declined 3.0% to $18.7 million and Other Countries dipped 3.1% to $20.7 million. Fellows called Japan a "question mark in our mind(s)," and pointed to political and economical unrest as catalysts for a severe drop in business. Total international sales were $185.5 million, essentially flat with Q4 2009.
In the conference call with analysts, management elaborated on their observations from the market in 2010, noting that they have seen a slight shift in the retail mix, with the mass channel yielding "a couple of points" over the last two years to the sporting goods sector. Fellows added that green grass retailers represent approximately 25% of the volume within the U.S. and that's typically "somewhat higher" overseas. Looking ahead, management said key drivers for 2011 will be new products, increasing average selling prices and continued growth in emerging markets and soft good/accessories. Likewise, Fellows added that there "are early indicators…that would seem to reflect that people are coming out and looking at full-priced products."
Management estimates 2011 sales will improve to a range of $980 million to $1.02 billion with pro forma margins improving to a range of between 41% and 43%. Pro forma earnings per share are expected to be between 15 and 25 cents excluding charges.