Bass Pro Shops said Michael P. McDermott, a former executive at the Lowe's home-improvement chain, will replace Jim Hagale as president. McDermott will guide the next phase of the integration of Bass Pro and Cabela's and accelerate the outdoor retailer's omni-channel efforts.
Hagale, president since 2003 and COO since 2002, will stay on as senior advisor and acting CFO.
McDermott, who's official title is president omni-channel retail for Bass Pro Shops, was most recently EVP and chief customer officer at Lowe's. In his last role, he co-owned the P&L of the U.S. business and supported a multi-billion-dollar investment strategy and marketing budget, according to Bass Pro's statement.
Bass Pro highlighted that McDermott was "a key member of the executive leadership team responsible for articulating and executing a compelling omni-channel customer experience." He managed an $850 million marketing budget with expertise in campaign development, agency management, loyalty creation and traffic generation.
McDermott also directed the full merchandising offer for all Lowe's stores in the U.S., Lowes.com, and all global sourcing activities designed to increase traffic, revenue and profitability.
"The success of Bass Pro Shops and Cabela's is based on exceptional customer service, great products and highly creative marketing. That's Mike's wheelhouse," said Bass Pro's founder/CEO Johnny Morris, in the statement. "Mike is a humble man of great character who will be true to our core values while leading us to new heights in full-spectrum Omni Channel to maintain our position of leadership. Mike has earned a reputation of being a good listener and we are truly honored to have such an experienced, yet down-to-earth, customer focused leader join our company."
In its statement, Bass Pro noted that the search for a new president took into account the overall disruption taking place at retail that's being driven by a rapid shift to online purchases and the arrival of mobile phones, social media and a wide range of digital technologies.
Bass Pro's statement reads, "McDermott's appointment marks the beginning of an exciting new era for the company. As everyone knows, the retail sector is undergoing unprecedented and meteoric change. Since founding Bass Pro Shops in an eight-square foot space in the back of his father's Brown Derby liquor store in Springfield, MO, Johnny Morris has been a true American pioneer in outdoor retail.
"This same forward-looking pioneering spirit helped to establish the priority skill sets in the search for a new president. The next leader would need deep retail experience with a major company. He or she had to have a strong financial background, a proven record of growing sales and meeting budgets, a love of the outdoors, embrace the founder's commitment to conservation, and have personal ethics and values consistent with the company's mission. Most of all, our new president needed a passion for serving customers. Mike McDermott checked every box."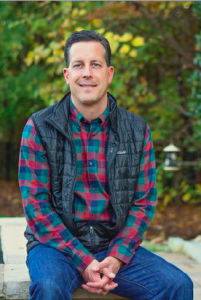 Elaborating on his experience, Bass Pro noted that McDermott began his career at General Electric, where he spent 20 years in positions of increasing responsibility spanning sales, marketing, product management, general management and senior leadership of the major appliance business.
McDermott began his career at Lowe's, $70 billion retailer more than 2,240 home improvement and hardware stores and 310,000 employees, in 2013 as SVP and GMM, where he managed $25 billion in combined businesses and supported the company's transition "from a more limited home improvement retailer to a universal home improvement company."
In 2014, he became chief merchandising officer, where he directed global development and execution of all aspects of merchandise assortment, service selection, pricing, promotion, credit and sourcing activities.
In his last role as EVP and chief customer officer for Lowe's since 2015, he led an executive team of 1,500 with his team's responsibilities covering merchandising, sourcing, marketing, digital, customer service and business strategy. Cabela's noted that McDermott was particularly successful at establishing exclusive relationships with some of the world's most admired brands, including Sherwin Williams, John Deere, 3M and Samsung.
In the lengthy release, Bass Pro detailed McDermott's dedication to having customer insights drive his decision making, his success in collaboration and extensive online experience. The released stated, "He uses in depth customer insights to inform sales and marketing decisions, develop forecasting, create pricing strategies and advice on merchandise presentation. He created an innovative portfolio of product and service strategies that are consistent with enterprise objectives and that maximize customer acquisition, retention and profitability. He is skilled at collaborating across functions, scaling companies for growth; managing and maximizing value throughout business and product life cycles; improving productivity through reorganizations and by applying lean processes and building and mentoring diverse, high performance teams. Mike led Lowe's digital and omni-channel expansion when he gained responsibility for Lowes.com. His team developed and executed enabled core processes to engage customers throughout their omni-channel home improvement journey by investing in and deploying new marketing, assortment, content, data management, search, site speed and engagement tools which substantially improved traffic, conversion and overall satisfaction."
The retailer further noted that Lowe's stock price went up 125 percent in his five-year tenure.
"I couldn't be more excited or honored than I am today," McDermott said. "To join Bass Pro Shops and Cabela's and have the opportunity to work with the outdoor retail visionary, Johnny Morris, and the tens of thousands of wonderful outfitters and team members is a dream come true. I have always believed that nothing in business is more important than putting the customer at the center of everything, and I'm thrilled to be joining a company that has set the standard for customer experience."
McDermott has been active with the Boys & Girls Club of America and other local nonprofit initiatives. He and his wife Kate, along with their seven children, will be relocating to Springfield, MO from Charlotte, NC
The hiring comes as the retailer continues take steps to integrate and capitalize on its mega-merger with Cabela's that closed in September 2017 . The retailer is reportedly making some progress.
In October, Moody's Investors Service affirmed the private-held retailer's debt ratings due to improving margins (pro-forma for the 2017 acquisition of Cabela's). The rating agency said synergies were being realized ahead of plan with higher-than-expected debt repayment since the Cabela's acquisition closed resulting in better than expected improvement in pro-forma credit metrics.
Margin improvement more than offset a decline in revenues (driven principally by the hunting and shooting segment) in the first half of 2018, but Moody's noted that the declines had started to decelerate and were expected to moderate in the second half.
Moody's added at the time, "The positive outlook reflects Moody's view that EBITDA will increase materially in 2019 from continued cost and margin synergy realization, contribution from the combined loyalty credit card program on flat retail sales. Material debt reduction from growing free cash flow is expected to be used to repay debt resulting in improvement in credit metrics over the next year."
The affirmation of the ratings came as Bass Pro proposed to increase its existing term loan due 2024 by $800 million.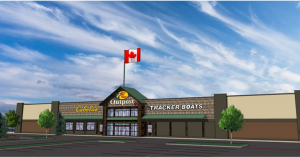 Bass Pro also last year began renovating some locations to feature Bass Pro, Cabela's and Tracker Boats together under one roof and opened its first Outpost in Halifax, Nova Scotia under the combo format. The concept adds a new Tracker Boats boat center and significantly expands  fishing and apparel departments to reflect Cabela's expertise.
Morris also extensively thanked Jim Hagale for his contributions. Hagale joined Bass Pro in 2002 as EVP responsible for merchandising, distribution, finance, human resources and information technology.
When he took over as president in 2003, Bass Pro had about 20 stores. Today, Bass Pro operates about 95 stores and Tracker Marine Centers, mostly in the Midwest and East Coast; in addition to about 85 Cabela's locations, primarily in the western U.S.
Morris said, "Jim steadfastly served our company, our people and our customers for almost 17 years and made an immeasurable positive impact," stated Morris. "His wisdom, devotion to customers and love of the outdoors made him an ideal leader for Bass Pro. Just one of countless examples, Hagale played the pivotal role working with the city of Memphis to transform the Pyramid sports arena into Bass Pro Shops at the Pyramid, one of the largest and most immersive retail stores in the world. Jim also served the vital role as Chief Integration Officer, helping to unite the two iconic outdoor brands Bass Pro Shops and Cabela's.
"It would be impossible for me to thank Jim for everything he has done to help make Bass Pro Shops, Cabela's and our White River Marine Group what it is today. He has been a great leader, a tireless worker and, on a personal side, a wonderful friend. We will continue to rely on his counsel and wish him all the best as he transitions to a new life where he has more time to spend with his family, especially his 13 grandchildren."
Images courtesy Bass Pro Shops