Klatt teamed up with Precision Sports Devices to develop the QBit, a patented training device designed to improve passing game performance for quarterbacks.
Writer: Carly Terwilliger
In addition to putting a computer in all our pockets and transforming the way we shop, learn and communicate, technology has put its stamp on the game of football as well. Instead of scrutinizing printouts after a possession, players can watch video replays on the sidelines. And the concussion debate has helmet design sophistication growing by leaps and bounds.
As the next generation of gridiron stars learns the ins and outs of the game, tools like training apps and video games are raising the physical and mental bar – especially for quarterbacks. It's the most visible position on the field, with arguably the greatest opportunity for stardom. But there are only a few spots on Mount Olympus; you have to train early, often and smart if you want to take your place alongside Tommy Terrific, Big Ben and Number 18.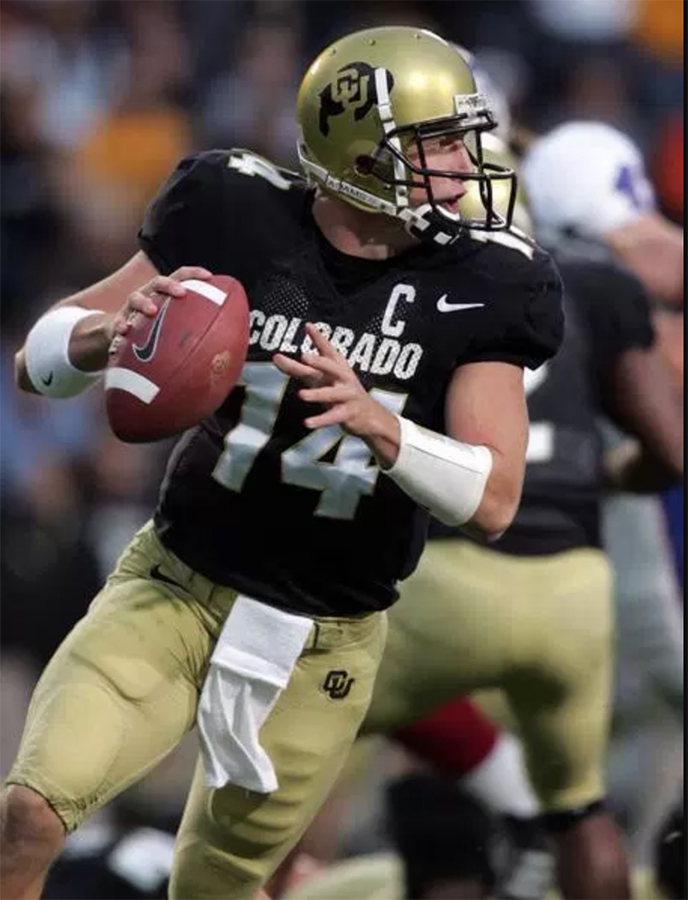 Just ask Fox Sports Network college football analyst and former University of Colorado quarterback Joel Klatt, pictured left and in lead photo.  He's working with Precision Sports Devices LLC in Westminster, CO to develop the QBit, pictured below, a patented training device designed to improve passing game performance for quarterbacks. Klatt was introduced to Precision Sports Founder and CEO Dave Churchman by a mutual acquaintance.
"Dave had developed this technology, and he was talking with the former college coaches around town, namely Coach McCartney, whom I know very well," said Klatt. "This was a few years ago. McCartney said, 'You should talk to Joel.'" Klatt was introduced to the QBit, which according to Churchman "encourages behavioral habits that will make a quarterback a more effective passer in the practice environment, which translates to better game performance."
Churchman is a sporting goods veteran with decades of executive-level sales and marketing success. He has represented industry icons like New Balance, Adidas, Russell Athletic and Puma as well as leading strategy for Bass Pro Shops, Famous Footwear, Boulder Running Company, Sports Authority, Academy Sports + Outdoors and Cabela's.
Klatt joined the QBit team when he got excited about what Churchman's device could do for the quarterback position. Up to this point, said Klatt, coaches "had to take the quarterback's word for it" when they related what they experienced in the pocket. Answers to questions like "Where were you looking at the snap?" and "What did you see?" had to be taken with a grain of salt, which made it harder for coaches and players to make adjustments. With QBit technology, "it's not sitting in front of a TV, or putting on a headset and doing virtual reps. This is playing actual football and doing actual reps."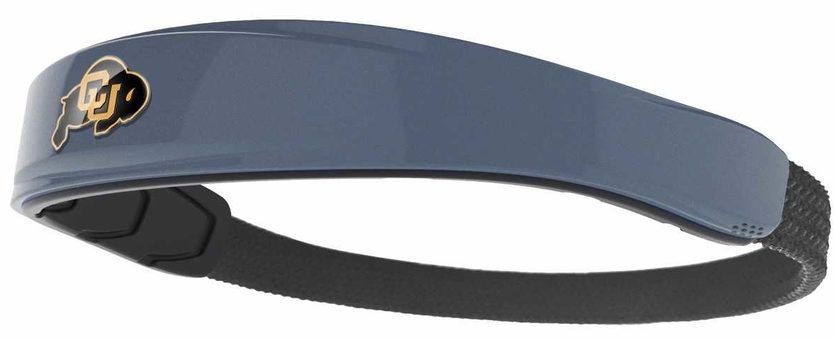 The wearable sports technology, which can be attached to the helmet where "you can't even feel it's there," said Klatt, gauges the actual lateral head position relative to optimal lateral head position, measuring against the horizontal axis in conjunction with a digital interface application. This is the piece that has been missing from quarterback training, which is already ramped up to an incredible degree at every level.
The sport of football "has gone through a wave of personal quarterback coaches," leading to "kids with good arms, accurate arms," Klatt explained, "but not the fundamentals of the eyes" and how that relates to "understanding of the game." The ability to manipulate the defense with the eyes, even on running plays, is "a skill we use on every single play." The new device is designed to be used at every level, so get ready for quarterbacks who are not just better throwers who can move in the pocket but are also "better thinkers."
He added, "I obviously think of college teams, because they're the ones that generally aren't afraid of adopting new technology. The reason I love it so much is that I see applications across age levels and ability levels. Dad and son, high school, college player. It will grow with these young quarterbacks until they potentially go pro."
Although production hasn't yet started, a manufacturing agreement is in place with Denver Plastics with prototype testing planned for December 2017 at Klatt's alma mater, the University of Colorado. "It's about training, not tracking," said Churchman. "Apps are great for analyzing data, but they don't help you win – this technology helps a team win by redirecting behavior through game-changing innovation."
Klatt will be involved throughout prototype testing, to be there and make sure the coaches and players know what the device's objectives are and how to use the application. As QBit continues to move the chains, Klatt has been chatting about it with his football-obsessed friends and family, especially those who coach at any level. "I do things through my dad's eyes and my brother's eyes, and I've talked to coaches across the country," Klatt said. When they learn about what it does, he concluded, their first question is, "Where can I get it?"
Photos courtesy Precision Sports