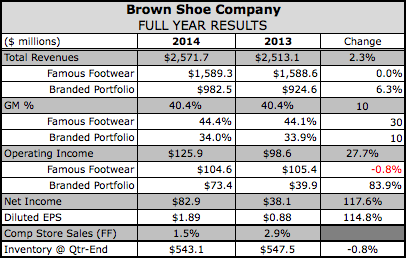 Brown Shoe Co. reported fourth-quarter earnings came out ahead of Wall Street's targets. But the owner of Famous Footwear issued weak guidance for 2015, warning product delays tied to the West Coast port slowdown could hurt sales in the first half.
"While we are confident in our ability to work our way through the fallout from the West Coast port situation over the course of the year, we are cautious regarding the first quarter," said CFO Ken Hannah on a conference call with analysts. Shares slid $2.05 to $30.01 on Wednesday on the New York Stock Exchange after the earnings came out.
In the fourth quarter, adjusted net earnings – excluding special items tied to the December sale of Shoes.com – jumped 45.2 percent to $9.0 million, or 20 cents per share, exceeding Wall Street's consensus estimate of 16 cents. Revenues grew 2.6 percent to $615.4 million. With gross margin flat year-over-year, at 40.2 percent, the bottom line benefited from a reduction in SG&A expenses by 80 basis points to 35.4 percent.
"We finished the year on a high note, despite a challenging retail environment, West Coast port delays and the ever-evolving shifts in consumer behavior," said Diane Sullivan, CEO and president, on the call. "And our strong fourth-quarter has given us momentum and put us on a good path for 2015."
At its Famous segment, sales grew 0.8 percent to $369.4 million. Famous' results include Shoes.com on a historical basis through Dec. 12. Excluding Shoes.com, sales were up 3.6 percent. Comps grew 4.0 percent against a 1.8 percent decline in the year-ago quarter.
On an adjusted basis, operating earnings at Famous grew 25.1 percent to $157 million. Gross margins eased slightly to 44.9 percent from 45 percent.
The comp gain was boosted by strong improvement in its conversion rate, up 5 percent. Average unit retail also improved, up low-single digits. Added Sullivan, "However, like the rest of the industry, we continued to see a decline in customer traffic in-store."
Regarding categories, Sullivan noted that boots and athletic "delivered good growth in the fourth-quarter, and we saw more of the same for both trends in February."
Athletics is being driven by lifestyle rather than performance, which is slightly below plan.
"We had planned it down slightly," said Sullivan of performance. "It's probably a little worse than that right now. We are trying to wait and see if that's just due to weather in some of our key markets where it hasn't been conducive to people getting out and using those shoes. But in total with the strength of the lifestyle business, we don't see it as being an issue for athletic in total."
In other areas, canvas "continues to be important across men's, women's and children's," added Sullivan. "For doors in our hot-climate zone, we're seeing sandals delivering as expected. And we anticipate this trend will play out in other climate zones as the weather turns."
Key vendors overall "continued to perform well," with Famous' top five brands representing about 40 percent of sales in the quarter. While sales leveled off in the back half of February as the weather became colder, "early indications for spring look good so far."
For the year, Famous marked its third consecutive year of record sales and adjusted operating profit. Gross margin improved 30 basis points to 44.4 percent, and the chain maintained adjusted operating margin of 6.6 percent. Revenue per square foot reached $215, up 3.5 percent over 2013.
Famous closed 56 stores in 2014 while opening 50. It expects to open 50 stores this year and close the same amount in 2015.
Beyond real estate optimization, Sullivan said Famous in 2015 will continue to enhance its product assortment planning to help build margin and turnover, target new millennial families, and increase its emphasis on digital outreach. Gaining omni-channel efficiencies also remains a priority. Total online sales at Famous.com grew more than 10 percent in the fourth quarter, including desktop, tablet and mobile sales. Said Sullivan, "We also saw an increase in online traffic AURs in our conversion rate, and we're looking forward to expanding online sales in 2015."
At its other segment, Brand Portfolio sales grew 5.4 percent in the quarter. In its Healthy Living sub-segment, sales declined 4.7 percent due weakness at the Naturalizer retail chain. Positive contributions came from LifeStride while Dr. Scholl's "reported a great year, with good increases in both sales and operating earnings," said Sullivan. Brown didn't offer any update on Ryka, which is also in its Healthy Living portfolio.
Its Contemporary Fashion sub-segment grew sales by 22.8 percent, led by Sam Edelman, Franco Sarto, Vince and Via Spiga.
For 2015, Brown expects EPS between $1.78 and $1.88, which compares to adjusted earnings of $1.72 per share. Revenues are expected range between $2.61 billion and $2.63 billion.
Analysts had forecast earnings of $1.93 a share and revenue of $2.67 billion. Same-store sales are expected to increase in the low-single digits for Famous while sales are projected to mid-single digits for its Brand Portfolio.
At the close of the year, Famous' inventory was down 8.0 percent, reflecting a planned reduction. Brand Portfolio inventory was up 14.5 percent, reflecting strength among its Contemporary Fashion brands.
Hannah said Brown is monitoring the West Coast port situation and has taken some actions, including moving orders to different ports along the East and West Coast and shifting shipping dates on key and advertised items. He added, "However, we're starting to see some delays and we're working with our partners to manage through these issues."
Sullivan said Famous has an adequate position in key brands but is a "little light" on some seasonal goods due to the port delays. She added, "As soon as we can get that corrected and as quick as we can get it on the floor, we'll be able to you know drive the outcomes that we're looking for this year."