Brooks Running Company is partnering with 30 specialty running retailers in the U.S. and Canada to launch the brand's premium shop-in-shop.
The elevated store experience will feature popular offerings from Brooks' collection of apparel, including an assortment of sports bras, as well as tops, bottoms and jackets for men and women. Installation at the 30 pilot locations will be complete by the end of July, and the brand plans to expand to more than 150 retail stores by the end of the year.
"We are thrilled to partner with the best specialty running shops to bring our Brooks brand and apparel collection to life. Our partners are leading the way in creating connections with runners, and we're excited to bring them a new way to engage with their communities around apparel," said Mike Billish, vice president of U.S. sales, Brooks Running. "In addition to creating a unique experience on the retail floor, our shop-in-shop experience tells a compelling story about our brand and products, which we believe will help reinvigorate the running apparel business."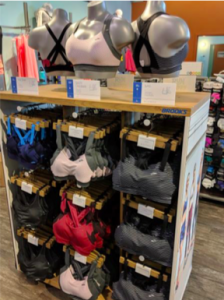 The shop-in-shop installation is a three-year partnership between Brooks and the retailer which includes four unique apparel and marketing stories, each year designed to educate runners. In addition to the physical installation, the partnership includes an in-store launch event each season, Brooks digital marketing activations and dedicated support from a local Brooks Guru. This experience is designed to effectively showcase Brooks in a retail store environment and help retailers spotlight apparel as a key component of a runner's gear assortment.
"We are committed to growing our apparel and essentials business, and to do so, have been implementing thoughtful merchandising that establishes an 'energy center' around our apparel—attracting customers in the same way they have always been attracted to our footwear fitting area. The Brooks shop-in-shop has become that energy center and so much more," said Keith Davis, owner of Fleet Feet Winston Salem. "The Brooks shop-in-shop celebrates Brooks' product stories and the brand's 'Run Happy' message in a way that complements our local merchandising strategy and branding. I have every expectation that this will help us return apparel to 20 percent of our total business."
At launch, Brooks will offer two shop-in-shop options, including a 12-by-17-foot execution and a 12-by-12-foot choice to fit a variety of store configurations. As the program expands, Brooks will continue to explore additional footprints to accommodate store needs.
Photo courtesy Brooks Running