BRG Sports, Inc., a leading designer, developer and marketer of branded sports equipment, protective products and related accessories, has invested in MIPS AB. The Swedish company has developed the Multi-directional Impact Protection System (MIPS) technology that will be featured in several new cycling helmet models from BRG Sports brands Giro and Bell.
"We constantly evolve helmet design to incorporate technologies that prove effective at reducing impact energy," said BRG Sports Executive Chairman and CEO Terry Lee. "After studying and testing MIPS for more than 18 months, we understand how well it works and have a strong desire to collaborate with MIPS to improve the effectiveness with which it manages certain types of impact energy. During the process of getting to know the MIPS team, and after learning more about their technology and capabilities, we decided to make an investment in the company. This investment will enable us to work closely with MIPS in our quest to improve helmet safety and consistently raise the level of protection we offer our customers."
MIPS announced Monday that its system will be launched in more than 20 new helmet models this year alone. MIPS will be available in helmets across all categories including road, mountain, commuter, youth and women's bike helmets from 661, Fox, Lazer, POC, Scott Sports, Smith Optics, Sweet Protection, Triple 8, and more.
"Much like how airbags became a safety standard in cars, we see MIPS as an equally important safety component in helmets," says MIPS CEO Johan Thiel. "For 2015, we are pleased to add several new brand partners and to expand the product offering with some of our long-standing customers."
The patented MIPS Brain Protection System was developed through a collaboration between Swedish engineers and a Swedish neuroscientist to address angled impacts and rotational forces to the brain. Concussion and brain injuries are often caused by rotational forces to the brain during a head impact. MIPS utilizes a low friction layer on the inside of the helmet to absorb some of the energy created by angled blows to the head. By mimicking the brain's own protective mechanism, MIPS can provide an additional measure of protection in some impacts.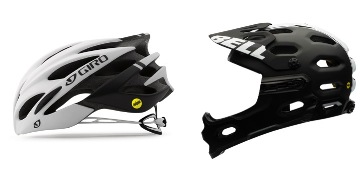 BRG Sports' investment in MIPS AB will expand the company's own extensive research, design, and testing capabilities. The first results of these synergies are eight cycling helmet models from Giro and Bell, including the two to the right, which will debut at the Eurobike 2014 trade show in Friedrichshafen, Germany. Giro also has plans to incorporate MIPS technology in their line of market-leading snowsports helmets.
"We are very pleased to welcome BRG Sports as a customer and strategic partner," said Johan Thiel, CEO of MIPS. "We think highly of BRG Sports' helmet development capabilities and are proud that they have selected MIPS as a strategic partner. This partnership and the investment made by BRG Sports will contribute to MIPS' continued growth and in meeting the helmet users' demand for increased safety and will further strengthen our overall R&D capacity."
MIPS was founded in 2001 and is based on research at the Royal Institute of Technology, Stockholm (KTH) and the Karolinska University Hospital. MIPS' safety technology (Multidirectional Impact Protection System) adds a measure of protection against rotational forces, which the brain is exposed to in most hits or falls. MIPS is currently available in ski/snowboard, bicycle, equestrian and motorcycle helmets.
BRG Sports markets and licenses products under such well-known brands as Bell, Blackburn, Giro, Raskullz, Krash! and BULT. Headquartered in Scotts Valley, CA, the company has 27 facilities worldwide.