Here are four tech tools to help you navigate uncertain spring weather.
Writer: Carly Terwilliger
We'd all like to think we're the kind of outdoor guy or gal that loves to hit the trail no matter what the conditions. If not for days when the wind howls and the thunderheads loom, why did we drop all that cash on weather-resistant gear in the first place?
If all things wet and windy aren't enough to keep you inside, the only concession to that insidious indoor wimp mentality you may be willing to make is to check your trusty weather app. It never hurts to be prepared, right?
Here are tech tools to help you through uncertain spring days in the wilderness.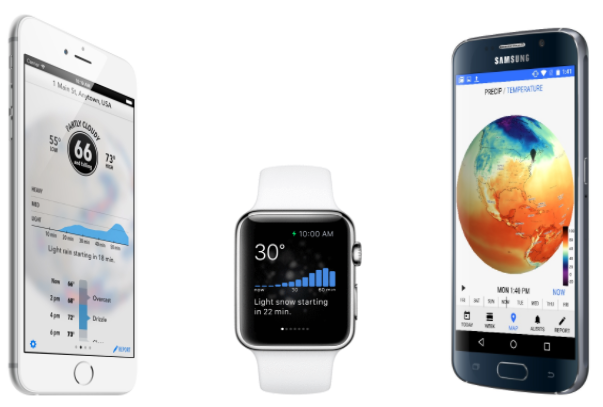 Dark Sky – iOS And Google Play
The Dark Sky Company specializes in weather forecasting and visualization. Founded in 2011, the company "had the crazy idea that robots could predict the weather with down-to-the-minute precision," according to the app's website. The award-winning weather app started as a two-man operation and later partnered with a company called Applied Invention and expanded its team.
Known for its visually stunning maps, Dark Sky began with a simple premise: it would let you know exactly when the rain will start or stop, right where you're standing. That's still the basic idea, but the popular app has over time added capabilities and now has a website in addition to its mobile version.
Using GPS, Dark Sky provides minute-by-minute predictions for the next hour and hour-by-hour forecasts for the next day and week. The same technology that powers Dark Sky's predictions also allows it to make the incredibly smooth radar animation. The app's radar animation shows the actual path of the storm: how it moved in the past, and where it's going in the future.
Additional features include before-it-starts-to-rain alerts, government severe weather alerts and custom notifications covering the next 24 hours for things like temperature, wind and precipitation.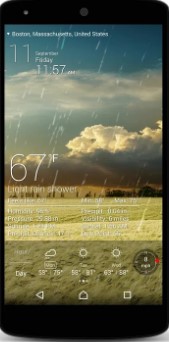 Weather Live – iOS And Google Play
Another attractive app is Weather Live, which claims in its description that "You won't even have to look out the window" because the app "will make you feel like you are already outside!" Although that specific description might not appeal to those using the app for the express purpose of going outside, it's still a good-looking and intuitive tool. Forecast temperatures can be viewed for the next 24 hours and seven days in clean, easy-to-read graphs and are searchable by post code, zip code, latitude/longitude, IP, Airport Code and city/town name.
A slew of weather details are included, along with a social weather feature that allows anyone to confirm the weather or report their weather conditions to the app, which then uses the information to improve the forecast for that given location.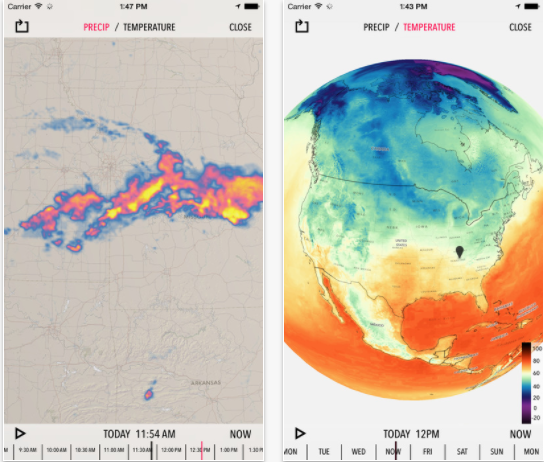 Weather Timeline – Android
Weather Timeline, developed by Sam Ruston, focuses on summarizing the next hour, the next 48 hours and the next week. It presents the forecast in a timeline to help the user quickly glance and digest the information and has a strong focus on color to outline the weather conditions.
Especially for longer treks, the week-at-a-glance feature is one that might come in handy.
The app includes current weather alerts/warnings for chosen locations and includes a time machine weather forecast to check out the forecast months or even years in advance. Or, if you're really curious, you can also find out what the weather was like several decades ago.
Take Your Chances With Your Eyes And Brain
Now, I'm as guilty as anyone of skipping out on my habitual Saturday hike because the forecast robot told me it would be prudent to head to the gym instead. But for every time the promises of golf-ball-sized hail turn out to be true, there's a day when the sun comes out and it turns out to be a damp but undeniably bluebird day.
Make good use of your technology – it's there, so we might as well use it – but also remember that no good story ever started with the sentence, "I was going to hike, but instead I went to Starbucks." With the important safety exceptions of summits and slot canyons – no need to get too crazy – it can be worthwhile and liberating to leave the phone at home and see where the raincloud takes you.
Lead photo by Adam Ralston, additional photos by Dark Sky, Weather Live and Weather Timeline