Branding Athletes In The Twitter Age
S
tephen Curry is more than a basketball player, he's a top-selling sneaker. Rory McIlroy is a golfer, but also a moisture wicking t-shirt. Jordan is not so much a name as it is an emblem, and Colin Kaepernick refers to more than that guy who throws a football for the 49ers.
Athletes are brands.
Ryan Totka, founder of Athlete Promotions, has made it his life's work to master the art of athlete brand building. The sports marketing expert found his footing in the business as the internet was first getting big, by launching a website for up-and-coming baseball players and fan clubs. Totka was enlisted to create Lebron James' website when the small forward was only a senior in high school. James' prescient agents foresaw the importance of a consistent digital image, but they didn't have the skills to create it. That's where Totka came in.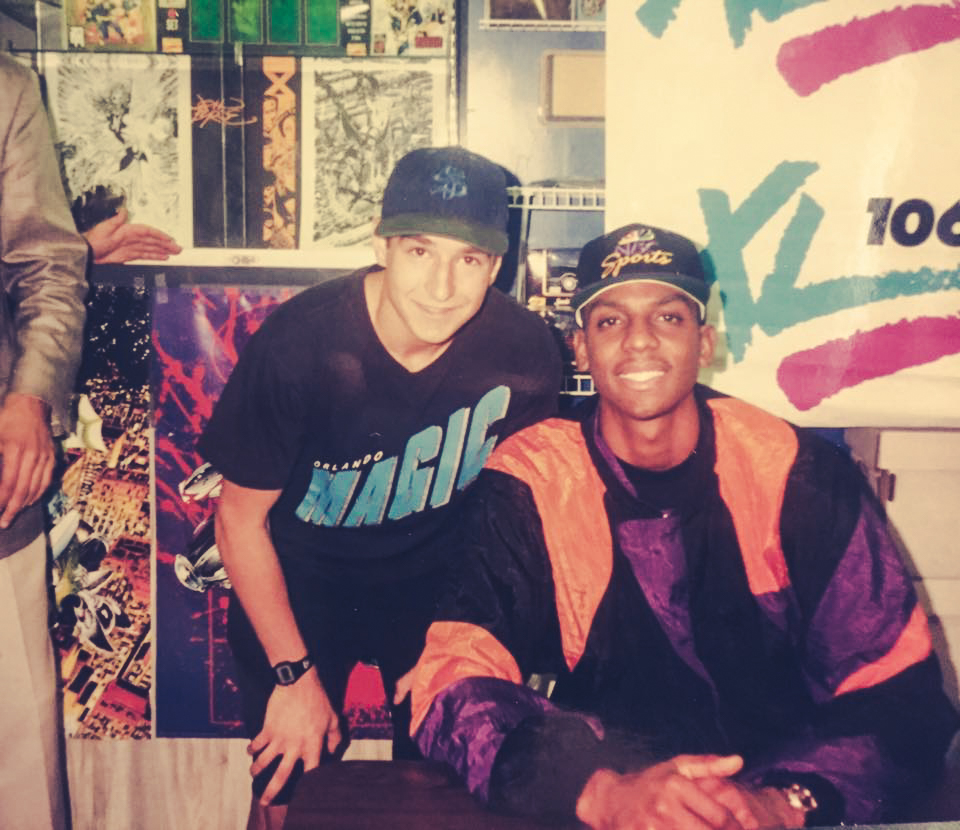 Ryan Totka with Penny Hardaway in his rookie year 1993
Today, Totka primarily manages retired-athlete bookings, with his most noteworthy clients being Allen Iverson, Spud Webb, Danny White and Brady Anderson, to name a few, along with managing current and retired athlete websites (i.e.TobiasHarris12.com).
We sat down with Totka to get the skinny on digital representation, how advent platforms help or hinder and what led him down the path of sports marketing.
SGB:  Have you always been a sports fan?
Totka: When I was five years old, my teacher directed our class to bring in a photo of a loved one, or someone we cared about. While the other kids brought in pictures of their family, I brought in a 1982 Danny White card.
SGB: And now you work with those guys building their brands.
Totka: It does make it easier that I know what their authentic digital image should be since I watched and idolized them growing up. Four years ago, I got an email from Danny White looking for help with his website and marketing, and now he's one of my clients.
SGB: What's the No. 1 benefit to having a strategic internet presence for an athlete?
Totka: Whether playing or retired, an athlete's brand is the reason they are chosen for an endorsement. This could mean a deal with Nike or being asked to speak at a charity event or enlisted to write an autobiography. With the rise of the internet and social media, there are more opportunities than ever for an athlete to become an empire.
SGB: How has the internet changed the business?
Totka: Now a player can have more influence. Whether they're doing a big fundraising effort or doing damage control, an individual athlete can issue a statement and use the platform, whether a website, Facebook or Twitter, to speak their minds.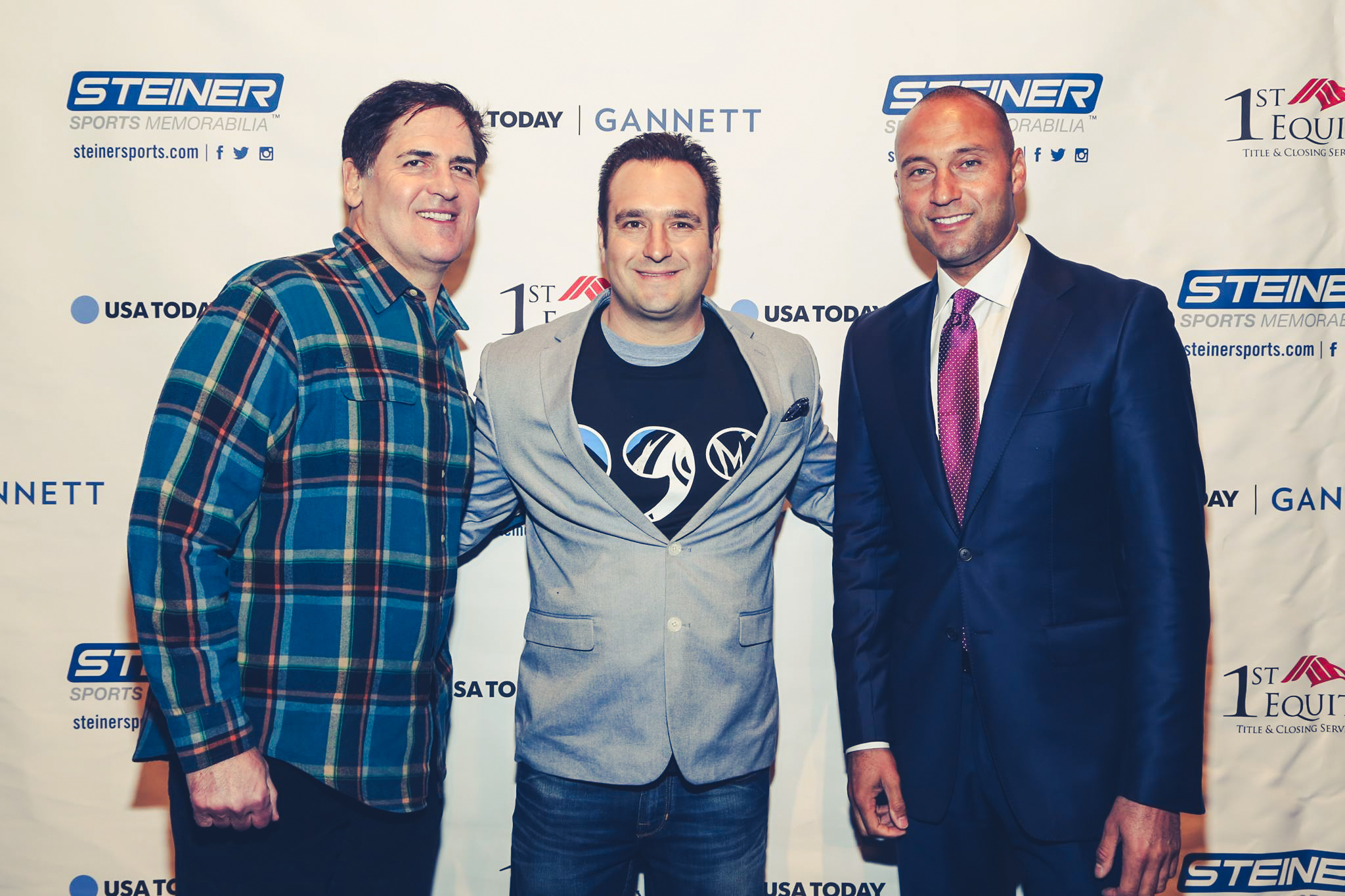 Mark Cuban (left), Ryan Totka (center), Derek Jeter (right)
SGB: What's the worst sports marketing practice?
Totka: Having an outdated athlete bio. You want to have the most updated news front and center, especially as it relates to philanthropy and business.
SGB: You manage many retired athletes. How is that different from managing today's players?
Totka: Athletes have the unique opportunity to be more successful in their post-play business careers than they ever were in the sport. But across the board, it's important to have basic contact information on their website — you'd be surprised how many athletes want opportunities coming in but don't have a place to funnel requests — and the second must is being on top of the next social media platform.
SGB: What's your social media mantra?
Totka: Be where the eyes are. For instance, Antonio Brown is really big on Snapchat, and ESPN was featuring his videos on different segments. That's good. Also, despite what many believe, it's all about the number of followers.
SGB: Complete the sentence: Consumers want more ___?
Totka: Behind-the-scenes images and footage of athletes. The stuff they don't show on TV. This is why Twitter and Snapchat have become so popular.
SGB: At the same time, there are obvious hazards when the cameras are always on.
Totka: You get plenty of people who tweet at athletes just to initiate a Twitter war, or athletes who get intoxicated and post inappropriate pictures. My rule is that one tweet could ruin your whole brand and if you have to think twice, don't post it.
SGB: Deep down, athletes are people as well as brands. What's the trick to not getting emotional?
Totka: Instead of focusing on that one kid who tweets about how much you suck, focus on all the fans who are buying your apparel or merchandise.
SGB: In the end, have the possibilities and visibility brought on by the internet helped athlete brands?
Totka: This day and age, the potential or revenue opportunities for athletes are magnified, but you must have an expert in marketing and digital management composing the platform. For people like you and me, our online image is what people perceive of us. This is magnified for athletes, who are already idealized.