By Eugene Buchanan
The backcountry skiing market isn't the only winter outdoors segment seeing a huge boom this year. COVID-19 and resort restrictions have also fueled a surge in demand for snowshoes, affording consumers another way to enjoy Old Man Winter.
According to the most recent numbers from the Snowsports Industries Association, more than 3.7 million snowshoeing participants take to winter trails in the U.S. every season. This year that number is likely to climb even higher, as newcomers fuel a spike in sales.
"It's the biggest year we've ever had for snowshoes by far," said Steve Christie, director of sales for K2 Outdoor, whose snowshoe brands include Atlas and Tubbs. "Our snowshoe sales were absolutely nuts in 2020 and continue to be strong in quarter one of 2021."
Outdoor specialty retailer Evo Gear, which operates five brick & mortar outlets as well as an online platform, is also seeing huge strides in the category. "As far as snowshoes go, we've basically sold out of everything we purchased this year," said manager Steve Osborn. "Similar to backcountry, pretty much everything seems to be flying out the door."
Online retailer Backcountry.com has also seen snowshoe sales snowball. "We saw significant traction in snowshoes compared to last year," said hardgoods buyer Alex Quitiquit. "People are looking to get outdoors and snowshoeing has one of the lowest barriers to entry of all winter sports."
Christie credits the reason to the sport's inclusivity. "It's a great activity for the pandemic situation— it's outside, lets users social distance, and it's super easy," he said. "If you can walk, you can snowshoe."
Other attributes include its exercise value—it reportedly burns calories at a high metabolic rate in the cold (420-1,000 calories/hour, or twice that from walking)—and shallow learning curve. Add the fact that it's low-impact and inexpensive (no lift ticket required), and it's easy to justify the growth.
Manufacturers are responding with innovations in everything from weight reduction and materials to designs for flotation, articulation and traction. "Materials continue to play a big role in the design," said Tanner Dunn, Crescent Moon Snowshoes, whose company makes one of its lines out of EVA running shoe foam. "It's all about lightweight, flotation and function."
Enhanced traction capabilities also continue to drive the market, with new crampon-like solutions spearheading different designs for different uses. Bindings are also improving, accommodating everything from ankle-length winter hiking boots to beefier snow boots.
"It's proved to be the perfect winter pastime for the pandemic," said Christie. "We can't keep them in stock."
—•—
Product Showcase
›Crescent Moon Snowshoes | Crescent Moon Gold 10/Eva
Crescent Moon's Gold 10 comes with bigger bindings, more traction and more surface area (a 32″x10″ teardrop shape for float), as well as traversing claws and stainless steel teeth for traction. As an affordable entry-level option, the foam EVA, inspired by Hoka running shoes, is lightweight and the only snowshoe made of expandable polymer (running shoe foam), making it durable and recyclable. Upgrades include ice-spikes for traction, footbed modifications and a reconfigured harness binding. For more product information, go here.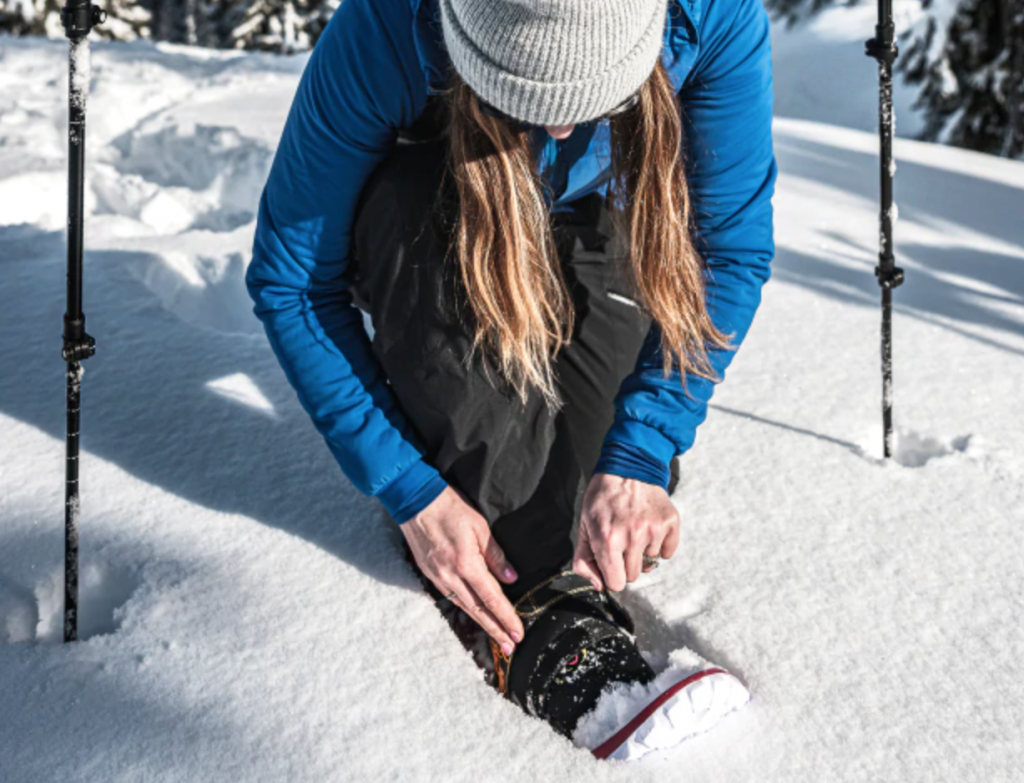 ›Atlas Snowshoes | Atlas Helium
With anodized traction rails and its new Wrapp MTN binding, the Helium from Atlas features a snow-shedding, composite, all-mountain deck for weight savings, while its new MTN crampon provides confidence on the ice. Aiding grip is an aft tang creating 360-degree engagement around the foot, with the Wrapp binding and BOA fit system keeping feet secure; twist the dial for extra precision when the terrain gets technical. For more product information, go here.
›Tubbs Snowshoes | Tubbs Snowball Youth
Retailers catering to kids should consider the new Youth snowshoe from Tubbs, using a QuickLock binding with a tightening and locking buckle that makes egress quick. It also offers traction for keeping up with the family. For more product information, go here.
›TSL Outdoor | TSL Hyperflex Racing
For customers into running and racing on snowshoes comes the TSL Hyperflex Racing. With a streamlined design, the combined weight of both shoes is just 1 lb. 7 oz. What they lack in flotation in deep powder, the minimalist frame makes up for in traction on packed snow. For more product information, go here.
›MSR Gear | MSR Lightning Ascent
Weighing 4 lbs. 5 oz. per pair, the Lighting Ascent is an all-arounder combining traction and float in a comfortable, versatile package. With a steel frame and nylon decking, it's light and maneuverable for all conditions, with a length-of-rail crampon system for traction. Available in 22-, 25- and 30-inch, it comes with a mesh binding to keep feet secure. For more product information, go here.
Photos courtesy K2 Sports, Crescent Moon Snowshoes, Atlas Snowshoes