In a note to the media on Thursday, Bass Pro said 680 of Cabela's corporate employees had applied for a voluntary buyout plan and that 290 would be leaving the company this week. A full-page ad in the Wall Street Journal also went out to support Bass Pro's goal of donating any unused space in Cabela's offices to bring jobs to the city of Sidney, NE.
In brief, details in the e-mail from Jack Wlezien, director of communications, Bass Pro Group, include:
290 Cabela's employees located in Sidney, NE are leaving as part of a voluntary buyout program. Another 390 former Cabela's employees also applied for buyouts, but no immediate action will be taken on those "for an extended period of time" to enable to Bass Pro to fully access staffing opportunities in Sidney. At least 500 – including corporate, retail and distribution center jobs – will remain in Sidney.
Bass Pro is investing more than $100,000 in an advertising campaign beginning with ad in Thursday's Wall Street Journal to promote its offer to donate unused office buildings in Sidney to qualified employers for $1 per year. Says the ad, "Usually, we're all about the catch. This time, there isn't one." The ad touted Sidney's workforce as "highly skilled" and "at the ready." Bass Pro will also continue to showcase the opportunity to its vendor network and through partnerships with the city and state to advance economic development in Sidney.
One former Cabela's executive, who wanted to remain anonymous, has accepted Bass Pro CEO Johnny Morris' challenge to contribute to a fund to help employees. The former executive contributed $700,000. Morris has pledged to match any donation up to $10 million.
Many Nebraskans have been concerned about how the merger, first announced in October 2016, will affect jobs in Sidney, a city of about 6,800 where Cabela's has employed 2,000 people in recent years. Bass Pro officials have pledged to maintain significant operations in Sidney. The deal was completed on September 25, 2017.
The combined company's headquarters will be based in Springfield, MO, the long of Bass Pro.
In a letter to Cabela's employees in December, Morris also noted that Cabela's sales have been underperforming over the last few years amid a challenging retail marketplace, inferring that some tough decisions on jobs would have to be made.
On the last page of the letter, Morris detailed "the realities of a competitive retail market and challenging outdoor/hunting segment." He noted that more than 1,000 outdoors-related stores had closed in recent years and singled out Cabela's as an underperformer, noting that the chain's sales have been in decline since 2013 and the business was likely to lose money in 2017.
He wrote in part that Cabela's "has been operating under the weight of an extremely heavy corporate payroll that is over two times greater than that of Bass Pro Shops to conduct relatively the same volume of business."
The letter also noted that an additional $10 million has been allocated to extend benefits and pay for employees who will lose their jobs.
In February, Cabela's employees who are over 50 years old and worked for the company at least 10 years were given the option to receive bonuses of up to $40,000 on top of two weeks of severance pay for every year of service as part of a voluntary buyout plan. Longtime employees were also being offered lifetime discount cards for Bass Pro and Cabela's stores.
Prior to Thursday, Bass Pro had only indicated it planned to keep Cabela's information technology division, which employs 125 people, as well as a "significant" part of Cabela's accounting operations in Sidney. The distribution center will also will remain open, as well as the loc.
Three Cabela's veterans will move to Springfield as part of a 12-member team that will guide the merged company. They include Ralph Castner, who had been Cabela's chief financial officer, and will serve as CFO for the combined company. Sarah Kaiser, director of diversity and talent management at Cabela's, will become senior vice president of human resources for the combined company and Sheila Dormann, vice president of accounting and controller at Cabela's, will become vice president of finance for White River Marine Group, one of Bass Pro's subsidiaries
Cabela's stores in Sidney, as well as stores in Kearney and La Vista in the state, will remain open.
Outside of Sidney, Bass Pro has already indicated that Cabela's credit card operation will remain in Lincoln, NE, according to the letter, as well as call centers in Grand Island, Kearney, North Platte and Lincoln in the state. The call centers employ approximately 350 people.
The deal brings Cabela's 82 stores in the U.S. and Canada into the Bass Pro Shops fold. Bass Pro Shops has 95 stores in the U.S. and Canada.
The full e-mail to the media follows, along with the advertisement that ran in the Wall Street Journal.
Our Approach
These actions reflect our goals to ensure the sustainable, long-term success of the company, and to go above and beyond what is required to support those impacted, particularly in Sidney.
The reality is Cabela's has experienced declining business for the past several years and job reductions would have been necessary regardless of the company's sale. The sporting goods market–and particularly the hunting segment Cabela's specializes in–continues to face serious challenges.
We are trying to do all we can to be supportive to the people and city of Sidney under difficult times for the company and the industry.
Support for Sidney
To support the city of Sidney, we are aggressively marketing our offer to donate unused office buildings valued at $35 million to qualified employers for $1 per year. Our goal is to attract employers and create new jobs in Sidney.
We are investing more than $100,000 in an advertising campaign beginning with the attached ad in today's Wall Street Journal, with a national circulation exceeding one million daily readers, all aimed at attracting new jobs.
In addition, we continue to showcase the opportunity to our extensive vendor network and through partnerships with the city and state to advance economic development in Sidney.
Our founder has personally reached out to the Sidney Public School system, and we are also providing significant support for local education programs in the community.
Update on Sidney headcount and voluntary programs
Though plans are not yet finalized, we expect to maintain a significant headcount in Sidney including at least 500 corporate, retail and distribution center jobs. A significant number of roles spanning IT, accounting, facilities, finance, human resources, logistics and procurement will remain in Sidney.
This number and the department roster could grow as more departments finalize their structure and teams. The exact headcount will be influenced in part upon the decisions made by individuals.
As mentioned in recent company correspondence, the purpose of the Voluntary Retirement Program and Enhanced Severance Opportunity is to provide a helpful option for individuals. In response, approximately 290 team members have chosen to exit the organization this week.
An additional group of approximately 390 team members also volunteered to exit, and we are postponing any action for these individuals for an extended period of time to allow the leadership team to determine the appropriate organizational structure, including finalizing what opportunities will be available in Sidney and other locations. Should an individual's position be eliminated by the end of the extended period, or should they choose not to relocate for their role, they will still receive their full voluntary package.
Support for Individuals
Bass Pro Shops and its founder Johnny Morris have committed more than $20 million in total support for individuals in Sidney exiting the company. In response to the challenge pledge to match contributions from those who benefitted greatly financially from the sale of Cabela's, one former executive who wishes to remain anonymous has made a generous contribution of $700,000 toward the fund.
The company is also providing, at its expense, career consultation and additional support resources for team members exiting the company and we are pleased that many are taking advantage, which is being provided free of charge to the team members.
 Thank you,
Jack
Jack Wlezien, Director of Communications, Bass Pro Group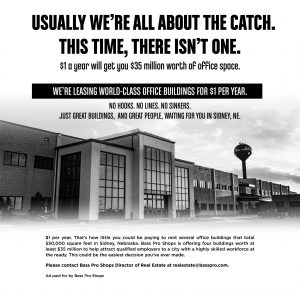 Photos courtesy Bass Pro Group