Jonathan Nielsen, the CEO of Utah-based Backcountry.com, and Arc'teryx CEO Jon Hoerauf were among the outdoor industry leaders championing Bears Ears National Monument over the weekend as the window for public comments draws to a close.
Writer: Carly Terwilliger
As the May 26 deadline for comments relating to the designation of Bears Ears National Monument in Utah nears, outdoor industry powerhouses have continued to urge people to make their voices heard.
Yesterday, Jonathan Nielsen, the CEO of Park City, UT-based online retailer Backcountry.com, released a statement regarding the United States Department of the Interior's review of monument designations.
Nielsen commented:
Spending time outside is at the heart of our business and is central to the lives of our customers and employees alike; public lands are the setting to many special moments. These public lands are a vital part of who we are, and we need to cherish and protect them. Generations before us have had the foresight to protect these places, and now it's our turn. As a Utah-based company, we've shared some of our best outdoor adventures with family and friends in two of the National Monuments currently under review by the recent Executive Order: the Bears Ears and Grand Staircase-Escalante National Monuments.
Bears Ears contains the complex cliff dwellings and petroglyphs of Grand Gulch, in addition to over 100,000 other archaeological and cultural sites. One of the world's premier climbing destinations, Indian Creek, lies within its boundaries. Likewise, the Grand Staircase-Escalante National Monument is a place of incomparable beauty and one of our favorite places in the state. We have canyoneered through the tributaries of the Escalante, gazed up at the sheer red walls while hiking through the Buckskin Gulch, and gained perspective seeing the geological layers of the White and Vermillion Cliffs on the horizon. These places are unparalleled in their unique beauty.
We continue to partner with The Nature Conservancy to support their work at the Canyonlands Research Center (CRC) located at Dugout Ranch in the newly formed Bears Ears National Monument. The CRC provides a research facility for scientists to develop solutions for land management within the changing climate on the Colorado Plateau.
Your involvement is also critical. Now is the time to make your voice heard on the importance of preserving our public lands. The Department of the Interior has created a forum for public comment on the Monument designation. No matter your opinion, please express it and make your voice heard.
Patagonia has been one of the more prominent entities standing in opposition to the possibility of Bears Ears and other National Monuments losing their official status. The outdoor apparel and gear company tweeted to its 352,000 followers over the weekend: "Thank you to everyone who commented on the @Interior website in favor of public lands. You crashed the site! #DefendBearsEars."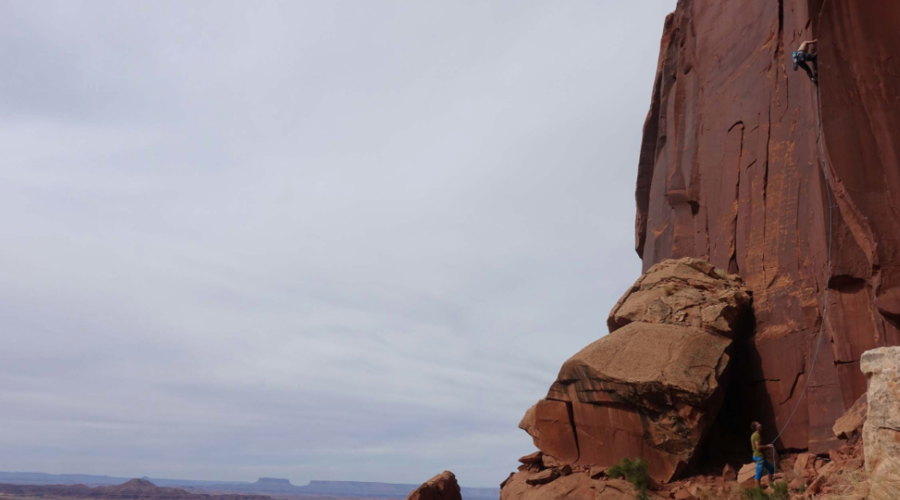 The weekend also saw Arc'teryx CEO Jon Hoerauf asking the brand's consumers in a blog post to "speak up to save Bears Ears now."
The post reads:
Friends and customers,
I'm certain many of you have been following the recent challenges facing America's wild spaces, most notably the Bears Ears National Monument.
Bears Ears includes some of America's most beautiful landscapes. Climbers travel from far and wide to climb Indian Creek's iconic, vermillion-hued splitter cracks, boaters float the winding San Juan river and others come for the world-class mountain biking, canyoneering and skiing. The region is home to some of the most beautiful scenery on the planet and it has inspired generations of Americans to participate in outdoor sports.
Bears Ears, like all American national monuments, provides a place where we have the opportunity to respectfully explore a protected landscape. National monuments ensure the land will be protected for future generations. National monuments guarantee our children can visit the ancient sequoias in California, mountain bike the Grand Staircase, climb at the Creek and visit archeological sites in Colorado's Canyons of the Ancients.
I grew up alongside America's public lands, spending most summers with my family exploring Sleeping Bear National Lakeshore. My first backcountry adventure took place on Isle Royale National Park – and that trip unlocked my spiritual connection with nature. These experiences helped to form my core values and it's one of the reasons I came to work at Arc'teryx.
Arc'teryx is a collective of people committed to using our influence and resources to conserve and protect public lands. To this end, we committed $150,000 over the next three years to the Conservation Alliance's Public Lands Defense Fund focused on:
– Defending previous presidents' national monument designations.
– Defending USA bedrock conservation laws (ie, The Wilderness Act, Antiquities Act, National Environmental Policy Act).
– Opposing proposed transfers of federal lands to the states or to private hands.
The reason we have committed our resources to public lands is because we are at risk of losing them.
Our urgent work begins now: On May 11th, the U.S. Department of Interior opened a 15-day public comment period for individuals and organizations to weigh-in on the future of Bears Ears. We have 10 days left to tell Secretary Zinke, who will report back to President Trump on the monument's future, why keeping Bears Ears intact is important to our community.
There is a way to save America's national monuments, but it won't happen unless we mobilize collectively. Now, more than ever, is time to use our voice to protect wild spaces.
Those wishing to comment to the Department of the Interior on this subject can do so online at regulations.gov by entering "DOI-2017-0002" in the Search bar and clicking "Search," or by mail to Monument Review, MS-1530, U.S. Department of the Interior, 1849 C Street NW, Washington, DC 20240."
The deadline for comments relating to Bears Ears National Monument is May 26, 2017. Comments relating to all other National Monuments must be submitted before July 10, 2017.
Lead photo courtesy Backcountry.com, additional photo courtesy Arc'teryx