Coming full circle, Inov-8 founder Wayne Edy is back leading the company he started 18 years ago, having repurchased it from Descente. Edy has kept the acquisition under wraps while his company has spearheaded a new running shoe design featuring  Graphene-enhanced foam. 
Inov-8 has 140 SKUs selling in 60 countries across three categories, many with graphene in its outsoles, but Edy sees this shoe as a game-changer. SGB Executive caught up with him for his take on reinvigorating the brand ahead of the shoe's debut on March 24.
Why did you buy the business back and return as the company's leader? It was a brand I started and nurtured, and I had a clear vision of what I wanted it to be. I had taken it as far as I could with my resources when I sold 80 percent to Descente in 2015. At first, Descente's strategy was to grow it internationally, but a change in directorship gave it a new focus on the northern Asian market. When the opportunity arose, I said, 'You focus Descente there, and I'll take back Inov-8'. We benefited from being part of their group for five years, but we're independent again and preparing for big things ahead.
Was it a difficult decision and a risky business move to repurchase the brand during the pandemic? It was a risky time to purchase back the business, but it was an easy decision, driven by my hunger to lead more innovations. It's a brand I started and know well. Going through a difficult time with the pandemic, I realized it would probably do better with a private owner like myself instead of a corporate one. Still, it was perhaps the worst time I could ever have done it. After reluctantly furloughing some of the team, we restructured and renewed our focus. My instincts were to continue investing and, despite most of the team working from home, by the end of the year, we'd made an incredible recovery. We left 2020 a much stronger business with a highly motivated team. Now we can accelerate and grow. I'm a calculated risk-taker. We became agile, and the company had a great year. 
How good a year was it? A large percentage of our brick & mortar stores closed, but we were still only down 3 percent over 2019. That came mainly from our partners who have strong e-commerce platforms. We did some restructuring, which also helped. Our order books are looking strong this year, and all this occurred despite our team working from home. Everyone's been very creative and resourceful.
And you have innovations you're about to unveil? We have a new shoe launching on March 24 which uses graphene in its foam. We debuted graphene in some of our outsoles under Descente, but now we've developed it into a new foam. It has fantastic properties.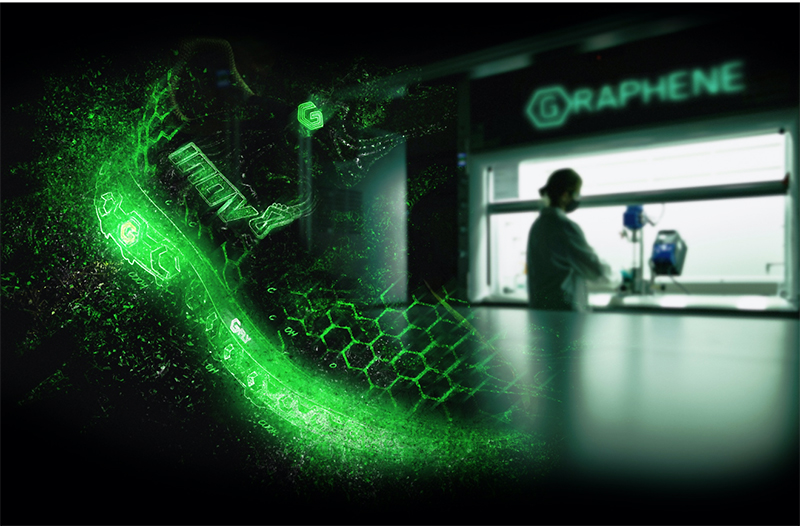 What is graphene, and why is it suitable for running shoes? We've been working with The University of Manchester where it was first developed, and the University is located near our headquarters. Two scientists received the Nobel Peace Prize for discovering the substance. It's 200 times stronger than steel and is used in watches and tires, but we're the first brand in the footwear/sports category to use it, with three patents pending. It's the world's strongest and thinnest material, literally only one atom thick, and is incredibly flexible with exceptional stretch properties. It's everything you'd want for a shoe.
What changes have you seen in the active outdoor industry since 2015 when you sold Inov-8 to Descente? Cushioning is more important to the end-user. We believe in working in harmony with the body, but how do you achieve natural biomechanics with a large amount of cushioning? The type of foam is becoming more important. All the major brands are putting a lot of resources into it. For a small company, we're bringing groundbreaking technology to the market. We believe we have the best trail and ultra running shoes in today's marketplace.
Why are other brands not using graphene? Other companies have probably looked at it, but The University of Manchester, where it was developed, is the pioneer of the technology, and we've been able to collaborate with them and use their expertise and testing facilities.
Is it an expensive process? It costs more money than conventional outsole and foam manufacturing, but it's worth that extra price point. It probably means a 10 percent to 20 percent premium, but it's a much more durable shoe. 
Is sustainability a priority for Inov-8? What are some of your efforts? It's very important. We made our first environmental assessment as a small company in 2004, and we audit that every year. I'm very passionate about it, and so is our team. Graphene is a key component of that. We're looking at where we can make the biggest impact. If we can get our footwear to be used for more mileage, that's where we can make the biggest impact. Graphene has a 50 percent better wear rate, which means that there is much less of an environmental footprint making it. Within the next six months, we will introduce more savings to the environment. 
Many of your end-users live in the U.S. How big is the market share for your business? Right now, it's about 25 percent of our business. But it increased about 16 percent in the second half of 2020, which is a great trend. And our orders are looking strong for 2021. The U.S. is an important market for us and the single biggest in the world, but we sell in over 60 countries.
What is your vision for Inov-8? Watch the space. We have exciting developments we're working on. Innovation is part of our name. We're driven by bringing new concepts and products to the market. We're not a follower. We like to lead the way. I'm not motivated by money or having a big company. We are a specialized brand known for amazing innovation, and we push boundaries. We want runners not to think about their feet when they're running.
Photos courtesy Inov-8