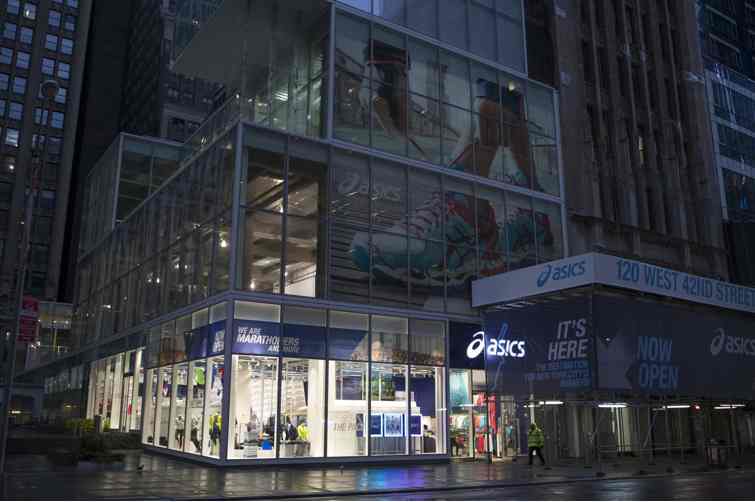 Asics America has opened the doors on its newest retail store in the heart of Times Square. Located on 42nd Street between 6th and 7th Avenue, the Times Square location, with more than 4,000 square feet, is the second Asics storefront in New York City as well as the largest in the United States. One of the most intriguing elements of the store is the newly renovated "Subway car 8394," a retired MTA Subway car from the A line built in 1961. The grandiose space, product offering, and tribute to the city, celebrates the inner athlete and competitor in each store visitor.
"Times Square is an iconic symbol of New York City, and Asics is proud to expand our retail footprint with a store right in the center of all the action," said Kevin Wulff, Asics America Group President and CEO. "As a global brand, Asics is dedicated to bringing the best in athleticism and innovation to our family, friends and fans. With a store in the heart of Times Square, we hope to further celebrate New York as a melting pot of interests and cultures while continuing the pursuit of success."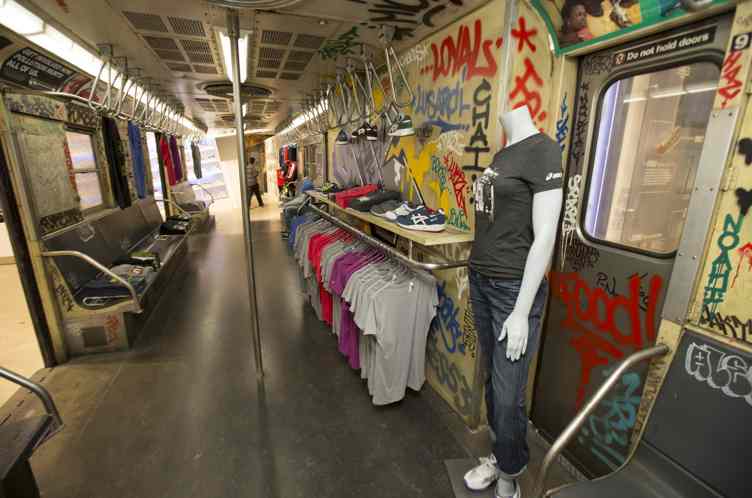 Integral to the store's personality and décor, "Subway car 8394" does more than just grandly display Asics footwear and apparel; it offers historic charm to its visitors. Built in 1961, the subway car was officially retired in 1993 after 32 years of service, but saw much more action in the years to come. Car 8394 spent the last 10 years in Hollywood on the sets of such acclaimed films as Godzilla, Die Hard and Money Train. After traveling from set to set and then disappearing for several years, Subway car 8394 was discovered in 2014 in the Mojave Desert in California, and finally shipped to Burbank to start its restoration by a team of local film artisans. After six weeks of work, car 8394 was brought to the new store, Asics Time Square. The car will become a center of displays and activities around the store, already drumming up attention from visitors and on social media.
The Asics Time Square location opened its doors just in time for the holiday season, making it the ideal shopping location for the athlete or fitness enthusiast on your list. The location also offers the proprietary Asics FOOT ID®, a free, state-of-the-art, destination area of the Asics store offering static and dynamic measurements, including foot shape analysis and gait cycle analysis that helps each visitor select the ideal footwear for his or her feet. For the holidays, the store will help runner's throughout the city stay warm with the latest and greatest from our cold weather running series, including the Thermopolis® Half Zip and the Storm Shelter® Jacket.