The Elan Ibex Tactix ski was recently awarded a 2017 "Best of What's New" Grand award by Popular Science in the Recreation category.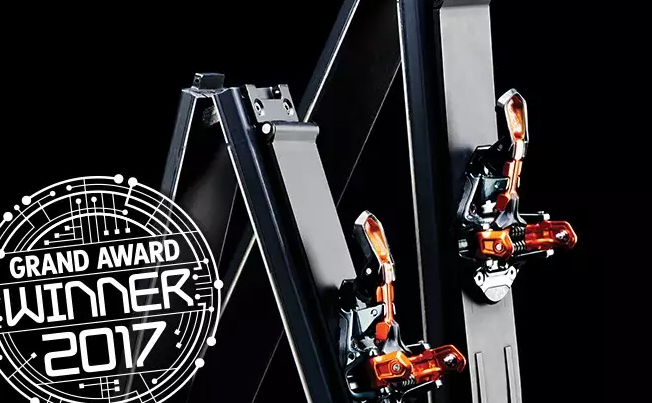 Writer: Carly Terwilliger
The first man to descend from the summit of Everest on skis is putting his weight behind new foldable skis by Elan. Ski mountaineer Davo Karničar, lead image, was enlisted to help the Slovenian ski brand create a ski that folded over while retaining its fundamental characteristics.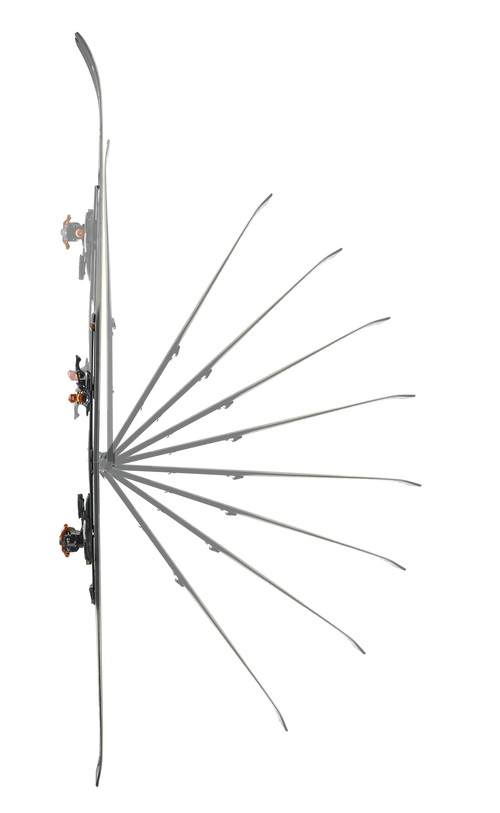 Elan tackled the foldable ski conundrum by analyzing how traditional ski and winter equipment posed limitations to transportation as well as mounting and dismounting while negotiating snow, rocks and mixed terrain.
The brand's solution is the Ibex Tactix, which delivers high-end ski performance without limiting movement by applying bindings to a 2-foot-long fixed aluminum plate on the lightweight Carbon XLT ski construction. When in ski mode, the aluminum plate assumes all forces. But when it's time to fold and stash them, the plate rotates 180 degrees and is fixed to the fore-body of the ski while the rear half is folded under.
So why would a skier need a folding ski? "Folding skis strapped to a backpack allow for much greater maneuverability during technical ascents on foot," explained Karničar. "There is nothing sticking out above the head and below the belt to impede the climber. Folding skis also facilitate climbs that require the use of ice axes because the arms can swing freely overhead. This greatly increases safety. Folding skis also bring unique advantages to descents, particularly at times when they need to be taken off for whatever reason. Classical skis strapped to a backpack tend to snag on rocks and roots; even the slope itself can be a hindrance."

The ski mountaineer isn't the only one on board with Elan's solution to a problem that has long stumped ski designers. The Ibex Tactix ski was recently a 2017 "Best of What's New" Grand award by Popular Science magazine in the Recreation category. To win, a brand must represent a significant step forward in its category. "The Best of What's New awards honor the innovations that shape the future," said Joe Brown, Editor in Chief, Popular Science. "From life-saving technology to incredible space engineering to gadgets that are just breathtakingly cool, this is the best of what's new."
The skis can be assembled into a full-performance 163 cm ski in about 20 seconds. Their folded length is 90 cm. The Ibex Tactix is new for the 2017/18 season with limited inventory at Elan dealers worldwide. They're available in recreational and military versions.
Photos courtesy Elan