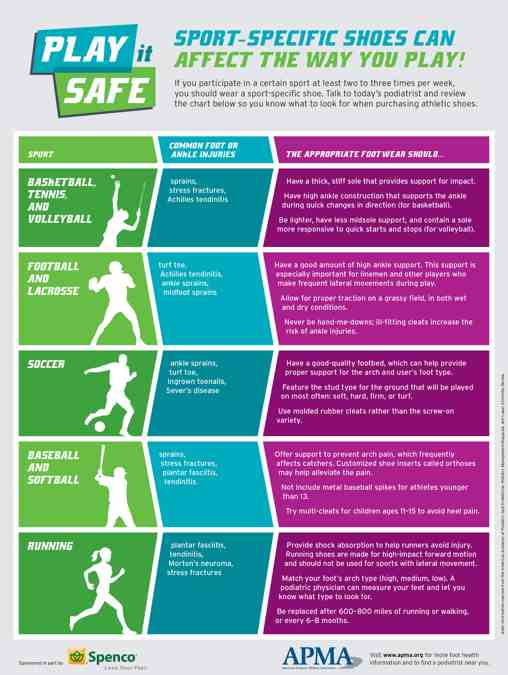 The American Podiatric Medical Association (APMA) announced a new campaign for Foot Health Awareness Month called
"Play It Safe," aimed to reach athletes of all ages to educate them
about the importance of foot health in sports, and a podiatrist's
critical role in helping treat and prevent foot and ankle injuries.
One in four Americans feel unable to exercise due to foot pain, according to a 2014 survey conducted by the APMA.
An infographic spelling out key points around Play It Safe is here.

"The amount of running, turning, and physical contact in sports can often translate to injuries," said APMA President Phillip E. Ward, DPM. "If you or your child experiences a foot or ankle injury while playing sports, early attention is the key to preventing further damage. A delay in treatment can cause toe deformities and other podiatric problems."
Ankle sprains and breaks are among the most common sports injuries for both adults and children. Children can be especially vulnerable to injury, as their bones, muscles, tendons, and ligaments are still growing. Podiatrists are uniquely qualified to diagnose and treat injuries to the lower extremities, and can provide guidance on proper footwear, prescribe custom orthotics, evaluate biomechanics, and more.
The "Play It Safe" campaign, occurring during April's Foot Health Awareness Month, will share important information about sports injuries, prevention, proper footwear and more. To learn more about the campaign, and to find a podiatrist in your area, visit www.apma.org/playitsafe.
APMA has 53 state component locations across the United States and its territories, with a membership of more than 12,000 podiatrists.