While the rest of the world gets excited for the holidays and new year, our cause of giddy this season is the semi-annual Outdoor Retailer trade show in Salt Lake City, running its Winter Market from January 9-12, 2017.
We're seasoned in the art of acing the mayhem that is ORWM, so save or print the schedule below and plan ahead on the plane ride circling your can't-miss sessions and events.
Monday, January 9
All Mountain Demo – 9 a.m. – 4 p.m.
Here's your chance to test out all the radical new gear that comes out of the industry for next season. Hosted at Solitude Mountain Resort with complimentary shuttles running directly from the Salt Palace Convention Center (see shuttle schedule here), there's no excuse to miss the trip and get physical before a week of in-booth meetings. Buyers: we highly recommend making the voyage and getting hands-on with the gear. This could not only impact the product you end up bringing back to your shop, but provide a personal testimony for customers as to why this exact ski boot sits on the shelf.
Media Preview – 5 p.m. – 7:30 p.m.
If you're coming to the show with a list of freelance assignments, collect your thoughts at the Media Preview held in the Marriott Downtown at City Creek (session #MEDPREV). And since OR is all about being face-to-face with your compadres of active lifestyle, the preview is a great time to brainstorm ideas and talk trends, products and big launches. *This is a private event for working media and participating brands only.
Tuesday, January 10
A Force for Meaningful Change – 7 a.m. – 9 a.m.
Joel Makower, an entrepreneur and strategist on sustainable business, clean technology and green marketing, takes the podium at The Marriott to celebrate the industry's sustainable leadership. It really is a cause worth getting up early for. Over the last decade, active lifestyle has led the way in discovering that products can be equally as sophisticated as they are sustainable in term of their supply chain footprint. In fact, sustainability is now a must for buyers. This includes product quality and supply chain transparency (both topics you should be discussing on the show floor). Because that's how we're going to change the world: talking and making solutions together.
Happy Hour! – 4:30 p.m. – 6 p.m.
Need we say more? A quick walk around the show floor will present plenty of opportunities to fill your cup, but if you need some direction head to the High Altitude Den (2043) or The Camp (36093) hosted by Sierra Nevada, or The Hudde (VO337) sponsored by OluKai.
Extraordinary Journey Fashion Show – 6 p.m. – 6:30 p.m.
On Tuesday evening, flock to the South Plaza room for a look and feel of the newest colors, fabrics and styles forging the next aesthetic of the industry. If you think you've got an eye for trend forecasting, test your skills at this preview.
Industry Party – 6:30 p.m. – 8:30 p.m.
Pick up where happy hour left off (you don't even need to change locations if you were attending the Extraordinary Journey Fashion Show), and let it set in that you've made it to Winter Market with one show day under your belt. Raise a glass with old friends you only get to see at the show, and whisper over the industry news you heard from executives that afternoon.
Wednesday, January 11
The Schmooz – 11 a.m. – 2 p.m.
If you've come to Outdoor Retail with the prospect of finding another professional adventure in the industry, shimmy over to The Schmooz, presented by the job search website Malakye. If you're busy talking shop and trading cards on the floor, access SGBJobs.com for a look at the exciting career openings in Outdoor, Sports, Fitness, Sportsmans and Footwear you might want to apply for.
Happy Hour! – 4:30 p.m. – 6 p.m.
If you've made it this far into the show, give yourself a boozy reward at Day 2's happy hour. Sierra Nevada is again hosting a brew and chill in the High Altitude Den and The Camp, with a special Backcountry Panel at the latter. If Uinta Brewing is more your flavor, they'll be set up in The Huddle.
Calling All Eagle Scouts! – 5:30 p.m. – 6 p.m.
The National Eagle Scout Association & Scouting Works is calling for its former scouts to stop by room MR250 for a super-short half hour of story swapping. Why? Because for many in the outdoor industry, this association was our first avenue into the industry, and the reason it's more than a job; it's a lifelong passion.
Outdoor Inspiration Awards – 6 p.m. – 8:30 p.m.
In its seventh year, the Outdoor Inspiration Awards continue to leave us inspired. With a new format that honors the outstanding individuals, retailers, manufacturers, non-profits and youth inspiring others to get outdoors, it's an event we don't just recommend but wish we could make mandatory. Co-hosts Alex Boylan and Burton Roberts from DreamJobbing will present awards and tell the powerful stories of the nominees. After all, we're at Outdoor Retailer to see innovation and be inspired.
Thursday January 12
Happy Hour! – 4 p.m. – 6:30 p.m.
Yes, we're an industry that takes happy hour very seriously, especially on the last day of Outdoor Retailer. By now, your orders are filled, your stories are drafted and your booths are being torn down. Bask in the calm after the storm and walk the floor one more time, brew in hand. You'll never get this unique show again.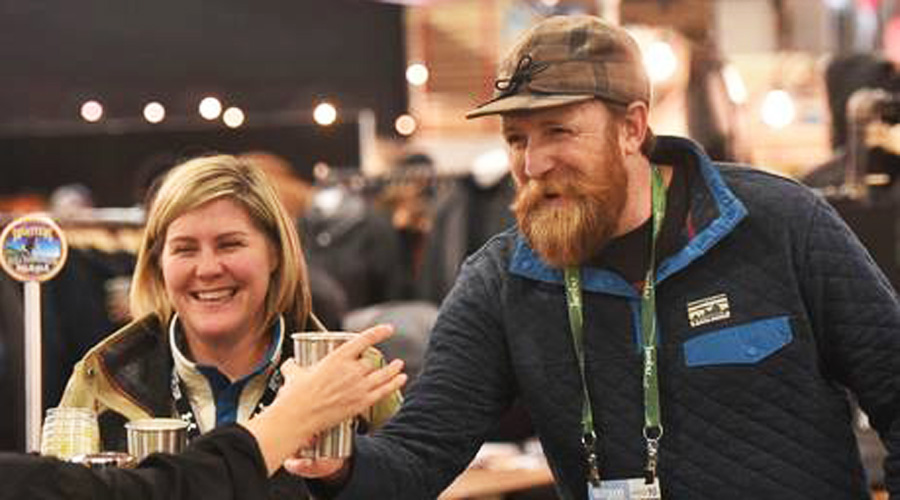 Last-Minute Tips 
Download the Outdoor Retailer App – This will save you tons of time looking for a booth or if you forget what time cocktail hour begins.
Find Your Corner – Whether it's a 2×2 space in the booth, a seat up the escalator that's close to an outlet, or a bench outside the convention center, have a spot where you can go to catch your breath and quickly recharge if you feel overwhelmed or tired.
Photos courtesy Outdoor Retailer