Alpine Replay Inc., which used Kickstarter to help fund development of the Trace action sports tracker in late 2013, has begun distributing the device through a handful of select surf shops.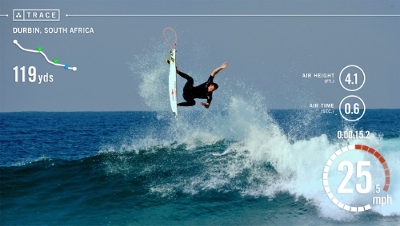 The GPS enabled Trace (MSRP: $200) can be mounted on a board to record a
variety of metrics, including cutback
angle, roll and pitch, air height and hang time, which can then be used
to automatically edit and annotate GoPro video for post session analysis.
"We've come a long way since we launched our Kickstarter 18 months ago," said Trace Co-Founder, David Lokshin. "I'm thrilled to be going into core retail and supporting the shops that I grew up in. Surfing and snowboarding has been a huge part of my life and it's really important for us to support that culture and lifestyle."
Initial Trace dealers in California include Huntington Surf and Sport in Huntington Beach, Jacks in Newport, Surf Ride in Oceanside and Mitch's in San Diego. Brave New World in N.J., EVO in Portland, OR and Town and Country Surf and Local Motion in Hawaii are also carrying to Trace.
Corresponding with the launch, Trace has signed surf icon Jordy Smith as an official partner of the company. Jordy will take on an active role in business and athlete marketing, as well as in product development. The South African native will take the device to his local waters in the upcoming J-Bay Open.
"The technology and analytics of Trace are next level," said Smith. "It provides me with an accurate review of each surf session and the auto edit allows me to see where I am going wrong and how I can perfect my surfing. In my opinion, this is the next step in surfing progression."
The Trace, which AlpineReplay is selling for $200 at traceup.com, tracks speed, airtime, vertical, distance, calories burned, and much more. By syncing with your GoPro, Trace will automatically clip highlights, color correct the video, and overlay stats on top of the selected video. The device was developed by Lokshin and his father Anatole Lokshin, a former CTO and VP of Magellan Navigation. The pair founded AlpineReplay Inc. in 2011 with the mission to make Action Sports Measurable, Sharable, and Comparable. The company is headquartered in Huntington Beach.