Adidas said it plans to give the same bonus to any of its sponsored players on the Women's World Cup-winning soccer team as their male counterparts.  The announcement follows news that the U.S. women's national soccer team is suing their federation with allegations of gender discrimination, where all 28 members of the squad were named as plaintiffs in federal court.
Eric Liedtke, Adidas head of global brands, said on Twitter that Adidas believes "in inspiring and enabling the next generation of female athletes, creators and leaders through breaking barriers."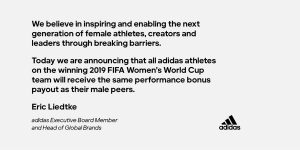 On Friday, which was International Women's Day, U.S. players filed a federal discrimination lawsuit against the U.S. Soccer Federation over equal treatment and pay. The players alleged ongoing "institutionalized gender discrimination" that includes unequal pay with their counterparts on the men's national team.
The complaint, which seeks class-action status to allow former players to join the litigation, alleges U.S. Soccer "utterly failed to promote gender equality" and that federation officials have "gone so far as to claim that 'market realities are such that the women do not deserve to be paid equally to the men.' "
According to the suit, a comparison of pay schedules for the teams shows that if each played 20 exhibition games in a year, a player on the men's team could earn an average of $263,320, while women's players could earn a maximum of $99,000.
The lawsuit filed by the team includes complaints about wages. The players said they had been consistently paid less than their male counterparts even though their performances have been superior.
The U.S. male team failed to qualify for the 2018 World Cup, while the female team has won the competition three times in 1991, 1999 and 2015. The U.S. defends its title at the Women's World Cup, which starts June 7 in France.
The US team's lawsuit has found support from prominent American tennis players past and present, including Serena Williams, Bille Jean King and Sloane Stephens.
In December, Adidas launched its She Breaks Barriers initiative as a continuation of its commitment to remove barriers in sport. The initiative represented an expansion on its #creatorsunite conversation launched in August 2018. On March 7, the second phase of the She Breaks Barriers initiative. adidas debuted a film featuring four athletes and ESPN's Maria Taylor that calls for equal media representation for women in sport. The four athletes were Becky Sauerbrunn (USWNT, Defender Utah Royals), Keni Harrison (World Record Holder, 100m hurdles), Maria Taylor (Analyst, Host and Reporter for ESPN), Layshia Clarendon (WNBA Point Guard, Connecticut Sun) and Rahaf Khatib (Marathon runner, Six Star Finisher).
The film follows a group of young athletes as they seek out female sports in the media, find their power, and call their shot. The full film is available here.
The brand also announced a partnership with Twitter and Intersport to livestream women's high school volleyball and soccer games on the service for the first time ever. Women in sport lack visibility – research shows that only 4% of sports media coverage in the U.S. is dedicated to women's sport [1]- adidas is tackling this problem head on by pursuing equality and representation in the media.
"We believe she needs to see strong female role models to inspire her to pursue her dreams. As part of our continued efforts to increase visibility for women and girls in sport , we have committed to ensuring that we will have equal gender representation across our owned social channels. This is the first step in changing how we will approach content creation in the future," said Nicole Vollebregt, SVP of Global Purpose for adidas.
Image courtesy Adidas