Accell Group N.V., the leading European bicycle company with brands such as Haibike, Koga, Batavus and Raleigh, announced that its 'Lead Global. Win Local' strategy is starting to pay off in its core markets (excluding North America). Growth in the second half of 2018 accelerated to 10.4 percent, bringing FY core turnover growth to 6.1 percent.
EBIT core landed at €54.0 million, and excluding one-offs at €58.9 million.
The non-core North American business ended at €-21.0 million EBIT bringing total group EBIT at €33.0 million. The strategic review with regard to its North American business as announced in December 2018, is in progress and conclusions on the future of the business are expected in Q3 2019 at the latest.
Total net profit for Accell Group increased from €10.5 million to €20.3 million in 2018.
Accell Group said it expects continued growth in 2019 in its core business, driven by a strong consumer interest in especially e-bikes and cargo bikes and strong innovations like the winning 'E-bike of the year 2019' in Netherlands with the Sparta M8B.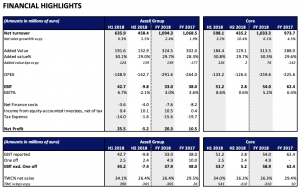 More information is available here.