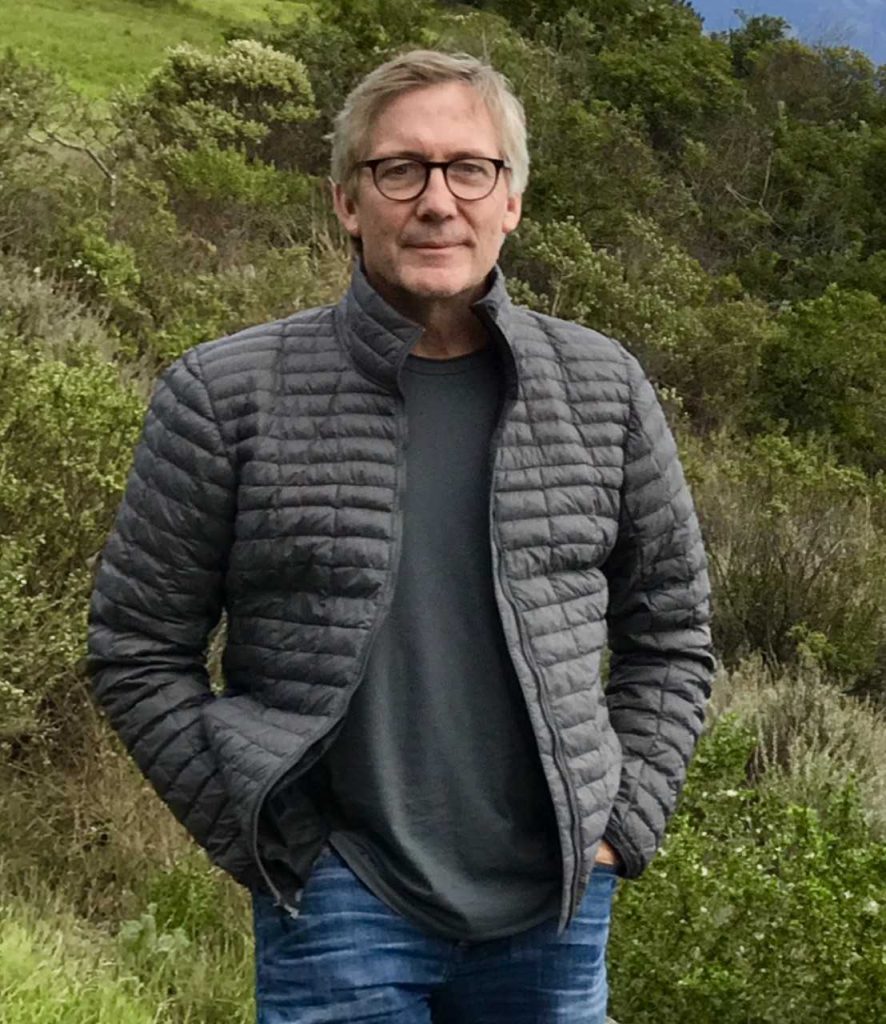 Adidas is the brand that creates the new. It's the brand that takes big risks with different fashion statements. Some may not be the biggest sellers, but they are some of the most sought-after iconic products in the outdoor space.
Greg Thomsen, Chief Outdoor Officer, Adidas Outdoor, is passionate for the brand. When we sat down with Greg recently, we found out that Adidas is many things but, most importantly, Adidas creates an aura of refined products at all levels, for all seasons, and with quality that stands the test of time.
A legacy brand that is continually evolving Adidas in the last three-to-four years, has really hit its stride with dramatic distribution growth and a worldwide audience. We invite you to read our conversation with Greg below.
Starting with the Fall/Winter 2018 collection, Adidas brought Mountains to the Streets with an apparel and footwear collection that merged technology, fashion and function at a value price point. Is this an ongoing theme for FW19? Yes, but ramped up. FW19 offers the consumer more streetwear/outerwear and several crossover shoe styles with a performance base but with a fashion/city/outdoor vibe. This is an area where we feel we can do more. The collection will also offer more branded product with down jackets, shells and waterproof pieces that have a fashion touch like three stripes on the hood, arm, or subtly on a pocket.
The silhouettes of the Outerwear Jackets from the FW18 collection were fashion-forward and beautifully tailored. What can we expect from the cuts for the upcoming collection? It's the next step up.
Will we see the same asymmetrical lines? Yes, there are quite a few styles with that cut. Most of the apparel collection that we showed at OR Summer Market is carrying forward with several new colors and embellishments. But, for FW19, we are offering an interesting collection of rain jackets called My Shelter. We've taken our design direction from technical mountaineering outerwear and merged it with street fashion. Our customers will see more fashion-focused pieces but with technical fabrics that may include the three stripes. The collection suits a younger consumer who also wants to be able to wear it on the street. Our design team in Germany works closely with me on product direction to create collections that work here in the States.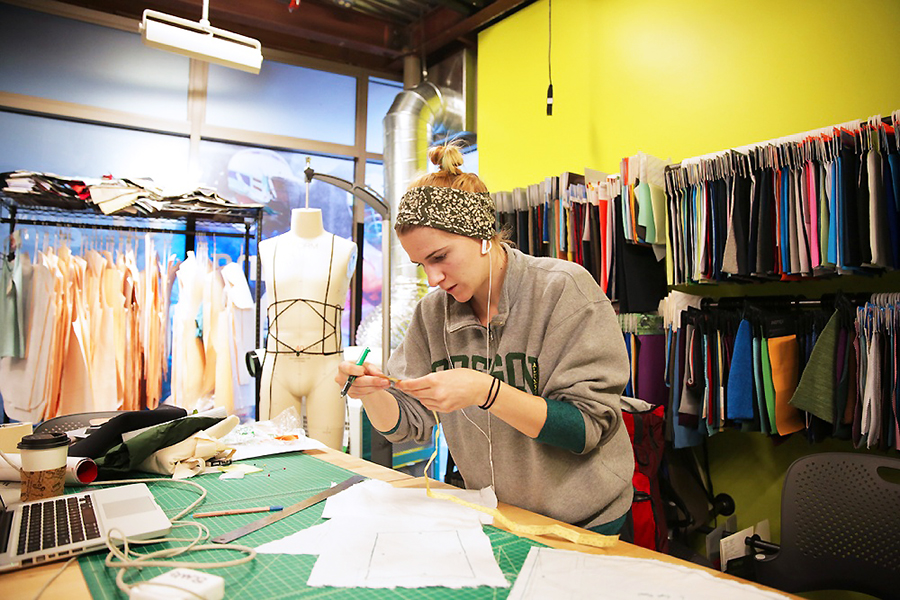 Adidas and Woolmark created the Woolmark Performance Challenge this year which provides a unique opportunity for young design talent to showcase the benefits of Australian Merino Wool for the sports and performance market. The winning design will be selected on November 9 at OR Winter Market next month.Yes, its a co-branded competition between the two brands. Outdoor is one of the fastest-growing categories. It now requires more global support and focus which means that Outerwear, as a category, has become of a size and of an interest that the brands are saying, "It's important, let's get behind it."
The Woolmark Performance Challenge taps into the next generation of designers with worldwide voices that are far more advanced than designers of recent years. And with Adidas' collection from last season, it shows a more advanced fashion take on outerwear.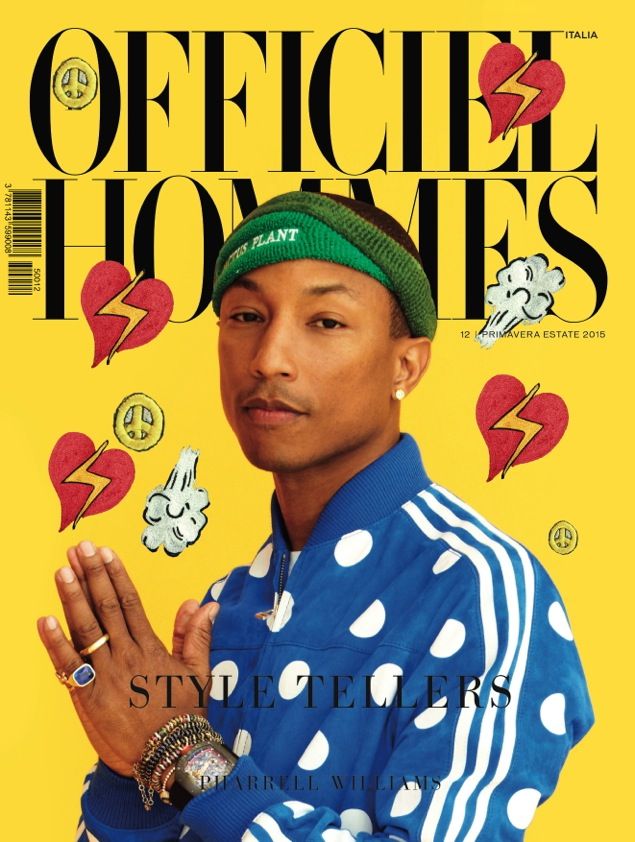 What makes Adidas a Creator brand? We focus on the consumer at the top of the pinnacle. A person who creates his own life, creates his own look, creates his own way to play a sport. Adidas embraces working with Creators who work both inside and outside of our industry for their design input on product. It could be a DJ, a street dancer or someone like Kanye. What they say to us is, what would a creator look for in our product, and add some of their design direction to the conversation. Photo left, Pharrell Williams wearing Adidas Originals on the cover L'Officiel Hommes Italia
What is the difference between Adidas Outdoor of yesterday and Adidas Outdoor today? The overall Adidas collection today says Outdoor is hot and people are going Outdoor. This is cyclical, but the performance side was missed before. This time Adidas is coming at the trend with performance first and with a huge network of creators who are being asked to collaborate with Adidas to blend fashion with serious performance products.
We are not making poser products but Creating something that's New. The materials are waterproof, breathable, seams are taped, and our down is high-end. We are using a lot more technical fabrics but adding design embellishment—stripes, fake fur—that also fits into the fashion category.
This is an exciting time for Outerwear. It's the merging of Science and Technology with Fashion and Function. Consumers seem to want this and are more openminded when it comes to experimentation. This is a movement with a unique attitude. Consumers want clothing that looks different than what their parents wore or are wearing. They want a different look from the previous decades. They want a look that will combine with their van/travel life where adventures are a couple of days and more of a lifestyle. They want to be able to blend gear with versatile living along with travel, music, and food—especially with our city customers.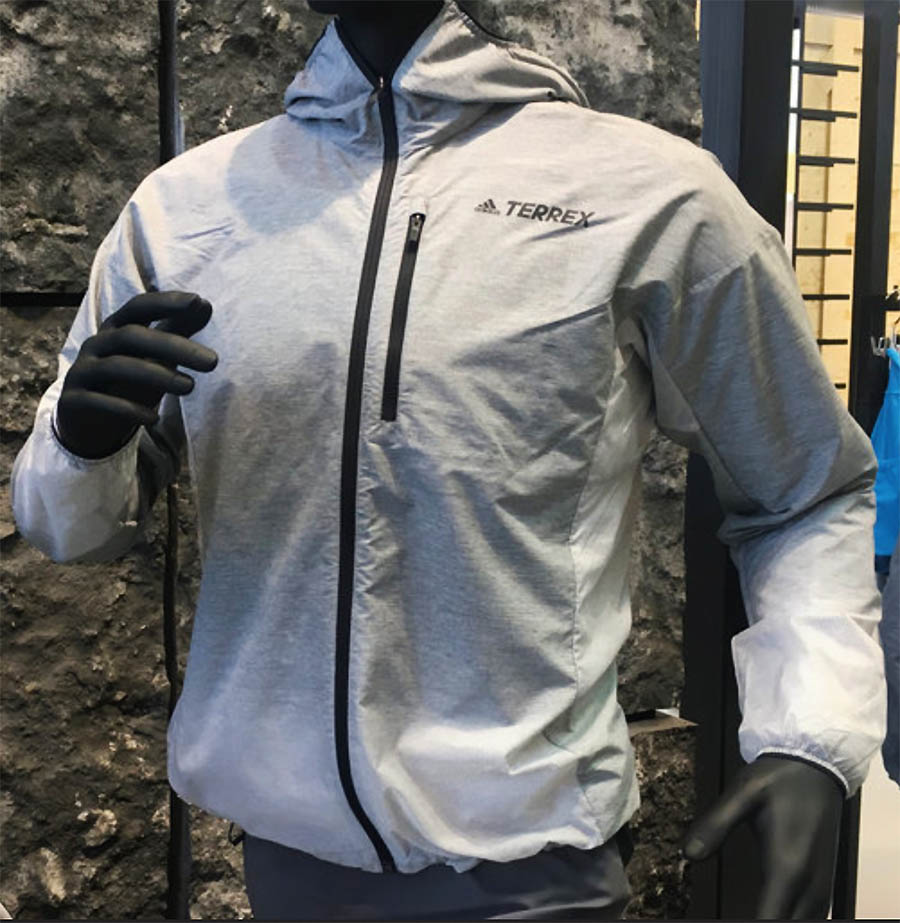 This runway season performance outerwear and technical fabrics were everywhere in the 500+ collections that graced the catwalks in New York, London, Milan, Paris and Toyko. What technical fabrics should we expect to see in the FW19 collection from Adidas? Windweave and Prime Knit are two technical fabrics we brought through into this new collection starting with our Windweave-Insulated Jacket. Shown right, Adidas Agravic Windweave Jacket.
The technical fabrics are used in different densities throughout the garment to provide wind protection where it's need and breathability in key areas of the body, what we call body mapping. Otherwise, you would have multiple different fabrics within one garment. Windweave accomplishes this with just one fabric.
What defines today's Adidas customer? The fortunate thing with our collection is that it's big, and the brand is big. We have categories that cater to many levels of consumer. By sport, it varies slightly, but the bulk of the brands focus is on the consumer in their early 20s. The idea is, how does Adidas bring the outdoors to the Adidas consumer as opposed to how do we bring Adidas to the outdoors? Our focus today is introducing the younger consumer to the outdoor market. That's the big difference.
What's Adidas' overall goal? To reach the younger, multi-sport consumer.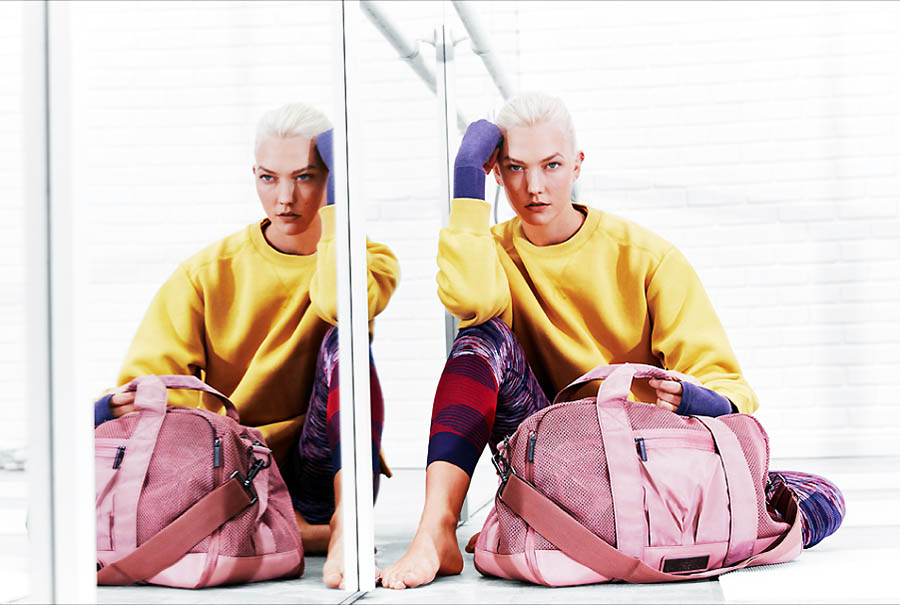 Celebrity is behind the Adidas brand with names like Kanye and Alexander Wang. What do you think drives the Creatives to want to work and wear Adidas? It's Adidas' way of thinking. Underneath it all, it's how do you change people's lives through sport. That's the overall view. Now we are saying, how can you change people's lives through climbing, hiking, biking, and bring sport to people who may not know much about it? That's fun. It's also easy for them to say, 'this is fresh and new and not what my parents would wear.' Photo above Adidas by Stella McCartney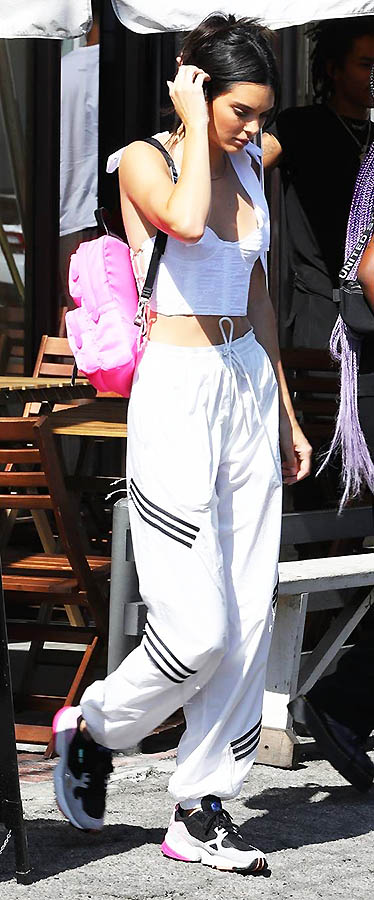 The big, high-profile celebrities and creatives who have gotten behind the brand have huge followings. It's quite amazing. And maybe they are on the edge pushing fashion into the way consumers look at the brand. But they are creating an aura of a company that's willing to take chances and push the envelope at the edges and still fill in the middle. That's what is bringing people to the brand. Photo left, Kendall Jenner, Summer 2018, wearing Adidas Originals Pants and Adidas Falcon Sneakers.
And when Adidas threw in the performance side with cool technical fabrics and treatments, all of a sudden you had pieces that the consumer had never felt before. And that's what's happening today in the outdoor category.
Adidas introduced the first hiking boots with full Boost midsole. Yes, we used our technology from running and carried it over into the hiking category and created a whole new type of hiking boot that is cushioned-focused with uppers made of stretch Primeknit material. The boot is slightly higher than a sneaker and looks like streetwear.
We had testers hike the Pacific Crest Trail wearing the hiking boots. They all came back and said that the boot was the most comfortable shoe that they had worn, and it lasted longer than any other shoe that they had tried. But it also looked really cool.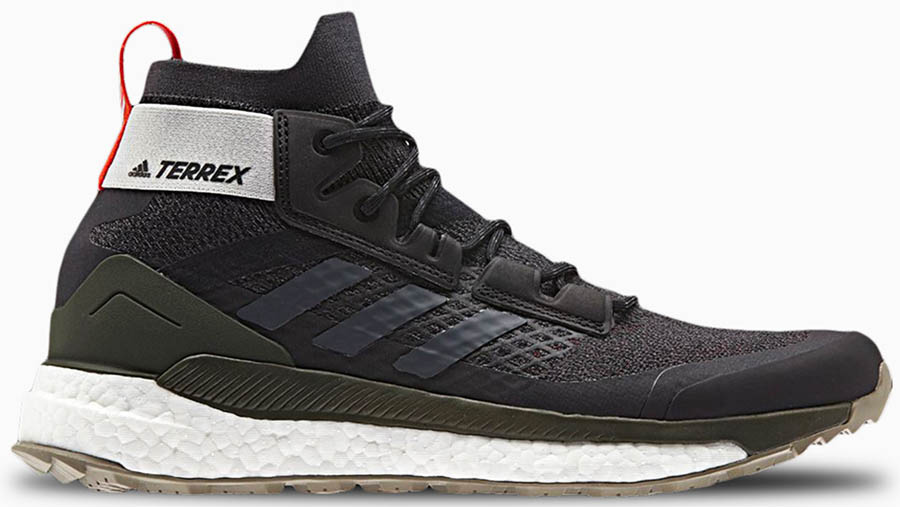 We're seeing an amazing response to the Adidas Terrex Free Hiker Sneaker Boot, shown left. It's one of our most expensive hiking boots, $200, but this year it's also one of our best sellers.
What's interesting is Adidas will make shoes like the Free Hiker in three-to-four different colorways with one of the shoes in the grouping splashed with color so that whether worn by men or women, you get noticed. Men are the group jumping first on the loud colors. We are offering the look to someone who wants to step out and stand out, but we also include classic, basic colors for the customer that doesn't want to be noticed wearing their shoes. They're just looking for performance. We hit it at both ends.
When Kanye tweeted out to his 300 million+ followers about the Adidas Terrex, everyone was interested. It's been amazing. Kanye, below, wearing Adidas Yeezy 750 Boost Glow Sneakers, which in 2016, were the most expensive shoes on the market. Sneakerheads at the time were upping the resale with a 400 percent markup from the shoe's original price of $350 to more than $1400.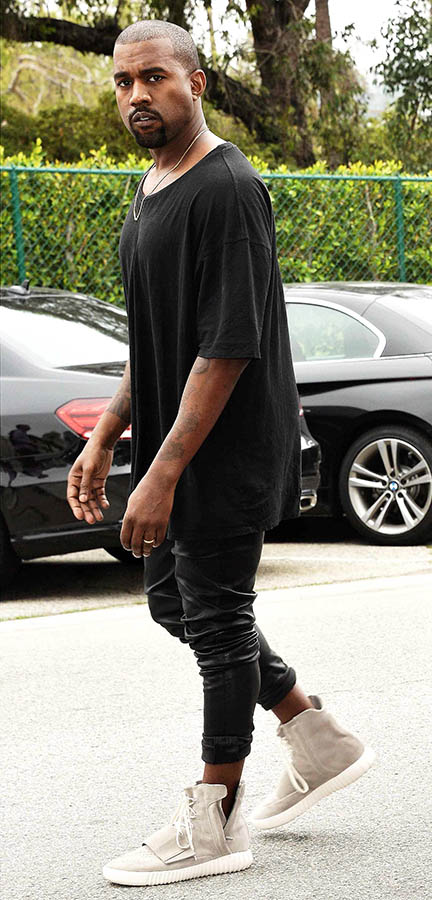 There are naysayers who dish on celebrity as it relates to brand awareness and selling product, but in many respects celebrities are the trend setters and they do generate sales for brands. Yes, and many consumers look to these style trendsetters as a guidepost for their purchases, and it can make or break a brand. It's not necessarily that their followers identify or like what the trendsetters wear, but they have huge followings and impact. It cannot be ignored.
Adidas looks at what and who is driving the traffic from every angle, and addressing that is intuitive and propels our categories forward. There will always be classics like a Ralph Lauren Polo shirt, but there is a lot of activity generated from high-profile celebrities and creatives and that's refreshing for the younger consumers who are looking for new messaging.
The retail stores that we work with need brands like Adidas to create the "new" so that their customers keep coming in and not the same customers who are aging with them. That is what's refreshing about the products Adidas creates. Controversial people endorse, promote and make our customers want to learn more about what we create.
What does it mean for Adidas to say that the brand creates product at a value price point? Every product in the Adidas collection is like an equilateral triangle. One side is Value, one side is Technology, and one side is Fashion or Appearance.
If you have something that really just looks good, but the other two sides are too small, it doesn't work right. If you have something that looks great and performs great, but the price is way too high, it doesn't work. The balancing of those three components, whether it's a high-end or low-end price point, is basically the same. So, if you can add fashion and performance at a really good value price, then you have a great entry-level product. If you can add super performance with super fashion at a very high price, it's still a great product because people recognize it's worth more money. As long as it's kept in balance, it works.
Adidas will never make a product just to be a lower price, it would still have to have the two other components to make it worth our while. We would not make something that was just done only for price.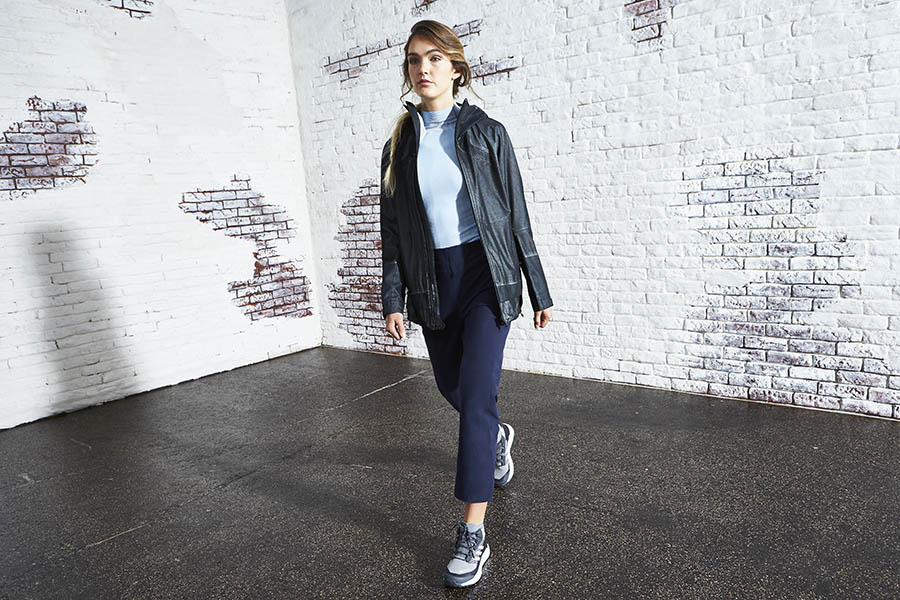 If you were to ask the loyal Adidas customer what Adidas means to them, what would they say? People like to associate with brands that they have an emotional connection to. Adidas is a big brand with a lot of different areas where people can have an emotional connection but, in general, the brand is honest underneath it all.
Our product, in its basic construction, is engineered great. It's classic, high-end engineering. But over the years, Adidas grew to learn how to market and how to make products more attractive. Today the brand has been able to add attractiveness to well-engineered products. It's much harder to add the engineering component to attractive, well-marketed products when you don't have the engineering behind. Adidas' fans, from the elite player to the weekend warrior, know it's all three combined. It's the real deal. It's not a poser brand. People identify differently to it with what attaches them to the brand but, in general, everyone feels that the brand is a foundation, a pure brand with authenticity and credibility. Photos courtesy Adidas
Written by Teresa Hartford
Group Publisher & Creative Director, SGB Media
teresa@sportsonesource.com