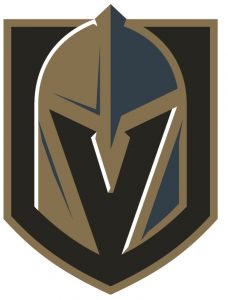 The new Las Vegas NHL franchise and Adidas unveiled its new team name and logo – the Vegas Golden Knights. As the first expansion franchise since the 2000/01 season, the Golden Knights become the 31st team in the NHL and will start play in the 2017/18 season at T-Mobile Arena, marking a new era for hockey in the Sun Belt.
Designed in collaboration with the Golden Knights' ownership, operations and marketing teams, the new logo aims to align the team with a modern-looking aesthetic that also resonates with the local fan base of Las Vegas.
"Golden," was derived from the history and narrative that spurred the settlement of Nevada, while also describing the opulence of Las Vegas today. The state currently remains one of the top producers of gold within the United States. "Knights" was chosen to represent what the team will stand for – valor, courage and victory.
Adidas designers started with a knight's helmet and added nuances that spoke to the team's hometown. The outline of a "V" sits in the center of the helmet, representing "Vegas" and serving as the face of the helmet and the team.
The primary logo also features a distinct grey color, which was inspired by the look of a Knight's armor, giving the Golden Knights an unusual color profile within the League. A secondary logo incorporates the Fabulous Las Vegas Star, paying homage to Las Vegas residents while also underlining the team's commitment to the community.
Golden Knights team apparel and gear is now available online at adidas.com and shop.NHL.com, and at the NHL flagship store in New York City.