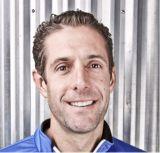 Accell North America named Steve Chapin as director of marketing for Raleigh and Lapierre bicycles, effective immediately. Chapin will be responsible for all aspects of marketing and communications for the Raleigh and Lapierre bicycle brands.
Chapin, shown at right, joins the team with a wealth of marketing experience, focused largely on the IBD business. He began his career in the industry 19 years ago with Seattle Bike Supply (SBS) before moving to the agency and event management side of marketing, where he worked with a number of iconic brands. Most recently, Chapin returned to the bicycle industry as the director of marketing for Saris, where he managed marketing for Saris racks, CycleOps trainers, and PowerTap power meters.
Chapin is an avid cyclist and triathlete, has raced road and cyclocross for the past 20 years, and has completed 17 Ironman events.
"We are excited to have Steve join us as director of marketing," said Chris Speyer, Chief Operating Officer, Accell North America. "With such a broad base of marketing experience, he'll be instrumental in helping Raleigh and Lapierre continue to grow. His passion for cycling and time in the industry will be great assets as well. Raleigh and Lapierre are great brands that have wonderful stories to tell, and it's important that we continue to invest in a leadership team that will allow us to communicate effectively to consumers and through our IBD network."


Accell North America is the North American business entity of Accell Group, NV, Europe's leading bicycle company. Accell North America, located in Kent, Wash., is completely focused on growing the specialty bike business by providing excellence in customer service, product innovation, profitability and brand marketing on the regional and national level.