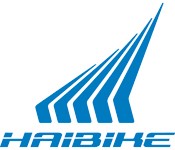 Accell North America has established a standalone business unit to handle sales and marketing for its Haibike ePerformance bicycles in the U.S.
Haibike, the German pioneer of ePerformance bicycles, debuted in the U.S. just over a year ago under ANA's electric bicycle specialty division, Currie Technologies. It quickly garnered industry attention by winning the 2014 Interbike eBike of the Year Award for its XDURO FS RX full suspension ePerformance bike. Now, Haibike is forming Haibike USA to cultivate the growing U.S. electric bicycle market.

"The response to Haibike in the U.S. has been tremendous," said Susanne Puello, managing director of Haibike parent Winora Group, an Accell Group company based in Germany. "Haibike USA will provide focused service, sales, and support to our growing U.S. dealer base."

"We celebrate the launch of Haibike USA," echoed Accell North America Managing Director Chris Speyer. "Electric bicycle growth in the U.S., measured in both consumer demand and dealer conversion, continues at a rapid pace. Haibike USA will join its siblings Raleigh, Redline and IZIP as a standalone business unit within Accell North America."

The sales structure of Haibike USA divides the U.S. into several geographic territories, each with a manager to spearhead sales and awareness efforts and provide dedicated support to dealers. ANA's Electric Bicycle Competency Center (EBCC) in Simi Valley will manage centralized ordering, invoicing, technical support and warranty claims.

"With more and more bike shops realizing the potential of electric bicycles, the primary goal for our new territory managers is to educate," said Ken Miner, Haibike USA director of sales. "Territory managers will travel with a fleet of Haibike ePerformance demo bikes, attend trade shows and consumer events, and provide comprehensive on-boarding and training for all dealers."
The new company hired Brian Gilmore, Andrew Slater and Matthew Waite as territory managers.

Gilmore (pictured to the left) will be Haibike USA's Southwest territory manager, covering AZ, southern CA, Las Vegas,NV, and HI. His previous experience included developing new business for custom apparel maker Champion Systems and working in sales for CA-based Velo Pasadena and NY-based R & A Cycles.

Slater (pictured to the right) joins Haibike USA as the company's Pacific Northwest territory manager, which includes AK, northern CA, ID, NV, OR, and WA. Slater's background is in outdoor retail, sales management, bike fitting, and customer service. Previous to Haibike, he was a sales manager at OR-based Western Bike Works.

Waite (pictured to the left) is the Midwest territory manager, responsible for sales and customer service in IA, IL, IN, KY, MI, MN, MO, OH, and WI. Most recently he worked for Saris Cycling Group in multiple sales and service roles, culminating in brand management for CycleOps and PowerTap products.
Haibike USA's planned sales structure also includes the following regions. Until territory managers are in place, Ken Miner will oversee sales and service efforts in these areas:
Intermountain: CO, KS, MT, NE, ND, SD, UT, and WY
Northeast: CT, DE, MD, MA, ME, NH, NJ, NY, PA, RI, VT, VA and WV
Southeast: AL, FL, GA, MS, NC, SC, and TN
South Central: AR, LA, NM, OK, and TX

"Our new TMs understand local bike shops, have a passion for cycling and racing, and believe in the imminent growth of the ePerformance bike market in the U.S., as do I," said Miner. "There's tremendous potential here and Haibike USA will provide dealers the superior product, support, service and education needed to succeed."