"Set a goal, start working towards it and don't stop
until you come up with a really freakin' good reason to stop."
— Tate MacDowell
Celebrating the Human Spirit, "Mountain In The Hallway" took home the "Most Inspirational" Award at the 12th annual 5Point Adventure Film Festival on Sunday night to the roar of applause from the exuberant audience.
The film follows Tate MacDowell and Brian McDonnell who were each diagnosed with colorectal cancer in 2016. Unacquainted prior to their diagnosis, they were brought together by a shared passion for the Grand Tetons and for giving cancer the bird.
While undergoing treatment Tate came up with the film idea and goal from a photo of the Grand in his radiation center to climb the mountain. And in the summer of 2017 Tate and Brian set out to make the climb as a symbol of overcoming and persevering their illness and to bring awareness to the prevention of colon cancer.
"I think this film offers a lot to the viewers like life, death, struggle, adventure, and love to name a few things," said Tate. "However, I think by the end of the film, the viewer gets a new perspective on what it means to be grateful and what's truly important in life. I hope that people will watch this film and be inspired to achieve their goals, to find happiness, to be healthy, and to enjoy every minute of this crazy thing called life!"
Click on the still shot below to watch the film.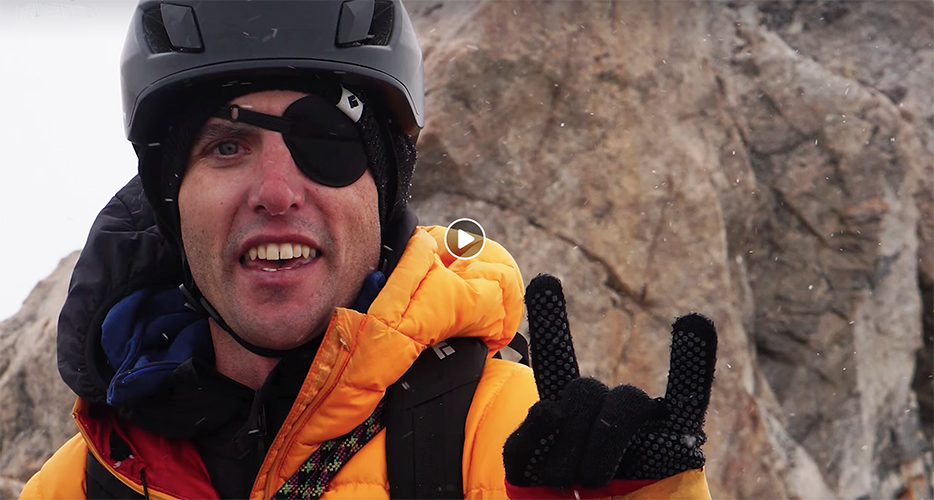 "… my health has been deteriorating since last summer. I'm very glad that I took the opportunity to climb The Grand when I did, because I may never get another chance," said Tate.
"With a standing ovation and tears in our eyes, the entire Carbondale community showed so much love to Brian who joined us on stage after the film. The power of film is real, to have 900 people in one room learning about cancer will trickle out to their friends and family and butterfly effect is getting the word out on checking for cancer early, as well as the love towards Brian and Tate's family is overwhelming. They are in our hearts and they have truly changed the town of Carbondale and beyond." — Meredith McKee, Program Director
Mountain in the Hallway was directed by Todd Jones of Teton Gravity Research and supported by Black Diamond. Photos courtesy Aaron Hamby and Dave Hudacsko