For 70 years, '47 Brand has been providing customers a platform for self-expression to celebrate fandom, personal style and identity.
To commemorate the milestone of 70 years in business, '47 is reflecting on their rich, storied history with two celebrations, limited-edition product and innovative content as they usher in the next chapter of the brand.
The brand's humble beginnings started with Arthur and Henry D'Angelo, twin brothers who emigrated from Italy and settled in Boston in pursuit of the American dream. The boys began their hustle at ag 12 – selling newspapers on the streets outside of Fenway Park. Eventually, the contagious energy of the game and the fans made them adopt baseball as their own. A business and a passion were born and the D'Angelos quickly turned their attention to sports memorabilia.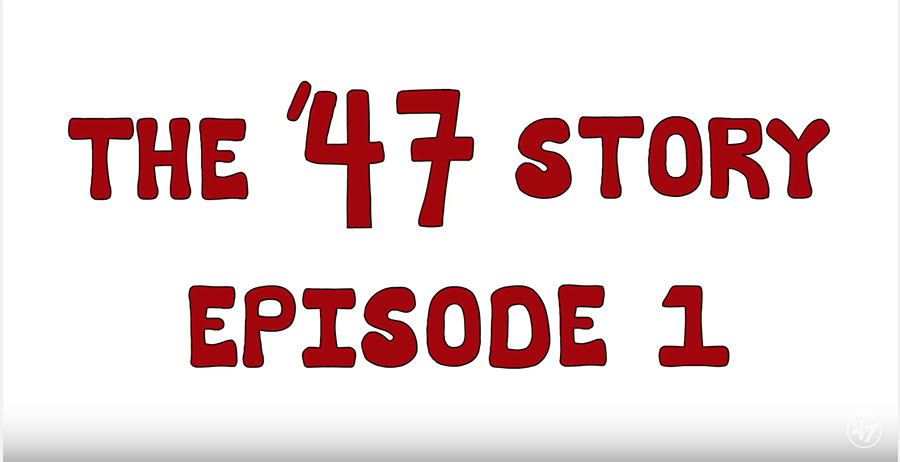 Today, Arthur's four sons continue to build upon the legacy that their father and uncle started – selling and creating sports lifestyle product. For their anniversary, '47 is releasing a three-part animated video series that tells the brand's heritage, part one of which will debut on August 14 – sneak peak above. Click to view.
"This milestone has been a great time to reflect on how special the business my father and uncle created truly is. They started the brand selling pennants at Fenway Park, and today it's a global brand," said Steven D'Angelo, co-owner of '47. "My brothers and I are proud to continue their vision and take it to the next level with significant growth both domestically and internationally."
To celebrate,  '47 will produce a limited-edition headwear collection (pictured above) featuring the brand's marquee styles, including the '47 Clean Up and '47 Captain. The hats will be available on 47brand.com and '47 Boston (286 Newbury Street) and will be released in conjunction with the animated video series.
The celebration continues throughout the summer months with brand activations that recognize the many partners that contribute to the brand's continued success. '47 will host an event in Las Vegas during the fashion lifestyle trade shows as well as an event in Boston to pay homage to the brand roots and the community where it all started.
After 70 years, '47 is just getting started. To learn more about the brand history or diverse headwear and apparel offerings, visit 47brand.com.
Photos and video courtesy '47 Brand.