A court in British Columbia approved the sale of MEC (Mountain Equipment Co-op) to Kingswood Capital Management, a California-based private-equity firm over calls by a group protesting the sale.
According to Bloomberg, B.C. Supreme Court Justice Shelley Fitzpatrick in an oral ruling dismissed an application by Save MEC group that had been pushing to delay the sale by two weeks.
On September 14, MEC filed for creditor protection and announced its sale to a Canadian subsidiary of Los Angeles-based Kingswood.
The sale will end MEC's 49 years as a co-operative but is designed to help stabilize the struggling business. The assets were acquired through Canada's Companies' Creditors Arrangement Act (CCAA) — legislation that allows financially troubled companies to restructure. Longstanding MEC member and Canadian, Eric Claus, will lead Kingswood's newly-formed Canadian affiliate as Board Chair and CEO.
The sale comes after MEC, which operates 22 stores across Canada, in July announced the lay off of retail employees, citing challenges managing through the coronavirus that had earlier forced widespread temporary store closures. The outdoor retailer previously announced layoffs at its headquarters in April, stating it was "experiencing severe cash flow issues as a result of COVID-19," and had shifted to maintaining essential operations in what it called "a 'keep the lights on' model."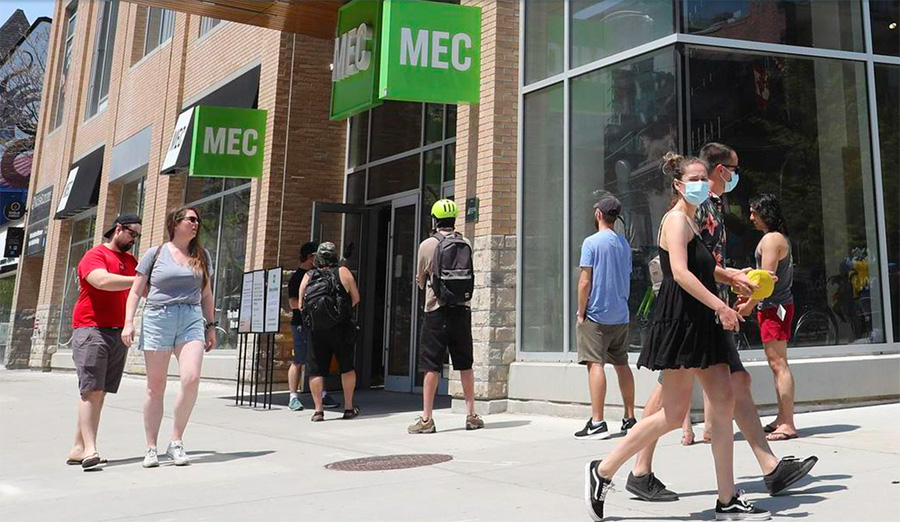 Prior to the pandemic, MEC had already been struggling with sales growth in recent years due to supply chain issues and ever-increasing online competition.
After the sale, a petition launched by the Save MEC group against the sale had generated nearly 145,000 signatures by last Friday. In response to the uproar, Kingswood and MEC issued an open letter to co-op members on September 21, contending the new owners would  "not only save MEC but make it better than ever while remaining true to its values and ideals."
The letter, signed by Claus and Kingswood managing partner Alex Wolf, acknowledged the anger of some members. "We understand the news of MEC's sale — to an American private equity firm no less — is concerning to some members," said the letter, signed by incoming CEO Eric Claus and Kingswood managing partner Alex Wolf.
The executives stated that they plan to put customers and employees first by focusing on stores and supporting the "passionate people on the floor who have real knowledge and expertise" of the gear the store sells.
"We will be reducing the amount we spend on corporate overhead to increase the amount we spend on people, products and community," the letter said.