Kohl's reduced its annual outlook after reporting first-quarter results came in below analysts' estimates.
In the quarter ended May 4, net income declined 17 percent to $62 million, or 38 cents a share. On an adjusted basis, earnings were down 8 percent to $98 million, or 61 cents, missing Wall Street's consensus estimate of 68 cents.
Revenues were down 2.9 percent to $4.09 billion, ahead of analysts' forecasts of $3.97 billion. Comparable store sales were down 3.4 percent while analysts projected a drop of 0.1 percent,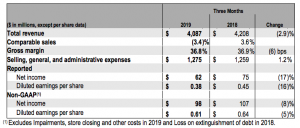 Michelle Gass, Kohl's chief executive officer, said, "The year has started off slower than we'd like, with our first quarter sales coming in below our expectation. We are actively addressing the opportunities that impacted our first quarter sales and we have strong initiatives that will enhance our sales performance in the second half. We are incredibly excited about our nationwide rollout of the Amazon returns program as well as several important brand launches and program expansions. Operationally, the team reacted appropriately throughout the quarter by managing expenses in line with our expectations. While we are planning the year more conservatively, we continue to invest in our business and operate with a view on our long-term success."
Guidance Update
The company now expects adjusted annual earnings per diluted share to be $5.15 to $5.45, compared to its prior guidance of $5.80 to $6.15.
Image courtesy Kohl's