Dorel Industries Inc. reported fourth quarter revenue at its Dorel Sports segment inched up 0.6 percent, rebounding from a drop of 18 percent in the third quarter.
"Dorel Sports bounced back from a difficult third quarter despite continuing industry-wide weakness in the global bike market," said Martin Schwartz, president and CEO, on a conference call with analysts. "Dorel Sports has also developed an exciting line-up of new products to be launched throughout the year."
Sales inched up 0.6 percent in the quarter, to $236.8 million. Excluding the positive impact of foreign exchange rates, organic revenue declined by approximately 1.4 percent.
"Despite a continued weak global bicycle market, Dorel Sports grew its top-line in Q4 improving considerably from the third quarter driven by strong performance in Cycling Sport Group (CSG)'s international business and at Caloi," said Schwartz on the call. The company said conditions remains particularly challenging in North America.
Sales of CSG overall were down slightly in the quarter due to the competitive environment and a generally soft industry globally at independent bicycle dealers. CSG U.S. delivered modest top-line growth as new product introductions such as the revitalized Synapse resonated with the market "aided by right pricing and good distribution."
In addition to the Synapse, several new model-year 2018 bikes were launched over the past six months, including a new kids line, as well as a new mountain and road bikes. The Synapse, Trail and Kids platforms, which are all core pillars of the Cannondale product offering, increased over 50 percent in units in the fourth quarter.
At the 2018 BikeBiz awards at the London Bike Show, Cannondale was awarded the Bike Brand of the Year by selected members of the bicycle industry, "an incredible accolade for the entire Cannondale team," said Schwartz.
"CSG has continued to control spending and limit inventory," added Schwartz. "Retailers continued to reduce and carefully manage their inventories through Q4 below historic norms, and CSG did a good job of managing this trend. Retailed inventory levels are at the lowest in the past three years. While cost controls will continue to be a priority, investments are being made as usual in product development."
Pacific Cycle finished Q4 with a "small growth" in revenue. Parts and accessories sales also increased, as a new line of Mongoose scooters performed better than projected.
Caloi improved its top line due to the ongoing stabilization of the Brazilian economy, combined with the success of new product launches of the Caloi and Cannondale brands in Brazil. Inventory remains in a healthy position in the region, finishing the fourth quarter with the lowest level in two years.
"Overall, the Dorel Sports inventory remains in a healthy position, finishing Q4 with the lowest level in two years; as well a number accounts have been stabilized and a major sporting goods chain will continue to ramp up through the year," said Schwartz. "We have several new exciting innovative model year '19 bikes in road and mountain to launch, which we fully expect will be enthusiastically received."
Fourth quarter operating profit at Dorel Sports increased $4.6 million to $9.6 million and when excluding restructuring and other costs, adjusted operating profit declined by $0.9 million to $9.3 million.
Full-year revenue at Dorel Sports decreased 7.8 percent, to $865.4 million. Organic revenue for the full year declined by approximately 11 percent when removing foreign exchange fluctuations and the change in Cycling Sports Group (CSG) International's business model, for which the revenue recognition transitioned from a licensing model to a distribution platform in the third quarter of 2016.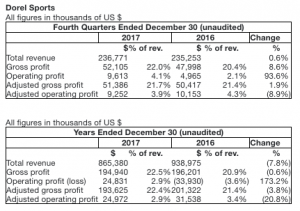 For the year, operating profit was $24.8 million compared to an operating loss a year ago of $33.9 million. Excluding impairment losses, restructuring and other costs, adjusted operating profit declined by $6.6 million, or 20.8 percent, to $25.0 million. The change in adjusted operating profit for the fourth quarter when compared to 2016 is explained by increased selling expenses offset by improved adjusted gross profit which increased by 30 basis points to 21.7 percent. For the year, the change in adjusted operating profit is explained by lower revenue, partly offset by improved adjusted gross profit, which increased by 100 basis points to 22.4 percent. This is due to continued inventory management improvement in terms of product mix and pricing actions in key markets.
"Dorel Sports is expected to deliver higher sales and better operating profit in 2018, driven by new innovative products across all price points in all three of our principal channels; mass market, independent bike dealers and sporting goods," said Schwartz.
Dorel Sports brands include Cannondale, Schwinn, GT, Mongoose, Caloi, IronHorse and SUGOI.
Photo courtesy Cannondale