Safilo Group S.p.A. reported that preliminary figures for its year, ended December 31, indicate that full year sales were €1,047.0 million, declining by €194 million at constant currency compared to 2016.
The reduction of sales was caused both by the change of the Gucci license into a supply agreement, representing €155 million (-12 percent), and by the implementation of the new Order-to-Cash IT system in the Padua DC early in the year. That event negatively affected deliveries, and while operationally recovered from mid-year, impacted order taking and thus reduced sales and profit up to and including the fourth quarter, and in addition caused exceptional external costs of approximately €4 million.
Dior collections experienced a decline after several years of extraordinarily strong growth. The total of all other licenses, as well as the Own Core Brands, grew single digits.
The net sales of the Going Forward Brand Portfolio decreased by 3.9 percent at constant exchange rates.
In the fourth quarter of 2017, Safilo's preliminary total net sales equaled €249.2 million, contracting by €53 million at constant currency compared to 2016. The net effect of exiting the Gucci license and entering the supply agreement accounted for €44 million of the decrease, while net sales of the Going Forward Brand Portfolio declined by 3.7 percent at constant currency (-5.2 percent excl. retail).
On the one hand, the Emerging Markets continued their post Padova DC turnaround started in the third quarter, up again high double digits. The North of Europe started its turnaround in the fourth quarter, now also up double digits. On the other hand, the South of Europe still suffered from the tail-end of the Padua DC issues with Fall/Winter collection sell-in restrained by the late deliveries of the Spring/Summer collection. North America declined, driven by the Wholesale business, while the performance of the Solstice stores in the United States showed a significant improvement (+2.7 percent same store sales performance at constant exchange rates).
Safilo is expecting profitability for the year to be impacted by the somewhat larger decline in sales than planned in the fourth quarter leading to an adjusted preliminary full year EBITDA of €38-€40 million.
Safilo informs that in the context of the presentation of its full year 2017 results to the financial community, to be held in Milan on March 14, 2018, the Group will also provide an update of its long-term Strategic Plan.
In the context of the natural expiration of its Revolving Credit Facility in July 2018, the Group has started to discuss the refinancing with its key lenders.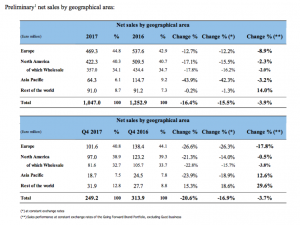 Safilo's portfolio encompasses Carrera, Polaroid, Smith, Safilo, Oxydo, Dior, Dior Homme, Fendi, Banana Republic, Bobbi Brown, BOSS, BOSS Orange, Elie Saab, Fossil, Givenchy, havaianas, Jack Spade, Jimmy Choo, Juicy Couture, Kate Spade New York, Liz Claiborne, Love Moschino, Marc Jacobs, Max Mara, Max&Co., Moschino, Pierre Cardin, rag&bone, Saks Fifth Avenue, Swatch and Tommy Hilfiger.
Photo courtesy Smith Optics